10 Moments in Fez, Morocco with Palais Amani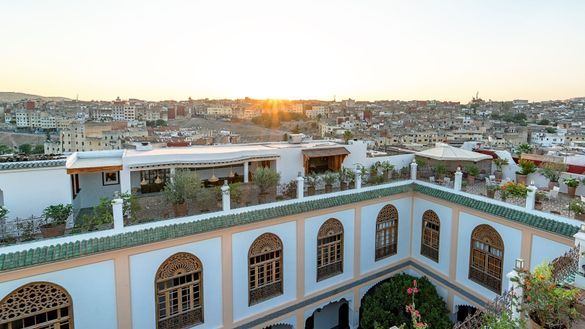 ---
Fez's UNESCO World Heritage medina is truly unique and Palais Amani is the perfect hotel to stay at and is located at one of the most significant entrances to this magical world. Here are 10 moments to experience with Palais Amani whilst in Fez:
Arts and Crafts
Palais Amani has partnered with CRAFT DRAFT in the heart of the medina. Owned and operated by a young local craftsman, guests can participate in various courses all of which involve time in the medina and back at the CRAFT DRAFT studio. These include Bookbinding: The 4-hour workshop will guide the guest through the step-by-step technique to craft their own handmade leather journal with long stitches. The workshop also provides techniques on chiselling and stamping on leather to create unique covers for notebooks. Each guest will spend time in the medina and will take away their new creation. Priced from €45 per person.
Beauty Secrets
Morocco is the home of the magical hammam ritual. Guests will embark on either a 3-hour workshop (without hammam) or 5 hour workshop (with local hammam) that unearths the traditional methods and natural beauty products that can easily be made back home. Guests are met at Palais Amani before embarking on a shopping tour at souk el Henna to purchase ingredients and gain an overall understanding of the products. Then it is on to a Moroccan Dar on the rooftop terrace. Here guests learn how to make and blend their own rhassoul. The new potions are then taken back to Palais Amani and can be used by the hammam on the guest. Priced from €185 per person (minimum two people).
Breakfast
Possibly one of the finest breakfast experiences of any hotel. Breakfast is a three-course experience and includes a daily changing course of traditional Moroccan dishes. Aside from the wide selection of fruit, pastries, breads, eggs and warm and cold drinks, the Moroccan specials include Harira and Meloui, M'hammer or Bghrir. Breakfast is served both in the restaurant and alfresco to the backdrop of birdsong.
Dining
Guests and visitors can select an indoor or outdoor gastronomic dining experience. Eden Restaurant at Palais Amani offers 'Market Moroccan' local produce. Here diners can enjoy Moroccan signature dishes from an a la carte menu along with a weekly changing three-course bistro menu. A diverse tapas menu is also available daily and celebrates the 13th-century Arabo-Andalusian cuisine of this area. Diners have the option to dine in the outdoor hidden paradise under the majestic citrus trees for a truly unforgettable culinary adventure.
Fez Cooking School
The Fez Cooking School offers visitors to Fez a unique insight into this magical city combining a foodie tour of the medina followed by a cookery class, all in a new purpose-built cookery school on Palais Amani's roof terrace. Private and group workshops are available and offer a wonderful hands-on experience including time in the medina and then cooking. The guest selects their desired recipes, or the Fez Cooking School suggest a selection of Fassi, Moroccan or Sephardic dishes. The experience includes a tour of the food souks, tasting food along a two-hour tour of the medina, a cooking class with the newly gathered ingredients and lunch. Priced €97 per person, four hours.
Guided Medina Tours
10,000 streets and alleys all full of history, places to explore, dine and snack at. But where to begin? One of the best ways to get a feel for this UNESCO Medina is to visit with a local guide. Only approved guides are allowed to show visitors around, largely due to the fact that the medina is so so big. A local guide will guide visitors on a half day or full day tour of this magical medina and introduce guests to hidden gems. Priced from €40 for 4 hours based on two guests.
Palais Life
Home to 18 suites and bedrooms, this art deco building was partly rebuilt in the 1930s and today offers a restaurant, roof top bar and cookery school and hammam, all open to non-residents also. Palais Amani showcases the finest authentic and traditional Moroccan decoration. A large garden of 600m2 is at the centre of the palace filled with orange trees where birds, permanent residents here, provide the birdsong in this tranquil haven.
Take a Hike
Leaving the medina behind and heading towards the countryside, an altogether different Fez is visible. A 30-minute drive with a chauffeur / guide gets guests to the Zalagh hillside. Over the next 3.5 hours guests will experience Berber life where many here are completely self-sufficient using the land. A leisurely hike allows guests to stop and embrace the stunning views of the entire ancient city of Fez in the distance and the surrounding landscapes including the Sebou Valley, Rif Mountains and Sais Plains. Half-way through the hike and under some pine trees a Moroccan picnic is served. Priced €195.00 per person includes transport, guide and picnic and chilled water.
Room Time
Each of the 18 bedrooms and suites is completely different both in design and layout. The Classic Rooms are cosy offering discreet views of the garden or medina. The second category of rooms are the Luxury Rooms which combine a seating area and bedroom with stunning large windows and doors. The Junior Suites have a master bedroom, elegant salon and bathroom and can accommodate an extra bed so can sleep up to three. The Senior Suites offer an additional single room and the minimum dimensions are from 45m2 and include a salon and dedicated dressing area. Finally, The Grand Suite; this unique splendid room covers the whole 100 sq/m of the south wing. The suite includes a salon, a his and hers dressing room, spectacular bathroom and includes breathtaking views of the gardens and hills beyond. All rooms have their own fragrance and feature local beauty products and a selection of water and wines. Room service is also available.
Shopping
Each district in the medina specialises in a certain craft. With Palais Amani being set on the edge of the oldest part of the medina it is the most convenient location for the crafts district. The hotel provides visitors with an invaluable little black book of contacts for those wanting to come and source beauty for their homes inspired by Palais Amani and Morocco. Palais Amani have contacts with the leather works for skins, large stools and a multitude of leather covered household items. Stunning pottery that is both affordable and diverse can be sourced just a short walk from Palais Amani as can copper works including intricate lace copper work for light fittings, trays, mirrors, tables and more. All can be created in a bespoke made-to-measure way.
www.palaisamani.com 12 Derb el Miter, Oued Zhoune, Fes Medina, 30000, Morocco
B&B is priced from €160.00 per room per night
Getting there:
Air Arabia Maroc LGW – FEZ Wednesday and Saturday / Ryanair STN – FEZ Wednesday and Sunday
TAP Air Portugal Daily via Lisbon from LHR, LGW and LCY
Follow and Share with Jetsettersblog.