107 Beaches of Costa Rica Awarded Blue Flag Status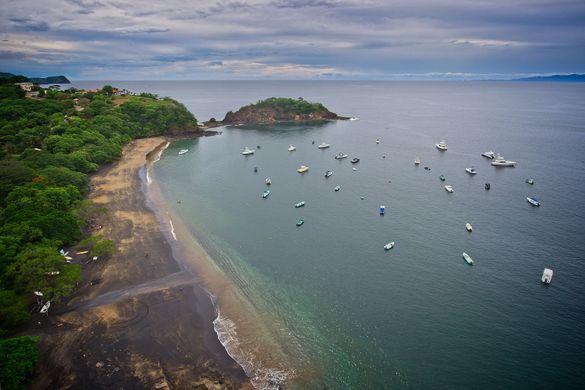 ---
The Costa Rica Tourism Board (ICT) has awarded the Blue Flag status to a total of 107 beaches for 2018 – three more than last year. The list recognises the cleanest and most sustainable beaches in the country, which are evaluated against strict criteria in order to become part of Costa Rica's prestigious Blue Flag Ecology Programme (PBAE).
Founded in 2004, the Blue Flag Ecology Programme is a joint venture of several Costa Rican authorities – including the ICT, the Ministry of Environment and Energy and the Institute of Aqueducts and Sewers. On an annual basis, the programme awards the country's blue flag beaches, rating them from one to five stars, depending on the points achieved in the three evaluations carried out throughout the year.
Four Costa Rican beaches have been given five stars in this year's list: Matapalo (Osa Peninsula), Punta El Madero (North Guanacaste), Blanca (Central Pacific) and Playitas (new for 2018, in Manuel Antonio) – all of them located on the Pacific coast. Esterillos Oeste Beach, in Puntarenas (Caribbean) has been awarded four stars. The rest of the list gives three stars to nine beaches with; two stars to six beaches; and one star to 87 beaches.
Beaches included in the country's Blue Flag Ecology Programme feature clean sands, excellent sea water quality, waste disposal programmes, accessibility to showers and toilets and availability of lifeguards and emergency staff throughout the year.
Costa Rica features close to 1,500 kilometres (900 miles) of pristine coastline distributed along the coasts of the Caribbean Sea (east) and the Pacific Ocean (west). See our round-up of the top six iconic Costa Rican beaches below:
Best for off-the-beaten-track: Matapalo Beach (five stars)
Matapalo is a small, laid-back beach on the country's wild Osa Peninsula which offers stunning natural beauty and spectacular sunsets – all in a tranquil, off-the-beaten-track location. Surfing and horse riding are some popular activities to do at Matapalo.
Best for wildlife: Manuel Antonio Beach (three stars)
Manuel Antonio Beach is one of Costa Rica's most immaculate beaches, surrounded by dense forest vegetation with exotic wildlife. It is located within Manuel Antonio National Park, a perfect place to encounter white-faced and squirrel monkeys and two and three-toed sloths.
Best for relaxation: Conchal Beach (two stars)
Conchal is one of the most beautiful and quiet beaches in Costa Rica – a gorgeous stretch of sea and sand backed by palms and a turquoise bay. It is only accessible by walking 15 minutes (1km) down the beach from Brasilito Beach, where most visitors tend to gather.
Best for surfing: Santa Teresa Beach (one star)
Sana Teresa Beach is a favourite amongst young and hip surfers from around the world. The long, flat beach stretches along the southern coast of the Nicoya Peninsula and features a consistent swell, which means that surfers can find their own space.
Best for diving: Gandoca Beach (one star)
Located within the Gandoca-Manzanillo Wildlife Refuge, Gandoca Beach is one of the country's most beautiful snorkel and diving spots on the Caribbean Coast. Its myriad of breathtaking coral reefs, little bays and inlets attract some 400 species of fish and crustaceans.
Best for families: Ocotal Beach (one star)
This is a placid, wooded, grey-sand beach on the quiet northern end of the Nicoya Peninsula – ideal for families looking for an authentic experience away from the resorts. The water is warm and placid and snorkelling is possible around the rocks at the southern end.
Costa Rica offers visitors an abundance of unique wildlife, landscapes and climates meaning a trip to this Central American country is anything but run of the mill. Bordered by the Caribbean Sea and the Pacific Ocean, the country proudly shelters 5% of the known biodiversity in the world.
For more information about Costa Rica, please visit:
About Instituto Costarricense de Turismo (ICT)
Established in 1955, the Costa Rica Tourism Board (ICT), alongside its partners in the private sector, spearheads the vital task of regulating and promoting Costa Rica's extensive tourism offerings.
Follow and Share with Jetsettersblog.