20 New Attractions and Only in Scotland Experiences for 2020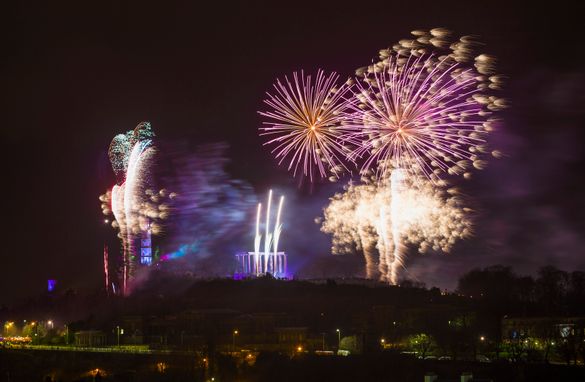 ---
 VisitScotland wants to start the new decade off by sharing the new attractions and one-of-a-kind experiences travellers can enjoy in Scotland.
Scotland will be celebrating a new themed year: Year of Coasts and Waters 2020. A year-long programme of events and activities that shine light on Scotland's lochs, rivers, canals, seafood, inland and coastal landscapes and history. Visitors will be able to immerse themselves in Scotland's maritime heritage through attractions, events and food and drink.
After ringing in the new decade at one of Scotland's annual and famous Hogmanay events, check out an abundance of recent and different activities….
FESTIVALS THAT MAKE A SPLASH
Dive into Scotland's Year of Coasts and Waters 2020 with DolphinFest 2020 and Edinburgh International Film Festival presents Scotland's Shores.
One of the best places in Europe to watch bottlenose dolphins is on the harbour shores of Aberdeen. The DolphinFest 2020 will take place throughout the month of April in Aberdeen, celebrating the region's dolphins through interactive games, pop-up activities, conservation talks and citizen science projects. The festival's mission is to promote sustainability and further inspire guests to reduce, recycle and refuse, attend beach cleans and reduce their carbon footprint.
The Edinburgh International Film Festival is celebrating its 74th edition in 2020 and is excited to announce Scotland Shores, an exciting programme showcasing Scotland's coasts and waterways through unique events, classic film screenings and a special outdoor coastal experience from 19 – 30 June, 2020. Film-lovers can dip their toes into the Fest on the Forth, a unique outdoor cinema experience. Audiences will be able to watch classic films that feature Scotland's beautiful coasts and landmarks while on the sandy shores of the Forth.
For more Year of Coasts & Waters events, visit: https://www.visitscotland.com/ycw2020
LET THE YEAR BE-GIN
Most visitors know Scotland makes a good bottle of whisky. However, some may not know that Scottish gin accounts for 70% of the UK's overall gin production and three of the world's best- selling gins (Hendrick's, Gordon's and Tanqueray).
Peebles Hydro, a stunning hotel set in the heart of Tweed Valley, has recently launched their very own gin. Not only one bottle, but four different gins (London Dry, Pavilion Pink, Navy Strength and Subtly Smoked), four different tonics and a gin school! The launch of their 1881 gin is named after the year the hotel was opened and uses waters from the rolling Border hills located behind their hotel.
The Orkney Distillery was recently awarded a Five Star Quality Assurance award from VisitScotland after being opened to visitors just over a year ago. Two of the gins – Aurora Gin and Kirkjuvagr Gin – were awarded Great Taste badges for 2019. The distillery also offers a unique gin-making experience where visitors can craft their own gin recipe using over 30 different botanicals.
For more Scottish gin-spiration, visit: https://www.visitscotland.com/see-do/food-drink/gin-tours-tastings/scottish-gin-facts/
COUNTING BLACK SHEEP HOTELS
Black Sheep Hotels recently launched their third hotel, the former Litterfinlay Lodgewhich has undergone extensive refurbishment and is now re-opened as the Whispering Pine Lodge. Originally built as a hunting lodge in the 1800's it became a hotel favourite to celebrities. Situated on the banks of Loch Lochy with breath-taking views of the Highlands. Food and drink options at the lodge includes The Lochside Brasserie which serves locally sourced fresh fish, seafood and classical regional cuisines while The Burns Bar is fully stocked with a wide range of local Scottish Whisky. Guests can also stay at one of the lodges three-bedroom cottages.
Another hotel part of the Black Sheep Hotel group that has undergone further refurbishment recently is the Cluanie Inn which re-opened in September 2019.  The Inn originally dates to 1787 where it started as a staging post for cattle drovers. This luxurious inn is in Glen Shiel on the way to the Isle of Skye where it boasts wild views for guests to enjoy.
In July 2019 the Black Sheep Hotel group opened the Rokeby Manor in Invergarry. This Victorian Manor was built using local materials and hand-made techniques. Visitors can enjoy the rustic farmhouse restaurant, Emily's Byre with its cosy bar. This lovely manor house is also located en route to the Isle of Skye.
2020 MAKES 200 YEARS OF JOHNNIE WALKER AND 700 YEARS OF THE DECLARATION OF ARBROATH
The Johnnie Walker brand celebrates its 200th anniversary in 2020. Situated within the former House of Fraser department store on Prince's Street in Edinburgh, the Johnnie Walker Experience will be a three-storey immersive space exploring whisky making and the blended Scotch brand's 200-year history. The Johnnie Walker Experience, which should launch at the end of 2020, forms a central part of Diageo's £150 million investment in Scotch whisky tourism, which includes the upgrade of the company's 12 distillery visitor centres across Scotland.
A further £35 million is being invested in reopening the silent distilleries of Port Ellen on Islay, and Brora in Sutherland. While whisky from Diageo's distilleries all over Scotland contribute to the Johnnie Walker blend, four distilleries, Glenkinchie, Cardhu, Caol Ila and Clynelish, will be put at the heart of the Johnnie Walker experience in Edinburgh, representing the "four corners of Scotland" and the regional flavour variations of Lowland (Glenkinchie), Speyside (Cardhu), Island (Caol Ila) and Highland (Clynelish).
The anniversary of Johnnie Walker will be celebrated throughout 2020.
On 5 April, 2020 a horse-led procession of over 500 people will march from Arbroath Abbey to Arbroath Harbour to re-enact the Declaration of Arbroath sailing to France in 1320 in celebration of the 700th anniversary. The Declaration of Arbroath emphasised Scotland's right as a nation and was sent from Arbroath Abbey to Pope John in Avignon on 6 April 1320. Events include a giant outdoor lunch on Beacon Green and hundreds of voices singing within the walls of Arbroath Abbey.
The Declaration of Arbroath will be displayed at the National Museum of Scotland from 27 March to 26 April, 2020. The document has not been on display for 15 years.
For more information on Arbroath 2020 and a list of events, visit Arbroath2020.com
IN THE HE(ART) OF ABERDEEN
The Aberdeen Art Gallery officially reopened to the public on Saturday, 2 November after at £34.6 million investment. The gallery which first opened in 1885 closed in 2015 for refurbishments with the improved gallery including nationally and internationally-acclaimed artists such as Rachel McLean, Bill Gibb, Vincent van Gogh and Claude Money. The investment went into the fabric of the buildings, new exhibition and display galleries, improved visitor facilities and an enhanced activity programme.
Watch Aberdeen Art Gallery tour guide Margaret bring art to life in VisitScotland's Tour Guide Tails: https://www.youtube.com/watch?v=vMo0N1wksuQ
HAVING A WHEEL NICE TIME ON THE HEART 200 AND THE COIG
The Heart 200 launched July 2019 as a new touring route of approximately 200 miles around Perth, Stirling, The Trossachs and Highland Perthshire – the very Heart of Scotland. What's more, this stunning journey uniquely links Scotland's two national parks, Loch Lomond & The Trossachs and the Cairngorms.
The Coig is an exciting new set of tourist routes covering Ayrshire, the Firth of Clyde and Clyde Islands. There are five routes to explore – the Shire, the Shiel, the Arran, the Bute and the Cumbrae. Gaelic for 'five', the Coig covers Ayrshire, Arran, Bute, Cumbrae, Renfrewshire and Inverclyde. The routes aim to showcase the area's unique coast and countryside, as well as the outstanding natural beauty, history and heritage, food and drink and outdoor family activities across the regions.
For more unforgettable road trip ideas: https://www.visitscotland.com/see-do/tours/driving-road-trips/
WHALE YOU COME WITH ME TO SCOTLAND?
Launched in June 2019, the Hebridean Whale Trail showcases Scotland's west coast as a world-class destination for spotting whales, dolphins and porpoises from land, and champions conservation of the Hebrides' globally important marine wildlife and environment. It's the first of its kind in the UK connecting more than 30 top places offering opportunities for land-based sightings. In addition to the Hebrides', Banffshire and The Moray Coast, also known as 'The Dolphin Coast' is a hot-spot for those wanting to see bottlenose dolphins in their natural environment.
For those wanting to spot charming grey seals or puffins, visit Orkney and join one of the Wild Orkney Walks. There's a wildlife walk for every season! Or how about swimming with Britain's largest fish – the basking shark? Sighting hot-spots include the Firth of Clyde, off the coast of Oban and around the Isles of Coll, Tiree and Canna. Book a tour with Basking Shark Tour from April to October – beginners are welcome!
Back on dryland, enjoy a one-of-a-kind experience and enjoy a new guided tour of farm animals in their natural environment with Kitchen Coos & Ewes in Dumfries and Galloway which launched in September 2019. Guests will get the chance to meet Scotland's beloved Highland Coo. Or join an Arran Forest Safari on the Isle of Arran with Mogabout Tours to catch red squirrels, deer and birds of prey.
For more information on Scottish wildlife visit https://www.visitscotland.com/see-do/wildlife/
EAT REASONS TO GO TO SCOTLAND
The delicious foodie town of Dundee has launched their #DundeeEats guide in November. Dundee is extremely important to the food industry in Scotland as 70% of Scotland's fresh produce is grown within a 30-mile radius of Dundee due to its proximity to the field, farm and coastline. Visitors are encouraged to visit the city's West End's cosmopolitan food and drink scene, the family-run cafes in the city centre and ice cream at 'The Ferry'. Try some local Dundee creations like 'pehs', marmalade and Dundee cake and visitors should eat their way through the Food Bucket list! The region has a clear mission on reducing its food waste by working with Zero Waste Scotland through cutting their own waste and educating.
To download the Dundee Eats guide, visit www.dundee.com/DundeeEats
In April 2020 a truly one-of-a-kind tour will be launching in Stirlingshire close to Loch Lomond and The Trossachs National Park at a working sheep farm. A trip to Scotland isn't complete without sampling our national dish, haggis and The Haggis Experience takes the tasting to a whole new level. Visitors will be able to choose from three different tour options and learn the origins, myths, ingredients and how to make the wonderful dish. Guests will get to try traditional haggis and/or vegetarian haggis and will receive a complimentary recipe pack and a souvenir Haggis Experience Certificate.
For more information on The Haggis Experience, visit www.thehaggisexperience.com
THIS JUST INN
In September 2019, renowned chef, James Ferguson and partner Alethea Palmer moved from London to open The Kinneuchar Inn in Fife after an extensive four-year refurbishment of the traditional pub. The Kinneuchar Inn will retain the traditional pub area, which has long been at the centre of village life. The menu focuses on the integrity of the ingredients both wild and farmed sourced directly from the estate and producers nearby from locally caught fish, native breed meats and game and organically grown or foraged vegetables and fruit.
The Scottish Borders recently opened Lemon and Thyme a fine-dining establishment in Kelso, a small market town serving local produce inspired by international flavours. They are open Tuesday to Saturday from 6 p.m. to 9 p.m. and offer exclusive use of their restaurant at lunch time and Monday and Sunday for parties of 10 or more people.
LOCH, IT'S NESSIE!
The Loch Ness 360° Trail is an epic new walking, cycling, running and outdoor activity trail in the Scottish Highlands. The trail loops the entire circumference of Loch Ness. The trail starts and finishes in the Highland Capital of Inverness but can be joined at any point. This trail connects the Great Glen Way and the South Loch Ness Trail into one circuit around the loch covering 80 miles.
After a relaxing walk, stay at the exclusive new hotel in Inverness, Ness Walk. Officially opened in July 2019 the hotel embodies luxury Scotland. Originally a 19th century house, the historic Grade B listed building has been lovingly restored with keeping many of its period features.
For more information on the Loch Ness 360° visit https://lochness-360.com/
2020 INN EDINBURGH
It's a great time to stay in Edinburgh with plenty of hotel openings in 2019 and 2020.
The Market Street Hotel opened in Edinburgh's Old Town in August 2019. Market Street Hotel features 98 urban boutique style rooms including one suite, as well as the highly anticipated champagne lounge, the Nor' Loft. The hotel is also proud to be selected as the first member of Design Hotels™ in Scotland, a global organisation that recognises hotels with a passion for genuine, culturally rooted hospitality and cutting-edge design and architecture.
YOTEL Edinburgh opened a hotel in Edinburgh's New Town in 2019 as well. Giving guests a completely new hotel experience by taking essential elements of luxury hotels and turning them into a compact, but smart space. The hotel includes Scotland's first Imaginex space, a 360-degree screening room which consists of eight state-of-the-art projectors that bring all four walls of the room to life with a range of content, from film screenings and gaming to brand presentations and art installations.
House of Gods Hotel opened in October 2019 and is a boutique hotel and cocktail bar with 22 rooms located in the heart of Edinburgh's Cowgate. Gucci Heron wallpaper lines the Lounge Bar, private bars are hidden behind mirrors with rooms inspired by Rock N' Roll.
Malmaison is opening a second location in Edinburgh on 6 December 2019. Located in Edinburgh's city centre on St. Andrew Square in New Town close to Princes Street and short walk to Old Town. This new location is bound to be one of the most unique hotels in the city.
In 2020, The Red Carnation Hotel Collection is to open a hotel in Scotland for the first time. The luxury hotel collection is respectfully renovating 100 Princes Street, transforming it into a highly exclusive retreat on one of Edinburgh's most famous streets. With uninterrupted views of Edinburgh Castle, 100 Princes Street will replicate the boutique atmosphere of Forbes Five Star-rated sister property Hotel 41.
Lateral City Apartments has been appointed by Royal Collection Trust to operate the new serviced accommodation at Abbey Strand, located at the foot of Edinburgh's Royal Mile and on the doorstep of The Palace of Holyroodhouse, The Queen's official Scottish residence. In total, nine individual and utterly original apartments will be available to visitors from December 2019.
AN ISLAND FLING TO RING IN THE NEW YEAR
From November 2019 to April 2020 MacGregor's Bar in Inverness will host a winter series of takeover celebrations called 'Island Fling' which feature the islands of Harris, Tiree, Shetland, Orkney, Lewis and Skye. The takeover events will take place over the next six months and will feature local distillers and businesses, live music and workshops throughout the entire day. MacGregor's Bar is also the 'spiritual' home of the Inverness Whisky and Gin Festival, run a regular Highland Malt Whisky Experience and sister bar to multi-aware winning venue, Bogbain Farm.
ALL THE WAY FROM 10th CENTURY GALLOWAY
In September 2014 a metal detectorist came across an incredible discovery of the Galloway Hoard: Viking Age Treasure which laid undisturbed for a thousand years. Buried in the 10th century in Dumfries and Galloway, this rich Viking Age hoard contains more than 100 objects of silver jewellery, rare gold ingot and a range of precious metals, brooches, amulets and more. This is the richest collection of rare and unique Viking-age objects ever found in Britain or Ireland. These objects will help understand hidden history and the stories from people of the past. The exhibition is planned for 29 May – 18 October 2020 and will tour Edinburgh, Kirkcudbright Galleries, The McManus: Dundee's Art Gallery and Museum and Aberdeen Art Gallery.
For more information and to see the Galloway Hoard, visit https://www.nms.ac.uk/explore-our-collections/stories/scottish-history-and-archaeology/galloway-hoard/
STRETCH OUT YOUR HOLIDAYS
With an abundance of nature walks, yoga retreats and art relaxation holidays, Scotland is the perfect destination for wellness seekers.
Wild Art Scotland is a passionate art-driven tour company that creates unique and relaxing art retreats throughout the country. Enjoy a week-long painting and creative retreat from 2 – 10 April 2020 called Hidden Treasures in Arbroath on the Scottish east coast. A local artist will guide and inspire visitors through nature art. The course combines restorative yoga sessions, walks, creative writing and delicious meals to reconnect with the spirit and self. Or recharge with another of their retreats with a focus on Celtic-Style in the Scottish Wilderness. Guests will spend a weekend (22-24 May 2020) on an uninhabited Scottish island in the Inner Hebrides with only a tent for shelter on a Peregrinatio journey which is 'a journey that involves the elements of seeking, quest, adventure, wandering and exile'.
For yoga-lovers, try the Yoga and Mindfulness retreat with ecoYoga in Argyll from 30 April – 4 May. Discover the foundations of the Iyengar Yoga system and flow of Vinyasa. Or visit a Tibetan Buddhist monastery of Samye Ling in the South of Scotland which offers a range of meditation courses, yoga, Tai Chi and more.
For more wellness holiday ideas visit https://www.visitscotland.com/blog/holiday-ideas/wellness-breaks-south-scotland/
VEG OUT AT SAORSA 1875
Saorsa 1875 in Pitolchry is the UK's first vegan hotel which opened its doors to the public in May 2019. The property is immersed by 2 acres of natural woodlands and gardens, embodying complete ethical luxury. Vegans, vegetarians and plant-curious folk are welcome to enjoy the building's 19th-century baronial house with 11 bedrooms. Their restaurant menu is completely plant-based and uses local seasonal and foraged produce.
For more vegan foodie experiences in Scotland visit https://www.visitscotland.com/blog/food-drink/vegan-foodie-experiences/
WE'VE GOT CHAINMAIL
In June 2019, the National Trust for Scotland revealed its largest conservation project with the Hill House Box. The structure is wrapped with world's largest chainmail, with walkways zigzagging through the chimney pots. Owned by the Trust since 1982, the Hill House Box in Helensburgh is considered to be the finest example of domestic architecture by Charles Rennie Mackintosh. However, the building has been soaking up water like a sponge for over 115 years which is why the National Trust for Scotland came up with an innovative solution to project the building from any further water damage is truly remarkable. Onsite there is a new café and visitor centre so guests can learn more about Charles and Margaret Mackintosh and the Blackie family who the house was originally built for. The Hill House stands out amongst other Arts & Craft and Art Nouveau houses in the UK because it has survived intact for so long.
For more information on the Hill House visit: https://www.visitscotland.com/info/see-do/the-hill-house-p255641
TREE REASONS TO GO TO SCOTLAND IN 2020
The beautiful Craufurdland Estate in Fenwick has introduced a new tree-top coursed called Tree Top Trial. It's a tremendous addition to the already vast amount of activities the estate has including forest fitness, mountain bike trails, crate climbing, mud runs, archery and more. They also recently opened a new restaurant Laird's Table that has been awarded a Taste of our Best accreditation.
Explore by foot, forest bathing a Japanese form of nature therapy. The Hermitage in Perthshire is a beautiful walk that was created in the 18th century by the 3rd Duke of Atholl and covers 33 acres. The forest features both conifer and deciduous trees, including on of Britain's tallest Douglas fir trees. Rumour has it the duke used a canon to scatter the tree seeds!
Or hop on a quad trek with Cairngorm Quad Treks in Aviemore where visitors will be guided through beautiful views of rolling moorland and the woodlands of Cairngorms National Park.
DANCING INTO 2020
2020 is an exciting year for the Shetland Folk Festival as it celebrates its 40th year!  Head up to the festival from 30 April to 3 May in Shetland and ceilidh the night away at the most northerly Folk Festival in the UK. Listen to local Shetland and folk artists from Britain and beyond for one of the most entertaining festivals of the year.
For more things to do in Shetland, visit https://www.visitscotland.com/destinations-maps/shetland/
FLAMING HOT EVENTS IN 2020
Events in Scotland are hot, really hot. Throughout 2020 visitors can enjoy a plethora of different fire festivals including the Samhuinn Fire Festival in Edinburgh to celebrate the Celtic New Year which happens to be what is more commonly recognised as Hallowe'en. The Beltane Fire Festival to celebrate the return of the summer in April. Fend off evil spirits at the  Comrie Flambeaux in Perthshire or Stonehaven Fireballs in Aberdeenshire to welcome in the New Year. Up Helly Aa in Shetland celebrates their Viking heritage on the last Tuesday of January for 24 hours. And the Burning of the Clavie in Moray Speyside which dates back to the 1750s and celebrates the New Year on the 11th of January when the Julian calendar was reformed in Britain.
For more information on fire events in Scotland, visit https://www.visitscotland.com/see-do/unique-experiences-map/18-partying-at-fire-festivals/
LAGG DISTILLERY
Lagg Distillery on the Isle of Arran opened in June 2019 and is the first new distillery on the island since the opening of Isle of Arran Distillery's in Lochranza 25 years ago. The distillery has a few more years until their own Lagg Single Malt Whisky launches, however, guests can enjoy the south-end distillery's two delicious dining options including The Sheiling Bar & Bistro and the Kilmory Café. Guests can enjoy a dram from their sister distillery Isle of Arran while there's continue to distil.
For more information on the Lagg Distillery visit https://www.laggwhisky.com/
Getting here
New Caledonian Sleeper trains launched in 2019: New carriages made their debut on the Lowlander route between London and Glasgow/Edinburgh. Highlander route is to follow shortly between London and Aberdeen, Inverness and Fort William. Book here: www.sleeper.scot
New direct Loganair flights launched May 2019 – London Southend to Stornoway and Aberdeen. Book here: https://www.loganair.co.uk/
For more of Year of Coasts and Waters, go to https://www.visitscotland.com/about/themed-years/coasts-waters/
For more Only in Scotland experiences, go to:  https://www.visitscotland.com/see-do/unique-experiences-map
About VisitScotland
In April 2018 VisitScotland launched a brand new global campaign, Scotland is Now.  To find out more go to www.scotlandisnow.com  or join the conversation by using #ScotlandIsNow
VisitScotland's Community site was set up for the Scottish public to help, engage and enthuse potential visitors about the country.  To get involved go to: www.visitscotland.com/community
For holiday information on Scotland go to www.visitscotland.com  
To ensure everyone can safely enjoy Scotland's amazing countryside and landscapes, VisitScotland encourages all visitors to fully respect their surroundings by behaving in a responsible and appropriate way.
For VisitScotland's press releases go to www.visitscotland.org/media_centre.aspx,
For tourism statistics and frequently asked questions go to www.visitscotland.org
Follow and Share with Jetsettersblog.