20 Reasons Why Queensland Should Be on Your 2020 Radar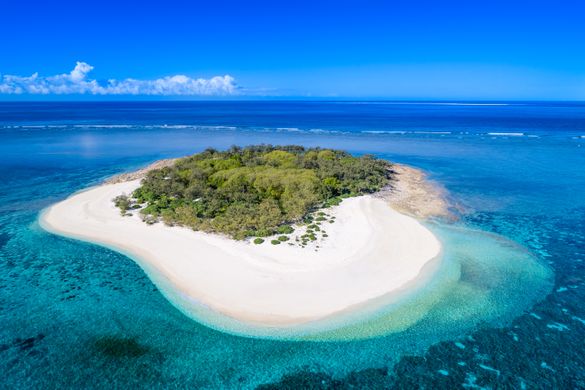 ---
Toss the belief that "hindsight is 2020" and get some clear vision upfront with these 20 must-do Queensland activities, well before the calendar counts down to December 31. As the saying goes: "Lock it in Eddy."
20. Kickstart your day – and your decade – with a dose of Woodford mindfulness
Find your tribe, match it to music, and then wake up on January 1 with a resolution to create a beautiful future. Woodford Folk Festival may be known as one big gig, (consider these stats: 130,000 visitors,  440 acts, 35 venues over six full days), but it's also a serious agent for change. With a new decade dawning, gig goers can sign up for a yoga session on the first day of the year, lean in on conscious evolution talks, lap up a panel on 'The Land Still Speaks', then cap it all off with a reading from masterful storyteller Neil Gaiman. The 34th Woodford Folk Festival runs from December 27, 2019 until January 1, 2020. www.woodfordfolkfestival.com
19. Sail into the Cooktown Expo 2020
2020 is a big year for Australia marking 250 years since British explorer, Captain James Cook, sailed up the east coast of the country, diarising his epic journey and capturing new botanical discoveries. The explorer made three shore landings in Queensland: the town of 1770, half way between Bundaberg and Gladstone; Lizard Island where he climbed Cook's Look to chart a course through the treacherous reef; and Cooktown, where his crew spent 48 days fixing a broken ship hull. Today, Cooktown is one of the nation's last frontiers and a gateway to great wilderness encounters and epic Indigenous experiences. It's also the best place to mark the past but celebrate the present with Cooktown Expo 2020, held from 17 July – 4 August, 2020. https://cooktown2020.com/
18. Follow the Fairway to the Outback Queensland Golf Masters
The fact that no one took out the million dollar hole-in-one win last year shouldn't stop keen golfers from following the fairway to the Outback Queensland Golf Masters 2020. Teeing off in Biloela on June 20, the second installment of this "anything goes" games will see another six rural towns put a shine on their greens. Or browns. Don't expect the manicured fairways of St Andrews as the Outback Masters is a dirty game, often with more roos than spectators and the need to rake the brown-green before you putt, chip and drive. Still there's plenty of laughs and of course there's a spectacular prize. www.outbackqldmasters.com/schedule-2020 
17. Hit a high note with Brisbane's audacious Ring Cycle
In November 2020, Opera Australia will bring The Ring Cycle to Brisbane, a 15-hour epic production of gods, dwarves, dragons, heroes and a magic ring, all set to powerful music. Held over four nights, Wagner's epic tale will be given a futuristic twist thanks to the acclaimed Chinese director Chen Shi-Zheng's use of moving digital panels and astonishing props that will propel the audience into a virtual world. www.opera.org.au/brisbane/ring-cycle
16. Salute the Summer Solstice at Capricorn Caves, December 22
The Mayans were all over it at Machu Pichu, now the team behind the Capricorn Caves are doing the same; playing with a beam of sunlight on the longest day of the year to celebrate the Summer solstice. On December 22 at precisely midday when the sun lines up with the Tropic of Capricorn (incidentally, Capricorn Caves pretty much sit on top of this marker), a beam of sunlight lasers 14 metres down into the cave's chamber. Using simple tools like disco balls and coloured materials, the team behind the tourist attraction create a natural light and laser lightshow. Oh, and they also channel the beam to burn guest tickets. See www.youtube.com/watch?v=RWuqde3QGyg 
15. Crikey, Australia Zoo has hit the half century and soon you can camp there in your Khakis
Hard to believe, but April 18 2020 marks 50 years since the Irwins opened a reptile park just 50 minutes' drive north of Brisbane in the otherwise garden variety Queensland town of Beerwah. Today, that park is Australia Zoo, a mega drawcard for tourists and the inspiration for Crikey, It's the Irwins, a television series broadcast on Animal Planet to some 220 million people globally. In 2020, Australia's best known eco warriors will also launch an $8 million Australia Zoo Wildlife Camping Experience set to attract 40 000 additional visitors.
14. Explore the reef like a Master and then figure out what you can do to help it
In 2020, sink into reef reality with a Master Reef Guide, one of the 30 or so newly-minted experts who shows travellers the Reef pretty much the same way a marine bio sees it. Launched in 2019, these translators of science add value to any old snorkel trip and provide visitors with up-to-date information on what's happening to the reef, how it happened and what you can do about it. Go down a rookie and come back understanding the depths of this undeniably beautiful biosphere. See www.youtube.com/watch?v=5XeDOLxtna4 
13. Play Tom Hanks and vacay with Wilson 
At just 5.4 hectares in size – as big as five football fields – Wilson Island is a micro bump on the most magnificent reef in the world. And, as of November 2019 this little atoll surrounded by IMAX sized marine creatures opens to upmarket campers. Well, at least to 18 of them. Located a 40-minute slow boat ride from Heron Island Resort on the Southern Great Barrier Reef, Wilson cradles just nine glamping tents and one central long-house. The island is so remote that every visit comes with a digital detox opening up time for an old-fashioned novel, good conversations, fresh food, rest, nature and sunshine. Prices start from $950 per couple per night. Images: https://shwca.se/WilsonIslandshowcaseimages and vision: https://showcase.dropbox.com/s/Wilson-Island-Vghw9tzxxLA1ckOUBeSjo
12. and 11. Slip into muumuu mode and hit these two Cairns hotels
It's boomtown in the tropics as Bailey, the second of the three Crystalbrook Collection hotels opens in Cairns with bucket loads of personality to add to its bold green exterior and skyline views. Bailey houses three restaurants including CC's (dine on juicy aged cuts straight from the farm) and Pachamama, but the standout is the Milk Bar where milkshakes are sprinkled with classic Aussie sweets. Described as the wild child of the hotel trio, the 311-room Flynn will follow suit and open next April with mission to entertain. Designed by local Port Douglas architects, there's a hint of the heat as cute cabanas line what can only be described as a human aquarium – a glass walled swimming pool that magnifies every move. The coolest vibe however, is reserved for the Whiskey and Wine Bar. This suitably Magnum PI joint comes with cane furniture and brushed brass trim, straight out of the past.  As with all Crystalbrook Collection hotels, Bailey and Flynn also embrace the #responsibleluxury ethos and use 90% less paper than the average five-star room.
10. Hold your breath because you can now snooze under the sea
What lies beneath? The awesome foursome who snaffle one of two rooms at Australia's first underwater hotel, Reefsuite, will be able to tell you just that when the under-the-sea holiday pad opens in Summer of 2020. Moored offshore at Hardy Reef, 40 nautical miles from Airlie Beach, Reefsuite guests will be able to retreat to the privacy of the Great Barrier Reef and wake up to marine life. Priced from $749 per person, the overnight underwater stay includes all meals and beverages plus a dinner under the stars and an optional private guided snorkelling tour.
9. Walk the new Cobbold Gorge Glass Bridge
Cinderella had a glass shoe. Cobbold Gorge has a glass bridge. Both are magical and both lead to a fairy tale ending. Only at Cobbold Gorge, the glass object lies 17 metres above an astonishingly beautiful gorge and links one side of an 80 square mile working property to previously unentered virgin terrain. Below are sharp escarpments with more pink layers than a perfectly baked mille-fueille. Opened on October 13, Cobbold Gorge's glass bridge is another tick on the list of nature based activities that also includes electric boat cruises, guided interpretive nature walks, stand up paddle boarding and hiking. www.cobboldgorge.com.au
8. Shell out for this Attenborough-esque turtle encounter
Right about now (the first week of November), the cycle of life begins as ancient mama turtles emerge from the waters of the Southern Great Barrier Reef and haul their bodies up the Mon Repos beach to nest. This coming season (now until March), the buzz around the box office natural event will be bigger than a Blue Planet episode thanks to the launch of a $22 million dollar turtle centre that will take interpretation to another level. While the centre is taking on the Ritz, one thing remains the same, the good-old fashioned family value. A night of natural encounters costs $65.00 for two adults and two children.
7 and 6. Visit two new galleries …but BYO flippers.  
The Museum of Underwater Art (MOUA) off the coast of Townsville is set to bookend the work done at Reef HQ Aquarium and provide inspiration for reef and ocean conservation action when it opens in April 2020. The only Underwater Art Museum in the Southern Hemisphere, MOUA has four intriguing installations located at The Strand on the city foreshore, Palm Island, some 65km out from the mainland, and picturesque Arthur Bay at Magnetic Island. The largest installation is the John Brewer Reef Coral Greenhouse, a monumental underwater garden shed built on the pristine outer Great Barrier Reef and offering world class dive and snorkel experiences. The installations are designed by world renowned underwater sculptor Jason De Caires Taylor, the creator of MUSA in Mexico and Museo Altanico in Spain.
Underwater Art Installations around the Whitsunday Islands
Meanwhile, some 400 km south of Townsville, the Whitsundays is already wowing underwater visitors with sculptures dotted around popular locations easily reached by day trippers and bare boaters. Take your snorkel and fins and spot the Maori Wrasse at Blue Pearl Bay Hayman Island, the Manta Ray sculptures at Mantra Ray Bay, Hook Island and the turtles at Langford Spit near Hayman Island.
5. The Sunshine Coast just got a whole lot roomier thanks to this airport
Thanks to a $347 million upgrade of the Sunshine Coast Airport including a new north-west/south-east runway and a boosted terminal, there's soon to be more room at the flying inn for large craft like the Airbus A330 and Boeing787. The new runway is scheduled for completion in late 2020 and is set to bring more tourists to the collection of coastal villages north of the Queensland capital.
4. Tall order, but the biggest icon has a Sunshine makeover
Big things happen in a state  size as Queensland. So it was only a matter of time before the biggest icon of them all  –  the Big Pineapple – got a major makeover. As part of a $6.8 million phased revamp, the 170 hectare site is returning to its former glory with the TreeTop Challenge high ropes course, a new children's playground and a restaurant opening in 2020. The long-term master plan also calls for a craft brewery, family water park and eco resort.
3. Double your berth and cruise right into Brisbane
The Port of Brisbane will welcome some of the world's largest cruise ships on the planet when the $158 million upgrade to the Brisbane International Cruise Terminal opens in 2020. The new terminal more than doubles the capacity and provides oen hellova jump off point for lazy sails up to the Whitsunday Islands, Cairns and the Great Barrier Reef. See www.portbris.com.au/cruise/ 
2. Join six of the best and go straight to the Heart … Island, that is
Those clever people at Hamilton Island know what floats the boat when it comes to a snorkelling adventure and it's Heart Island, a split level pontoon that sits smack in the middle of the Heart Reef Lagoon and available for just six lucky travellers each time. Exclusive to guests of Hamilton Island, the tour at $999 includes a scenic 30 minute helicopter ride over the iconic Heart Reef, snorkelling, snacks and a glass bottom boat experience. Images: please credit @saltywings:
https://www.dropbox.com/sh/miixik4620rwdn5/AADoTYu1E2_5-vMA–n_hhe3a?dl=0 
1. Go' orn, take the Flying Roo to the place where Aussie aviation first started
Outback Queensland is the birthplace of Australian legends. Waltzing Matilda was first performed in Winton, Australia's first worker's strike was in Barcaldine, and the Queensland and Northern Territory Aerial Services Ltd (Qantas) was founded in …
Therein lies the argument. Local lore has it that Qantas was conceived in Cloncurry, launched in Winton and raised in Longreach. Next year as the clock ticks down to November 16 and a massive 100 years of Qantas' operation, show your Aussie pride and jet back to where it all started. Tick off all three destinations but leave enough time to visit the Qantas Founders Museum and salute the flying roo.
Follow and Share with Jetsettersblog.