2020 Abseiling Dates at Emirates Spinnaker Tower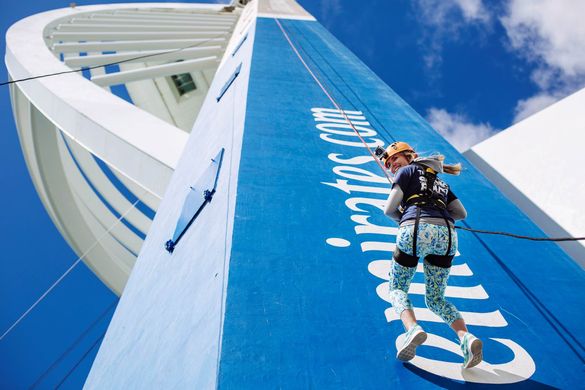 ---
Emirates Spinnaker Tower in Portsmouth announce 2020 abseiling dates with new, lower age restrictions.
As of 2020, the age has been lowered to 14 years of age with the permission of a guardian aged 18 or over. Previously, the experience has only been open to those aged 18+.
A total of 43 dates over 23 weekends are available to book for the brave people looking to take on their next adrenaline-filled challenge.
The abseiling dates available for 2020 are:
April 18th, 19th, 25th, 26th
May 2nd, 3rd, 10th, 16th, 17th, 23rd, 24th, 30th, 31st
June 6th, 7th, 13th, 14th, 20th, 21st, 27th, 28th
July 5th, 11th, 12th, 18th, 19th, 25th, 26th
August 1st, 2nd, 8th, 9th, 15th, 16th, 22nd, 23rd, 29th, 30th
September 5th, 6th, 12th, 19th, 20th
Abseiling has been offered at the Tower since 2011, with over 6000 brave participants taking on the challenge. It is also estimated that charities receive a £500k fundraising boost each year from abseiling participants.
The experience involves challengers being whisked up in the high speed lift to View Deck 1 of the Tower, 100 metres high. Once they get a look of the view through the panoramic windows, they will head out to the ledge where they will be open to the elements, strapped in and ready to take on the descent.
Abseils are priced at £100 per person. Guests can upgrade to a Gold package for £130 which includes a participant's medal, GoPro video and photo. Guests can also upgrade to a Platinum package for £140 which includes a participant's medal, GoPro video, photo and t-shirt.
Tony Sammut, General Manager at Emirates Spinnaker Tower said:
"We're thrilled to be offering the abseil experience for 2020 and to be able to offer the experience to a younger audience of 14+. Whether you're taking on a personal challenge or raising money for charity, it is one of the most exhilarating, unique experiences in the UK and we look forward to welcoming our next group of brave thrill-seekers."
Abseils can be booked online at www.spinnakertower.co.uk. Full T&Cs can be found on the website. Watch the video here.
Emirates Spinnaker Tower is open daily from 10.00am to 6.00pm (excluding Christmas Day). See www.spinnakertower.co.uk or call 023 9285 7520 to book in advance or to find out more.
Follow and Share with Jetsettersblog.