2021 Travels From Welcome Beyond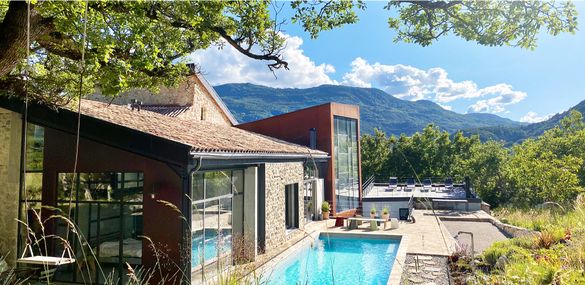 ---
As we hope and dream of 2021 travels, who better to turn to for inspiration than the design gurus at Welcome Beyond, the go-to company for design-minded folks looking for extraordinary holiday accommodation. Read on for the latest new properties joining the collection, and plenty of inspiration for 2021 travels to look forward to.
10 Properties New To The Welcome Beyond Collection
La Maison du Mûrier, Hautes-Alpes, France (new to collection, opened July 2020)
La Maison du Mûrier is a 17th century stone farmhouse restored with modern architectural features, furnished with iconic design classics and contemporary collectibles located in the southwestern tip of the Hautes-Alpes department. There are three separate units available to rent.
Hautes-Alpes is renowned for its incredible nature and the range of outdoor activities on offer. There are rivers and lakes just 15 to 20 minutes' drive away from La Maison du Mûrier. From hiking, cycling, mountain biking, fishing, paragliding, rafting, canoeing to rock-climbing, there's lots to do.
Welcome Beyond offers nightly rates at La Maison du Murier from 587 Euros, for the Terrace Villa, sleeps 10. Minimum stay 3-7 nights depending on dates.
TypeO Loft, Skåne, Sweden (new to collection – opened June 2020)
TypeO Loft is a luxurious slow living one-room bed and breakfast located in the southern Swedish region of Skåne and Österlen. A 10-minute drive or 20-minute bike ride will take you to several beautiful sandy beaches that stretch for many kilometres, with scarcely any people on them. The area is also becoming known as a culinary destination and was recently listed in the New York Times as a gourmet "place to watch".
Welcome Beyond offers nightly rates at TypeO Loft from 140 Euros, sleeps two, including breakfast. Minimum stay two nights.
Modern Rome Apartments, Rome, Italy (new to collection – opened September 2020)
Two contemporary apartments to rent, Modern Rome Apartments sit in a converted building dating from the 19th century. Located in the Esquilino quarter, a 15 minute walk to the Colosseum, Modern Rome Apartments are a rare find in the city. Housed within a historic building, the apartments are contemporary and bright – it's quite a surprising find to climb the old staircase and then enter such a modern space, as though you are stepping into a completely different era.
The apartments can be rented together or separately. Large apartment – sleeps 6-8 people in 3 double bedrooms. Small apartment – sleeps 2-4 people in 1 double bedroom.
Welcome Beyond offers nightly rates at Modern Rome Apartments from 250 Euros in the Small apartment, and from 650 Euros in the Large apartment. Minimum stay 3 nights.
Casas Caiadas Open House, Alentejo, Portugal (new to collection – opened June 2020)
Casas Caiadas Open House is a home that combines discreet and minimal architecture with the authenticity of its territory. It's named Open House due to the fact that the property has five doors that lead onto two pedestrian streets, with the building having a  great social dynamic with the village of Arraiolos, in the unspoiled Alentejo region in central Portugal. Head to Comporta Beach with its white sand and turquoise water, or hop on an e-bike and explore Arraiolos.
Welcome Beyond offers nightly rates at Casa Caiadas Open House from 460 Euros, sleeps 8, including breakfast. Minimum stay 3 nights.
Le Marche Farmhouse, Le Marche, Italy (new to collection – opened Summer 2020)
Le Marche is an old farmhouse that's been stripped back to what it was two centuries ago and fitted out with the simple necessities required for modern living. It's not designed to be a luxury villa — it's what was there in the landscape 200 years ago, with a clear distinction between old and new.
The town of Elcito is around 20 minutes away and has some of the most spectacular scenery in the region. Also beautiful is the Riviera del Conero, with white pebbly beaches and perfect turquoise waters beneath its cliff faces. Another highlight is horse riding down to the lake of Cingoli, which is surrounded by fields of sunflowers and olive groves that make it an idyllic picnic setting.
Welcome Beyond offers nightly rates at Le Marche Farmhouse from 286 Euros, sleeps six. Minimum stay 7 nights.
Uluwatu Retreat, Badung Regency, Bali (new to collection – opened January 2020)
A place to book for a holiday of a lifetime. Eight stunning villa suites offer 5500 sq metres of living space, and the infinity pool has the most spectacular view over the Indian ocean. Twenty staff are in residence to look after guests 24/7, including a professional host, private chef, driver and mixologist.
Uluwatu Retreat perches on a cliff overlooking the ocean, surrounded by the surf beaches of the Bukit Peninsula. Once a tea estate, it's in an area of Bali that's quite secluded and well away from the island's more developed tourist resorts.
Welcome Beyond offers night rates at Uluwatu Retreat from 2,311 Euros per night, sleeps 8-16. Minimum stay 3-7 nights depending on dates.
Masseria di Gregorio, Puglia, Italy (new to collection)
Masseria Di Gregorio is a small "masseria", a typical Apulian farm, built in the early 1900s. The renovated property combines design with hospitality and art while maintaining the simple atmosphere of country life. Refined vintage furniture, contemporary design elements and original objects made by local artisans adorn the interiors. Bicycles, hammocks and swings for children and adults are all available in the garden.
Take a cooking class, have a massage or practice yoga. The incredible beaches of the Ionian Sea are between 30 and 60 minutes away and Matera with its caves and its incredible setting is only 45 minutes away.
Welcome Beyond offers nightly rates at Masseria di Gregorio from 350 Euros, sleeps 7 people. Minimum 3 night stay.
Villa Bellagio, Lake Como, Italy (new to collection)
This incredible property was designed by architect Gio Ponti, an influential designer and the founder of the architectural magazine "Domus". He was a friend of the Milanese family who commissioned the villa as a holiday home and worked on it with two of his proteges (the original design is framed in the entranceway). The house has been lovingly renovated with chic interiors – yet the highlight is surely the amazing views.
Welcome Beyond offers nightly rates at Villa Bellagio from 2,700 Euros, sleeps 12 people. Minimum stay 4-7 nights depending on dates.
Wallis Heidenhaus, Wallis, Switzerland (new to collection)
Wallis Heidenhaus is a typical Heidenhaus in the village of Ernen that was built between 1424 and 1454. It's one of the oldest surviving houses of this kind in the Goms region. and has been beautifully preserved, now comprising two apartments. It's ideal for families –  children will love checking out the animals in the village, including the goats and donkeys that live right next door.
Welcome Beyond offers nightly rates at Wallis Heidenhaus from 139 Euros, based on two sharing an Apartment. Minimum stay seven nights.
Villa Abruzzo, Abruzzo, Italy (new to collection)
Villa Abruzzo is located in the far north of the Italian province of Abruzzo, surrounded by olive groves and vineyards and in close proximity to the Adriatic coast. Featuring a natural stone façade, the LA mid-century design blends in wonderfully with its enchanting and almost untouched natural surroundings, with the large, floor-to-ceiling windows paying additional tribute to the landscape. It is a wonderful retreat from which to explore this little-known part of Italy.
The property is close to the snow-capped mountains where wild horses roam, as well as being just a short drive from the beach.
Welcome Beyond offers nightly rates at Villa Abruzzo from 1,000 Euros, sleeps six. Minimum stay 7 nights.
New Gift Experiences
Welcome Beyond has for the first time launched new gift experiences. Welcome Beyond gifts are redeemable on any Welcome Beyond hotel or private house rental booking, across over 240 one-of-a-kind properties in 43 countries.
With an extra-long validity of 24 months from purchase, and plenty of properties currently offering super-flexible cancellation policies, a Welcome Beyond gift is a great way to treat a friend or loved one to an unforgettable future escape of their choosing, whilst supporting the travel industry at a critical time.
To purchase, simply visit www.welcomebeyond.com, choose to give a gift with a monetary value from 50 Euros up to 5,000 Euros, and the gift will be sent via email for you to share personally. A Welcome Beyond travel consultant will help the lucky recipient with their booking. As always, Welcome Beyond offers their best price guarantee, complimentary extras on arrival, and no booking fees. Start dropping hints now!
Recent Booking Insights
The most clicked on properties in the last two months are Elsewhere, an idyllic collection of beach houses in Goa, India; Saddle Peak House, a jaw-dropping four bedroom property in the Santa Monica mountains, Los Angeles, USA; and The Dutchess, a biodynamic farm with interior design drawing on the wabi-sabi principles of Zen philosophy, in Upstate New York, USA.
The most searched for countries are currently the USA (mainly Americans viewing staycation properties), followed by Spain, Italy, Portugal, Germany, and France (in this order).
The most viewed collections are design & architecture focused properties, and beach houses – that good holiday eye candy!
Holiday rentals continue to be much more popular than hotels, with a 75% / 25% split, compared to previous years when hotel bookings accounted for almost half of all bookings.
Welcome Beyond is a global collection of holiday houses, b&bs and boutique hotels, all with unique architecture and design at their heart. They feature properties in over 43 countries around the world at all price points and to suit every holiday vibe.
@welcomebeyond
–
Follow and Share with Jetsettersblog.