2022 Ventura Inspiration Guide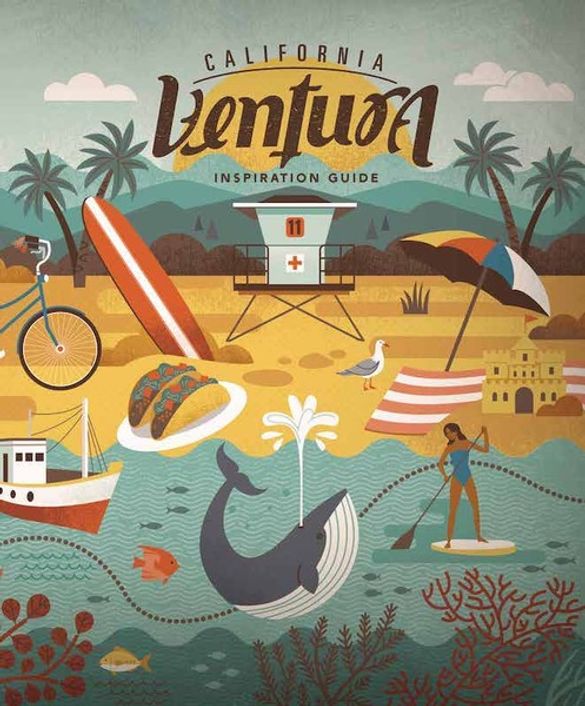 Ventura, Calif.   Visit Ventura is proud to announce the release of the new 2022 Ventura Inspiration Guide.
From the eye-catching custom illustrated wrap cover to an interior filled with stunning photos and a wide range of fun-centric articles, the Ventura Inspiration Guide, a collaborative effort between Visit Ventura and new publisher Wanderlust Content Studio, is filled with helpful information and inside tips; everything from undiscovered Ventura neighborhoods and shopping/eating/adventuring secrets to the ultimate guide to Channel Islands National Park.
Just as important, the Guide also brims with passion, community, heartfelt arms-wide welcome, a throwback feel that's genuinely Ventura, and, yes, the pure joy and inspiration of travel — and there can never be too much of any of that.
"Capturing the heart and soul of a place is no easy task," said Marlyss Auster, Visit Ventura President & CEO, "but I believe this Inspiration Guide has done exactly that. It's warm, bright, joyful, and welcoming. Just like Ventura itself."
The pages shine with plenty of what has always made Ventura a special place; world-class outdoor play, year-round sunshine, miles of empty beaches, locally owned businesses and restaurants, and small-town friendliness. And there's plenty of new fun too; including an introduction to Ventura's 2,100-acre Harmon Canyon, a hiking and mountain biking gem, a look at Ventura's colorful, ever-blossoming street murals, and, with road-tripping in mind, a list of great road tunes, from famous classics to roll-down-the-window-and-let-the-breeze-blow-back-your-hair tunes from Ventura County locals.
Ventura has always been proud of its strong community; the town and its people working together to raise the bar to new levels, whether it's weathering a pandemic or elevating kindness to an art. Like the town it portrays, the Inspiration Guide is also very much a collective effort. In fact, this year our partners, recognizing the value of the Inspiration Guide partnership, participated in record numbers.
Perhaps now, more than ever, a Visitor Guide is a critical visitor draw.
"Almost 90 percent of visitors say a guide helps make their decision to visit a destination," said Michele Gilmour, Visit Ventura's Director of Consumer & Leisure Travel, who oversaw the Inspiration Guide from start to finish. "But we wanted an Inspiration Guide that was more than just an enticement to visit. We wanted a guide that tells Ventura's story, that speaks to both visitors and locals, that's helpful as a resource, but that also portrays Ventura's unique charms as a laid-back beach town. That goal, to capture Ventura's magic, runs through every page; from the native advertising to the photographs and articles showcasing what makes Ventura special, right down to including America's easy listening classic "Ventura Highway" in our Ventura road tunes collection — because, after all, Ventura Highway leads to a classic, easy-going beach town. The Inspiration Guide was a true team effort. We couldn't have published a guide like this one without our incredible partners and advertisers."
Stop by the Ventura Visitor Center (101 South California Street) to experience the magic. Or have a look at the digital version here. And you can clickhere to order a cop

Follow and Share with Jetsettersblog.