24-Hours in the City – Stay Another Day at Hotel G Yangon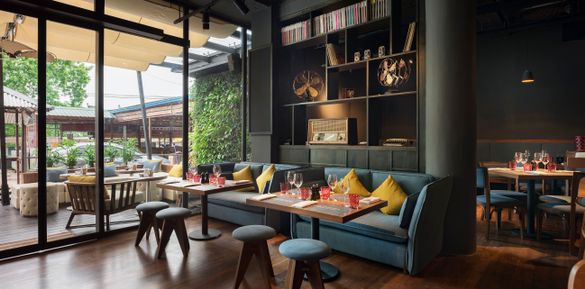 ---
Hotel G Yangon is putting a smile to the faces of travellers heading to Myanmar this summer with a special 'Stay 3 Pay 2' seasonal promotion. Yangon's recently opened lifestyle hotel, Hotel G Yangon is located at the heart of this revitalised and vibrant city, and guests can use their extra day to explore the extraordinary experiences, picture perfect markets and immersive experiences right on the hotel's doorstep.
Guests booking rooms online at Hotelgyangon.com or Hotels-g.com from now until 30 June, for stays of three consecutive nights to be taken between 15 June and 15 September 2018, can enter the promotional code 'SMILE' and only pay for two nights. Reservations using this 'Stay 3 Pay 2' offer are non-refundable and cannot be used in conjunction with any other offers or promotions. Black out dates apply.
Whether it be the latest in connectivity, the hottest talent on the local music scene or the most up-to-the-minute trends in gourmet cuisine, the team at Hotel G Yangon makes it their business to be in the know and they can make many suggestions of how guests could spend their extra day in the city. A typical day in Yangon could include:
Morning:     
After breakfast, cross the street from Hotel G Yangon to Yangon's Central Railway Station. For a fascinating glimpse into every day life, guests can take a three-hour round trip on the circular train track that loops the city; an inexpensive way to discover the scenery and every day life of Yangon and its people. Be sure to pack your camera!
Lunch:                 
Return to Hotel G Yangon for lunch at Babett Eatery & Bar, or grab a bowl of Shan noodles at Aung Mingalar on Bo Mar Nyunt Road on the street right behind Hotel G Yangon
Afternoon:  
After lunch stroll five minutes down the road from the hotel to the 70-year old Bogyoke Market (also known as Scott's Market) where you will find jewellery, precious stones, fabrics and handicrafts from all regions of Myanmar.  For a luxurious and rejuvenating respite from the bustle of Yangon, drink in the colonial elegance of The Strand Café, where locals and explorers from distant shores have been taking the famous Strand High Tea for over a century. Try the Classic High Tea or the Myanmar High Tea, which is served in beautiful lacquer ware boxes and includes local items such as a sticky rice duo with salted sesame powder; ginger salad with cabbage, shallots, tomatoes and crispy beans; rice dumplings stuffed with palm sugar; pandan and coconut Agar Agar; steamed plantain in coconut cream; and carrot and coconut pudding
Sunset:       
Set aside an hour to visit the Shwedagon pagoda as the sun sets upon it's golden stupa, light a candle and find secluded spot in the gardens to drink in the atmosphere
For a night in:      
Hotel G Yangon recently introduced a Movie Box of treats perfect for filmophiles who want to chill in their room after a day of sightseeing and catch a film on the hotel's free-to-view movie channels. The Hotel G Yangon Movie Box costs USD 25 and includes two servings of popcorn (choose from black olive, salted or salted caramel), as well as two soft drinks, and 500ml of homemade ice cream or sorbet from Babett Eatery & Bar. Flavours include vanilla, chocolate, vanilla cookie, hazelnut, peanut butter, green tea, strawberry, mango and lemon
For a night out:
For a more authentic Yangon experience, Hotel G Yangon guests could order their Movie Box to-go and venture out into the city to catch a film in one of its nearby retro-feel picture houses such as the historic Thamada Cinema right next door. First opened in 1958, the beautifully designed Thamada cinema is a national treasure that continues to draw crowds for its mix of local and Hollywood movies. As part of the creation of Hotel G Yangon in 2017, the walls of Babett Eatery & Bar were decorated with prints of posters from Burmese films that were once shown at the Thamada, linking new Yangon to old. Other cinemas nearby are Waziya cinema on Bogyoke Aung San Street, a few minutes' walk from Hotel G, and Junction Cineplex at Junction City shopping mall.
Into the night:      
Hotel G Yangon's Babett Eatery & Bar has a chic, laid-back style and a trendy soulful vibe. Babett has a programme of weekly events and promotions. Held every Saturday night, Babett Goes Live is an evening of fun with gigs, local DJs and $1 beers
The 'Stay 3 Pay 2' offer is part of a global summer SMILE campaign by Hotels G across their award-winning lifestyle hotel collection located in Bangkok, Pattaya, San Francisco, Hong Kong, Shenzhen and Singapore. More details can be found at Hotels-g.com.
Follow and Share with Jetsettersblog.