30-Day Validity for Houston CityPASS Tickets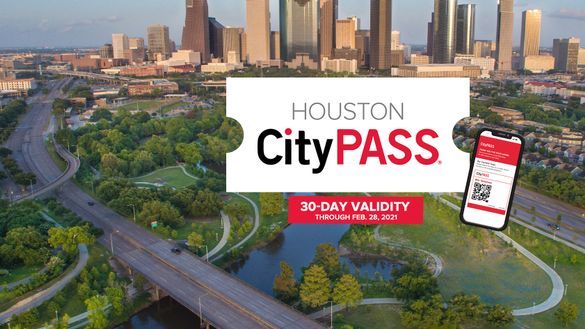 ---
CityPASS has always been one of the best ways to stretch your travel budget. Now it's also the best way to stretch the time you have to visit top attractions in Houston, including Space Center Houston, which will reopen to the public on July 1. For those who are ready to start traveling but don't want to venture too far from home, CityPASS has increased the usual 9-day validity period on its admission tickets to a full 30 days. Houston staycation, anyone?
CityPASS tickets save Houston travelers 45% off the cost of purchasing the included attraction admissions separately. The extended 30-day validity is valid on all Houston CityPASS tickets activated (first used) between now and Feb. 28, 2021.
Houston CityPASS tickets include prepaid admission to:
Space Center Houston
Downtown Aquarium
Houston Museum of Natural Science
A choice between Houston Zoo OR Museum of Fine Arts, Houston
A choice between Kemah Boardwalk OR Children's Museum of Houston
Price: $64 for adults, $54 for children 3-11.
Some attractions now require advance reservations for guests. For information on how to make reservations, visit the "Plan Your Visit to Houston" page on the CityPASS website. You'll also find attraction hours of operation, exhibit highlights, offers and upgrades, travel tips and a city map.
Note: Before booking your trip, we encourage you to check the attractions' websites to ensure that the exhibits, rides and activities you most want to enjoy are currently open and accessible.
In this new normal, travelers want to feel secure about their vacation decisions. Thankfully, CityPASS and its partner attractions are:
Safe — Stringent new cleaning protocols and social distancing measures at the Houston attractions have been designed to keep visitors safe and healthy. See the CityPASS "Attractions Safety Measures" web page for detailed information. To reduce contact and touch points, CityPASS also encourages visitors to use CityPASS mobile tickets for the time being.
Trustworthy — CityPASS has been a trusted brand for nearly a quarter of a century, with more than 23 million tickets sold to date. CityPASS tickets have a 97% customer recommendation rating. Read our reviews here.
Flexible — Travel plans unexpectedly changing? No worries. CityPASS has a 365-day risk-free return policy on unused tickets. Want to spread your attraction visits out over several weekends? Not a problem. For many CityPASS partner destinations, travelers now have 30 days in which to use their admission tickets.
About CityPASS: For more than 20 years, CityPASS tickets have been premier products for travelers who want to visit a destination's top attractions while enjoying significant savings. CityPASS tickets, which have a 97% customer recommendation rating, are currently available in 14 North American destinations: Atlanta, Boston, Chicago, Dallas, Denver, Houston, New York City, Orlando, Philadelphia, San Francisco, Seattle, Southern California, Tampa Bay and Toronto. To date, more than 23 million CityPASS tickets have been sold to savvy travelers. For more information, visit CityPASS.com.
Prices and program subject to change. CityPASS® and City Pass® are registered trademarks of City Pass, Inc., and the exclusive property of City Pass, Inc