4 Tours to Saudi Arabia, Sudan, Chechnya and Palestine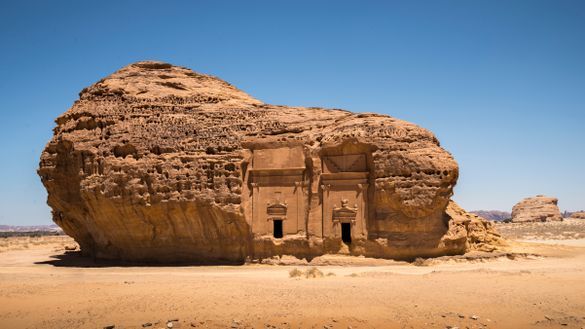 ---
Crooked Compass is challenging curious and sophisticated travellers to think differently about four destinations not commonly found on bucket-lists: Saudi Arabia, Sudan, Chechnya and Palestine. The boutique tour operator is offering small group itineraries departing throughout 2020 and 2021.
Forbidden Kingdom – Saudi Arabia
One of the world's last true frontiers and most misunderstood nations. Recently opening its previously forbidden doors to travellers, this ancient kingdom is a truly intriguing destination. A country rich in symbolism and pre-Islamic treasures, it is also home to unusual yet diminishing tribes, hidden cultures, contrastingly modern cities and a stunning coastline. Saudi Arabia delivers landscapes and lifestyles unlike any other Middle Eastern destination and is the "what's next" for the curious-minded voyager.
12 days for $14,195 departing 9 Nov, 2021
Escorted by Crooked Compass Founder, Lisa Pagotto.
Itinerary: https://www.crooked-compass.com/tour/forbidden-kingdom-saudi-arabia/
Blog post: https://www.crooked-compass.com/blog/travelling-to-saudi-arabia/
With more pyramids than Egypt, southern neighbour Sudan stands on the banks of the Nile, untouched by mass tourism and brimming with history. The stunning rugged terrain is home to some of the most romantic archaeological sites in the world, among them several whole fields of pyramids. Commonly perceived as dangerous, Sudan is currently transitioning to a civilian led country, meaning new opportunities and freedom for its people. As a nation reinvigorated, 2020-21 is an exciting time to visit one of the world's oldest civilisations.
12 days for $10,321 departing 3 Nov, 2020 and 23 Nov, 2021
2021 tour escorted by Crooked Compass Founder, Lisa Pagotto.
Itinerary: https://www.crooked-compass.com/tour/ancient-nubia-sudan/
Russia's southern land is no longer the perilous region it once was. A war zone only a decade ago, it is now one of the safest places in the country. Locals are extremely welcoming and eager to show how much their world has changed since the war. Travellers venture to Chechnya, now known as the Chechen Republic, to experience breathtaking scenery and one of the last places not over-crowded by tourists. This region within the Caucasus offers superb trekking amid soaring peaks, white-water rafting, bustling markets and the chance to learn about a fascinating culture that dates back as far as 12500 BC.
5 days for $2,989 departing 16 Jul, 2020
Itinerary: https://www.crooked-compass.com/tour/chechnya-discovered/

Walking in the Palestinian Territory
A destination filled with misconceptions, this is an itinerary for people seeking a clearer understanding of the Palestinian's position and history. Venture well off-the-beaten track to explore this spectacular path through the Palestinian territory in Israel. Many villages have not seen western travellers for a long time and an untouched aura encompasses the region. Hike alongside shepherds herding their flocks, live with local families who retain their old-world traditions, discover historical biblical sites of the Holy Land and float in the Dead Sea.
8 days for $5,409 departing 13 Sept and 8 Oct, 2020
Itinerary: https://www.crooked-compass.com/tour/walking-in-palestine/
Video: https://www.youtube.com/watch?v=hXGDa-LqQO0&t=2s 
First-hand blog post: https://www.crooked-compass.com/blog/travelling-through-palestine/
About Crooked Compass
Crooked Compass is a boutique tour operator uncovering the world's best kept secrets through small group touring and customised itineraries. Created to inspire and educate through culturally immersive experiences and the power of storytelling, itineraries offer travellers a new perspective on a deeply personal level. Crooked Compass strategically and sensitively integrates local communities, aligning with their values and protecting the authenticity of their culture. www.crooked-compass.com #FollowADifferentPath
Follow and Share with Jetsettersblog.