5 Reasons to Explore Italy in 2021—Plus Early Booking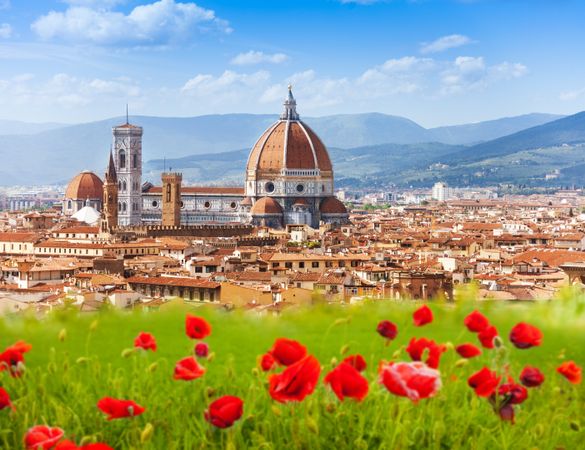 Inghams, the expert tour operator nominated as Best Special Interest Holiday Company in this year's British Travel Awards, today launched their 'Italy, Your Passions, Your Holiday' 2021 Magazine—highlighting the many reasons to visit Italy next year.
In 2021, Inghams customers will once again be able to explore Italy's great outdoors, indulge in the delicious food and drink, art, culture and historic cities, relax at the lakes with mountain views or on the sunny coastlines, and take in the sights on multi-centre trips, escorted, self-drive and self-guided tours.
With 85 resorts across 14 regions to pick from and so much choice whatever the passion—plus low early booking deposits of just £75 per person*, when booked before the 18 December 2020, there's no time to waste.
Escape the crowds and explore Italy's great outdoors
From the Italian lakes to the breath-taking mountains, immersing in Italy's natural beauty can do wonders for anyone's wellbeing. The famed Dolomites are a walker's paradise in the spring and summer months, and Italy's stunning lake destinations offer visitors outdoor activities and relaxation in equally magnificent settings.
Indulge in art, culture and fine food in Italy's historic cities

From Florence, Milan, and Naples, to Rome, Venice and Verona, an Inghams' city break in Italy will not disappoint. It's no secret that Italy is famed for its spectacular art and architecture, much of which has been around for thousands of years. Making exploring Italy's beautiful cities like looking back in time if you know where to look.
Clear the mind on Italy's sunny coasts
Italy's brightly coloured coasts and extensive choice of brilliant beaches make it an ideal place to unwind and explore. With amazing views, sparkling waters, water sports and stunning beaches galore, Inghams' customers have the pick of coastal destinations in Sardinia, Tuscany, Calabria, the Adriatic Coast, the Neapolitan Riviera and more.
See the sights, travel and discover more with Italy's many tours

There's so much to see in Italy and travelling from one place to the next to see it can bring a real sense of freedom and excitement. With a choice of escorted, self-guided and self-drive tours, walking tours, those based on history and culture, and those inspired by a love of good food, Inghams provide a great selection of ways to discover Italy.
Taste Italy's finest food and drink
Italy is known for its regional, local specialities, and also for fondly arguing about whose version is the proper way of making it. That passion for food is everywhere you go, and Inghams have captured their top tips for foodies in their Italy 2021 Magazine.
In a statement from Inghams, Joe Ponte CEO, said:
"Inghams have been planning holidays for over 85 years and we've used this vast experience to offer our customers the very best tours, experiences, resorts and accommodation in Italy. We're proud to be designing the tailor-made trips that deliver the experiences people want.
Following the travel restrictions of last summer and the continued impacts of COVID-19, our 'In Safe Hands' campaign, our house insurers new COVID-19 protection and our continual endeavour to do the right thing, is enabling many of our customers to book their 2021 holiday with confidence."
The Inghams 'In Safe Hands' campaign includes details of their additional safeguards. Plus, reassurances that their customer's money is safe. Amongst other guarantees the campaign details their COVID-19 refund promise. While Inghams' partner insurance provider, Campbell Irvine can provide Inghams' customers with cancellation cover if they test positive for COVID-19 prior to their departure or in the event they are required to self-isolate due to being alerted by test and trace.
View Inghams Italy 2021 online Magazine here.
*For all summer 2021 departures between 1 May until 31 October 2021. Remaining deposit value of £80 per person is due 31 January 2021. Final balance due 10 weeks before departure. For some dates Inghams might need to increase the deposit a little if the holiday includes a scheduled flight rather than one of their charters.
Terms & conditions apply. Subject to availability.
Inghams' Company Information
Inghams was founded by Walter Ingham in 1934, born out of his enduring passion for ski, mountaineering and walking.
Today, Inghams offers a popular Summer Experiences holiday programme to many European destinations and Canada, and a dedicated Self-guided and Escorted Tours programme.
The trusted company also delivers ski holidays in the winter to 78 resorts in 8 countries, plus winter wonderland and Santa Breaks to Lapland, with flights from 15 UK regional airports.