8 Classic Choices for Riverside Dining in Rockhampton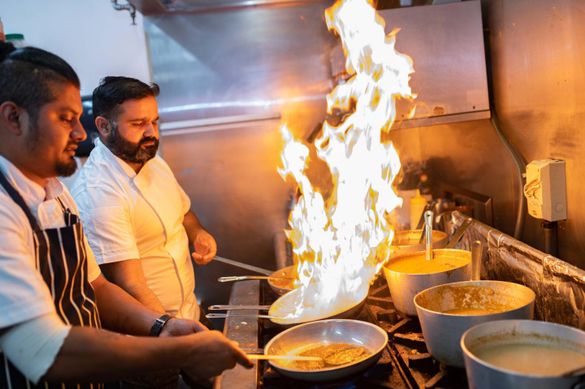 2
---
With a suite of feasting options recently bringing a classy new dimension to Rockhampton's revitalised riverfront, sophisticated dining overlooking the mighty Fitzroy River is definitely a must do experience when visiting the often famed 'beef capital'.
Located approximately 600 kilometres north of Brisbane and a stepping stone to the Southern Great Barrier Reef and the Capricorn Coast, Rockhampton has 'upped the ante' with dining options to suit everyone.
Already a favourite destination for visitors, the riverside precinct, situated right in the heart of the city, offers fabulous views, and has become an exemplary example of modern, integrated urbanism set amongst a profound strip of heritage-listed buildings.
Delectable menu's aside, the importance of ambience when dining out is vital to providing the perfect balance between taste and vibe and with eight diverse choices now prominently perched across approximately 600 metres of river frontage, your breakfast, lunch and dinner decisions are sorted.
Here's a run down of places where your eyes can delight as well as your tastebuds…
Trufusion Indian Bar and Grill – 102 Victoria Parade, Rockhampton
Let TruFusion Indian Bar and Grill take you on a culinary journey through the Indian Subcontinent and discover why Indians treat each meal as a celebration. Explore the vast array of delicate herbs and spices that will tantalise your taste buds. Selecting fine dishes from India, Pakistan, Nepal, Sri Lanka, and Afghanistan, TruFusion captures the essence of old tradition, as well as present fusions that will intrigue.
Skyring's Restaurant and Bar – 98 Victoria Parade, Rockhampton
When Rockhampton asked for a new player in the food and beverage scene, Skyring's delivered. Skyring's is Rockhampton's newest restaurant and bar, focusing on the freshest of produce in a mix of fine dining and tapas upon the modernly designed alfresco area. The Ala Carte restaurant features quality ingredients and bespoke wine-list, all set in a modern space overlooking the iconic Rockhampton riverfront. Watch the world go by with a cocktail in hand.
Riverston Tea Rooms – 186 Quay Street, Rockhampton
Established in 2018, Riverston Tea Rooms brings a unique eloquence to your dining experience. Be dazzled by the beauty of the crystal chandeliers and vintage décor as you enjoy Riverston's seasonal menu, created using fresh local produce. Enjoy homemade sweets, all lovingly prepared onsite by Patissiery chef, Caitlin, or indulge with a Riverston High Tea, held on the last Sunday of each month.
Boathouse – 189 Quay Street, Rockhampton
Boathouse Rockhampton is waterfront dining at its best, with breathtaking, panoramic views of the Fitzroy River. With an expansive deck hovering above the river, the unique, open-aired venue takes full advantage of the beautiful Queensland climate, while you select from their progressive menu packed with the freshest seafood and seasonal produce. Top it off with their modern and vivacious drinks menu to compliment the waterfront setting and your dining experience is complete.
Pacino's Restaurant – 5 East Street, Rockhampton (entrance Victoria Parade)
Located beneath Rockhampton's award-winning Empire Apartment Hotel, Pacino's is a family owned and operated 'taste of Italy', taking immense pride in supporting local wholesale food suppliers and serving traditional food with the finest and freshest ingredients. With a constant finger on food trends, diners will be blown away by pasta dishes, risottos and seafood, teamed with the finest drinks menu to give a full-bodied and stylish experience.
The Criterion – 150 Quay Street, Rockhampton
The Criterion is an iconic symbol in the history of hotels in Australia. Specializing in food, entertainment and accommodation, the Criterion was destined for great times and has played host to Queen Elizabeth II, the Duke and Duchess of Glouchester, the English Cricket team, Rockhampton's own Rod Laver, and more. The Bush Inn Bar and Grill Steak House serves up good quality, wholesome food at reasonable prices. Although predominantly beef, their menu offers varied dishes that are well prepared and presented.
The Coffee Club – 5 East Street, Rockhampton (entrance Victoria Parade)
Whether it's a celebration, a Sunday breakfast, coffee with work mates or date night, The Coffee Club under Empire Apartment Hotel combines Modern Australian with café dining. With a promise of good food, great service and excellent coffee, the coffeehouse-style chain is a relaxed riverfront meeting place for breakfast, lunch or dinner.
Ribs & Rumps – 5 East Street, Rockhampton (entrance Victoria Parade)
If you are looking for great steaks, a ripper time, and Australia's ultimate ribs experience, Ribs and Rumps is the place to go. Located underneath Empire Apartment Hotel, Ribs and Rumps fires up the grills to serve the finest beef Rocky has to offer. Also providing menu options for non-meat eaters, a fabulous range of cocktails as well as decadent desserts, the relaxed and casual atmosphere of Ribs and Rumps has something for everyone.
For more information on things to do while in Rockhampton, visit www.visitcapricorn.com.au.
#visitcapricorn #southerngreatbarrierreef

Follow and Share with Jetsettersblog.