9 Sea-Themed Adventures in Saint Lucia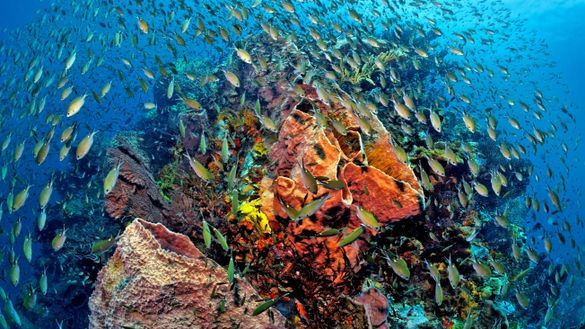 ---
World Oceans Day is June 8 2020, with the purpose of celebrating the world's seas and marine life. The long-standing event highlights the role of the oceans in our everyday lives and inspires the protection and sustainably of marine resources.
As an island nation, embraced by the Caribbean Sea and the Atlantic Ocean, Saint Lucia's beauty extends well beneath the waves to a paradise for diving, snorkelling, kitesurfing, snuba and sailing. Here are nine ocean highlights for Saint Lucia:
Dive into Underwater Photography.
Soufrière sister resorts Jade Mountain and Anse Chastanet have launched an exciting series of week-long underwater photography courses for budding marine photographers, running from  17th – 24th October,  November 28th – 5th December at the resorts' PADI Five Star dive centre Scuba St Lucia.  Aspiring photographers will learn all the basics of underwater photography, including composition, ambient light use and animal portraits, before snapping their own aquatic photos.
2.  Whale and dolphin watching.
Sperm, pilot and humpback whales are commonly spotted along the coast, as are large pods of playful dolphins. Some boats are equipped with hydrophones, so you can also hear the creatures chatting away in clicks, squeals and clacks.
https://www.islandroutes.com/caribbean-tours/st-lucia/10/castries/1872/dolphin-whale-watching-experience/
Lionfish Tracking.
The lionfish is an invasive species in the western hemisphere. It has no natural predators and it is quickly becoming a plague threatening the coral reef and ecosystem it invaded. This specialty is an introduction to invasive lionfish tracking, to familiarize divers with the skill, knowledge, planning, organization, procedures, techniques, problems, hazards and the enjoyment of the invasive lionfish management diving. It's intended to serve as a safe and supervised introduction to invasive lionfish tracking.
https://www.viceroyhotelsandresorts.com/sugar-beach/activities/sea
Sail into the Sunset.
Take a sail at sunset in an old Carriacou Sloop, Saint Lucia's only locally built trading boat. It's a laidback sailing experience run by local company, Jus Sail. Starting in Rodney Bay Marina, you get a tranquil voyage across Rodney Bay, past historic Pigeon Island and South past Barrel O Beef Islet towards and into Choc Bay. Jus Sail also runs a youth training programme in the off-season for Saint Lucians to help them gain maritime employment.
Night Snorkelling.
The Scuba St Lucia team offers twice-weekly, year-round guided night-snorkelling sessions in its home reef, which truly comes to life at night. After a briefing at dusk, snorkelers enter the warm, clear water in search of eels, octopus, lobsters, large basket stars, bioluminescence and sleeping parrot fish. The guides are experts in spotting night-dwelling creatures that are hidden away during the day.
Voluntourism with the Sandals Foundation.
Those who want to see some of the work carried out by the charitable arm of Sandals Resorts International, The Sandals Foundation, can sign up to see active coral nurseries in Saint Lucia. Within the protected marine area approximately two thousand fragments of Elkhorn and Staghorn coral are propagated and grown. In the 1980's, a deadly coral disease killed over 95% of the Caribbean's Elkhorn and Staghorn coral colonies. These fast-growing branching corals once dominated the shallow reefs of the Caribbean.  Guests staying at Sandals Grande St Lucian resort can book a dive with the Sandals St. Lucia Aqua Centre. On board, the team will fill you in on the dive plan and coral planting procedure.
https://sandalsfoundation.org/
7. Kitesurfing.
For those seeking further thrills, excellent kitesurfing and windsurfing conditions can be found on the south and north east coast. In the south at Coconut Bay Beach Resort, the only resort for pros and beginners, guests over eight years old receive a complimentary introductory kitesurfing "taster," which includes flying a trainer kite on the beach. The best months for kitesurfing being November through July. The average wind speed is between 18 and 20 knots in the winter and 14 and 16 knots during off-peak season. Look out for turtles' nests on the stretch of beach from March to November too.
https://cbayresort.com/kite-surfing/information
'Snuba Doo'.
A short five-minute drive from Cap Maison is the natural landmark of Pigeon Island. A nature reserve full of green trails, historic military ruins and quiet beaches, the island is also popular for SNUBA adventures. A cross between scuba diving and snorkelling, this experience is under the supervision of friendly and certified SNUBA guides, allowing visitors to explore the exotic marine life from a fully guided and safe perspective. 'Snuba Doo' allows kids ages 4 to 7 years old to join their siblings, parents or family members on a shared SNUBA tour. Kids wear a specially designed, highly adjustable floatation vest that keeps them safely buoyant at the surface, while their family members SNUBA dive below them – Snuba (ages 8-80).
https://seaadventuresstlucia.com/
Sailing Club & School.
This is an exhilarating way to experience the Caribbean Sea. Sailing courses at the Bodyholiday are led by expert instructors on X-Treme 26 sailboats by G-Force, a leading maker of high-performance sailing yachts, for those who want to try their hand at the sport or sailors who want to improve their skills. The Sailing school fleet comprises "Aurora Rose" – a J-24 racer; "Blue" and "Reef", the resort's state of the art X-TREME 26 race boats and, in addition, BodyHoliday has a number of Hobie Cats and Hobie Cat 16s.
https://www.thebodyholiday.com/
For more information on Saint Lucia visit www.stlucia.org
Follow and Share with Jetsettersblog.