A Guide to Northern Lights Viewing in Canada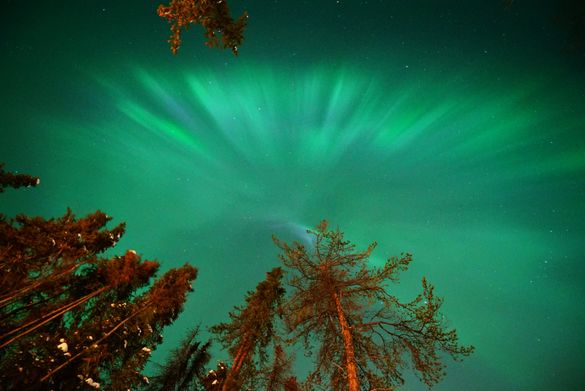 ---
Also known as the Aurora Borealis, the lights are elusive, and often play hard to get but this natural phenomenon is so stunning and ethereal that people travel from across the globe just for a glimpse.
Here's your guide to the very best places to view the aurora borealis across Canada, how and when to catch a show and tips on making the most of the experience.
What causes it?
The aurora borealis happens in the Northern Hemisphere when the sun's electrically charged particles, riding on a solar wind, enter the Earth's atmosphere and collide with gases – namely oxygen and nitrogen. When the sun is at its most active is when you're most likely to catch a spectacular display. The name comes from Aurora, the Roman goddess of dawn, and Boreas, the Greek god of the north wind. Much of Canada's North lies beneath the Northern Hemisphere's Auroral Oval, a hot spot for activity.
What makes it special?
First of all, the aurora borealis is elusive – which makes it all the more attractive. It is an awe inspiring natural phenomenon and there is no guarantee of a show. However, your chance of sightings are good, especially in the North near the magnetic pole. The effect makes for fantastical hues, thought the lights can take all kinds of form – from arcs and rippling curtains to misty wasps and translucent clouds. Sometimes its an eerie green, sometimes pinks, purples and yellows. Green is most common whilst red is rare. The colours zig zag and move quickly, some say 'dance' across the night sky.
When and Where?
It's possible to see the lights (almost) anywhere in Canada during all four seasons. But the North is the best place to see them and where they are the most active. The best venues are remote communities with little or no light pollution. Winter (December to March ) is often the luckiest season , thanks to more hours of darkness each day and frequent cold, clear nights. The Best time? Around midnight. Ten pm to 2 Am is the window so get ready to stay up late. The following are the best spots for a sighting:
Northwest Territories
Best Season: Autumn and Winter
The Very best place to see aurora borealis in Canada –if not the world – is the Northwest Territories, where they're generally visible 240 nights a year. The optimal time frame is either fall or winter (although the summer is pretty good too).
Autumn – if solitude is your thing take a scenic bush plane ride from Yellowknife to elegant rustic fly in Blachford Lake Lodge and Wilderness Resort. Watch the aurora show from the deck hot tub or the dome shaped rock out front overlooking the water. The best part? You can combine hiking, fishing and paddling with the big show.
Winter – the lights are especially dramatic in winter contrasted against the winter white wonderland. The most convenient way to take in the show is in the cozy comfort of the Aurora Village, a teepee village just outside Yellowknife. Specially designed for aurora observation, the place is equipped with spacious wood stove heated teepees, fur lined sofas and warmed viewing capsules that recline.
Manitoba
Best Seasons: Autumn and Winter
Northern Manitoba is in the sub arctic circle bordering Hudson Bay. Up here , you'll find Churchill, which bills itself as "one of the top three places on the planet" to see the Lights. Scientists flock in from all over the world to the town of 850, famed for polar bears, to study the aurora. Combining it with a bucket list of wildlife viewing – think beluga whales, polar bears, Arctic Foxes, and more makes it extra special.
Late Winter – Aurora high season in Churchill is February and March because of the extreme cold which can drop to 40 below zero. Spend the night out on a heated Tundra Buggy kitted out with a bar. Pack extra batteries, which can fizzle out in the plunging temperatures and rent clothing .
Autumn – September to November is the second best time to catch the Aurora here. Combine trophy fishing until September with a lights show from the comfy deck of a local Wilderness Lodge , a two hour flight from Winnipeg.
Yukon
Best Seasons: Autumn, Winter, Spring
Since the Gold Rush days, the wild west of the Yukon has been the spot for fabled adventure. Try your hand at dogsledding, fat biking, roughing it out in the open prospector style – and catch the lights whilst you are there from September to April. In the summer the night sky is not dark enough to see the aurora thanks to the Midnight Sun (although this is also a great reason to visit in its own right).
Autumn – take up residence in a prospector style tent camp in the wilderness . The outfitter provides modern comforts like barrel stoves and warm beverages to keep you warm whilst you wait to see the aurora.
Late winter and early spring – In Winter local operators host a variety of packages and tours with activities such as snowshoeing, ice fishing, snowmobiling and dog mushing. Cosy up in a plush insulated yurt or cozy up First Nations style Teepee. Your choice! Add wildlife viewing, dogsledding,a soak in Takhini Hotsprings to round out the fun. Mountain Biking pro's Boreale Explorers lead guided snow biking aurora packages out of their stylish eco lodge and Yurtville basecamp near Whitehorse.
Nunavut
Best Seasons: Autumn and Winter
Open expanses of tundra and a far north location make Nunavut prime aurora viewing country. Spring and Summer in this territory is a time of endless daylight , with 16 hours of sun each day from May to August and 24 hours daily in June and July. You'll want to visit between October and April when the dark days are long. December for example has just four hours of daylight. This time of year is when locals enjoy frequent rippling aurora displays.
Winter – Consider a journey to a remote traditional Inuit community like Kimmirut where you can kayak and see icebergs. Or visit Whale Cove, where you can fish and spot beluga whales after a night of aurora viewing.
Early Autumn – Follow traditional caribou routes by day , then catch the lights by night . Here, you're most likely to spot the Northern Lights on cool autumn evenings. Set on the Arctic Barren Lands on Ennadai Lake west of Hudson Bay, the lodge is just a short bush plane flight from Yellowknife, NWT. IN addition to the light show, you get the fiery autumn colours backdrop, plus wildlife like Grizzlies and wolves. Pack layers, sturdy hiking boots and prepare for always changing weather.
Newfoundland And Labrador
Best Season: Summer
Like solitude? Newfoundland and Labrador has swaths of beautiful untouched wilderness especially in unspoiled Labrador. During the winter months you can snowmobile nearly 1500 km of trails with Northern Lights dancing above. Add snowshoeing, cross country skiing , and ice fishing if you like.
Perhaps the most spectacular option is a once in a lifetime adventure to Torngat Mountains Park on Labrador Peninsula. It's a place of unusual dramatic geology, four billion year old rock formations and the traditional Inuit way of life. Established each summer, the Torngat Mountains Base Camp and Research Station connects you with the land, its Inuit elders, and the international researchers who study it- not to mention,a memorable aurora show in a wild natural setting.
Ontario
Best Season: Autumn
Its true, you're more likely to see the effect further north and in the Arctic but you can still catch the elusive lights regularly in Canada's lower latitudes and that includes Ontario.
Autumn – For Ontario, September and October are prime time Aurora viewing. You need to be away from the city , obviously, with little ambient light for the best conditions to see a dramatic aurora display. The best places for Aurora Viewing include Manitoulin Island, Cree Village Eco Lodge and Pukaskwa National Park. For a full experience, try one of Ontario's best aurora – equipped outfitters: Killarney Mountain Lodge, Gordon's Park Eco Resort or Moosenee. While you're up north waiting for the aurora to show take advantage of northern Ontario's other attractions and plentiful outdoor adventure options – bordered by Hudson Bay and the Great Lakes it's a wild place not known to many but well worth the trip.
Alberta
Best Season: Autumn
Its hard to beat the shimmering lights juxtaposed against the towering Canadian Rockies , reflecting off glassy glacier – fed lakes, Not surprisingly, northern Alberta is the base of the Geophysical Observatory at Athabasca University, which studies the Aurora's magnetic impact on Earth. Non scientists could head to Banff National Park for vantage points.
Autumn – Total nighttime darkness and scant night pollution make Banff National Park ideal for viewing the lights. September to Mid May is the most aurora active. In the autumn you can see them comfortably , combining the trip with camping and other top Rockies activities like hiking or paddling. Though you can often see the glow from Banff, you'll want to get away from human activity for the best views and just 10 minutes outside of town is Lake Minnewanka or try Castle Junction on route to Lake Louise, aqua marine Peyto Lake or ever popular Herbert Lake. There's also the world's two biggest dark sky preserves: Wood Buffalo National Park and Jasper National Park. Bring a warm sleeping bag and stay up late.
For more information please contact: Nim Singh, Destination Canada, 0207 389 9983 (singh.nim@destinationcanada.com) not for Publication
For images of the Northern Lights please go to www.brandcanadalibrary.ca, register and search under "Aurora Borealis" to access images.
Follow and Share with Jetsettersblog.