A New Theory of Luxury in Galapagos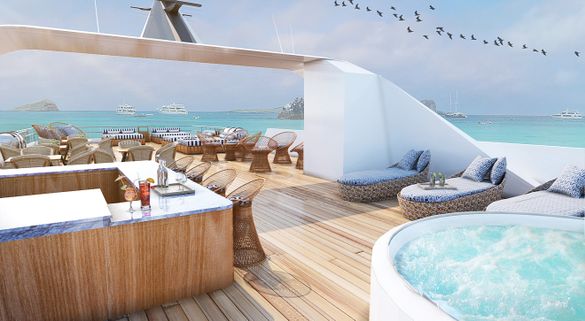 New eco-luxury yacht MV Theory will join her sister ship MV Origin in Galapagos in March 2019.
Together Origin & Theory will be the greenest luxury yachts of their size in the Galapagos, combining modern sophistication with environmental responsibility. They are the only yachts in Galapagos to have been awarded a Relais & Châteaux certification.
MV Theory has been built to exacting ecological specifications, by award-winning sustainable travel experts Ecoventura, who have showcased the pristine beauty of the Galapagos in an eco-conscious way for more than two decades.
This Ecuadorian expedition cruise company values understated elegance and environmentally responsible design and its mission to offer unsurpassed levels of comfort on voyages of discovery around the Galapagos Islands continues with the launch of this new ship.
The MV Theory is a 20-passenger yacht featuring 10 deluxe staterooms, locally inspired gourmet food, a Jacuzzi and fitness centre. Expansive indoor and outdoor social and observation areas, allow for easy and comfortable viewing of the islands' unique scenery and topography. High quality guided land excursions will be offered in very small groups with the highest ratio of guides to passengers in the Galapagos.
Passengers will not only see the Galapagos in style, but they will know their ship has been built with green concerns in mind, with water saving measures including reusable plastic bottles, a specially designed water treatment plan and ecological toilets meaning the Theory will not dispose of any untreated greywater or blackwater into the ocean. The yacht has been designed with a curved bow allowing a smoother cruise, increased fuel efficiency and less drag, so the ship uses fuel more efficiently.
The MV Theory will alternate between seven-night A & B itineraries which include daily, personalised excursions with optional snorkel and kayak tours and a glass bottomed boat.
Ecoventura President, Santiago Dunn says:
"The  MV Origin has been such a hit and we love it so that we commissioned a sister ship, and the name Theory made the most sense. We are extremely excited that Theory will be joining the Origin next month."
To ensure the same attention to detail and beautiful decor, Ecoventura has worked with the same interior designer who created the MV Origin's elegant furnishings.
Cindy Muirragui, Interior Designer says:
"My inspiration for the Theory came from the Galapagos themselves and creating a comfortable and homely feeling in a five-star floating hotel. I was so pleased with the Origin that I cannot wait to see the Theory."
Facilities onboard Ecoventura's luxury yachts:
Staterooms offer luxurious and modern furnishings, large panoramic windows allow passengers have a constant connection to and views of the Galapagos Islands outside. The rooms have king sized beds that can convert into two twin bed, connecting rooms for families, as well as triples. The private bathrooms include modern rainfall showers, hairdryers, and plush towels as well as eco-friendly biodegradable soaps and shampoos.
A technology/art room will allow children to watch movies and play so guests in the lounge can also watch TV or read separately during family departures. Relaxation will be available in a massage room and a fitness center offers guests opportunities to stay active onboard the ship.
The top sundeck will be a favorite place for guests to hang out, with loungers, daybeds, a wet bar, showers, and a Jacuzzi. It will also be the setting for al-fresco dining and cookery demonstrations from the Head Chef.
A four-course dinner will served in a chic dining room, prepared using the finest, locally-sourced ingredients.
Knowledgeable naturalists offer an intimate learning environment focusing on small groups of no more than ten guests per guide.
Activities including nature walks and zodiac rides will be offered daily. Paddle boards, kayaks, a glass-bottom boat, snorkeling gear, and wetsuits will be available for all guests so each day on board is sure to be an adventure!
The MV Theory will be an elegant addition to the Ecoventura fleet and will provide guests with an idyllic way to explore this otherworldly archipelago.
MV Origin and MV Theory Galapagos itineraries:
Departing from San Cristóbal, guests have the choice between two comprehensive seven-night itineraries: the Southern/Central route or the Western/Northern route, with the option to combine both for the ultimate two-week tour of the islands.
Each itinerary highlights the very best of the Galápagos, from its striking landscapes to its rich and varied wildlife, bird life and marine creatures.
Itinerary A Highlights
Pinnacle Rock on Bartolome
All three boobies (Nazca, Blue and Red Footed)
Great and Magnificent Frigatebirds
Snorkel with Galapagos penguins
Giant tortoises in the highlands
Waived Albatross on Espanola
Kayak and swim with sea lions at Cerro Brujo and Gardner Bay
Itinerary B Highlights
Galapagos Tortoises in the highlands
Red Footed and Nazca Booby at Genovesa (Tower)
Snorkeling with penguins on Isabela
Volcanic formations of Fernandina
Flightless Cormorant
Kayak at Darwin Bay and Tagus Cove
Whale and dolphin sightings
Bon voyage MV Theory!
Examples of tour operator packages including a cruise on the MV Origin:
Cazenove+Loyd, (020 7384 2332 / www.cazeloyd.com ) tailor made luxury holiday experts have designed a 13 day / 12 night trip to Ecuador and the Galapagos Islands starting from £8995 per person. The price is based on two adults sharing a cabin on a 7 night cruise aboard the MV Theory and includes all meals and drinks on board, Captain's welcome and farewell cocktail private transfers, 1 night pre cruise at the 5 star Hotel Del Parque in Guayaquil and 4 nights post cruise at historic Hacienda Zuleta in the Ecuadorian Andes.
Sunvil Traveller, (020 8758 4774 / www.sunvil.co.uk) which specialises in carefully crafted adventure trips to Central and South America offers a 10 night trip to Ecuador including 1 night in Quito (BB) and a 7 night cruise on the MV Theory (FB) from £7459 per person. The price is based on two adults sharing a cabin and includes all meals and drinks on board, Captain's welcome and farewell cocktail private transfers, and return economy international flights with KLM from London Heathrow (via Amsterdam).
Or book direct with Ecoventura:
To make a reservation, visit www.ecoventura.comusing the "Book Now" form, email Galapagos Network at info@galapagosnetwork.com, or call 800-633-7972. Prices from £6000 per person, cruise only.
ECOVENTURA is an award-winning leader in sustainable travel, offering a luxury adventure cruising experience aboard its fleet of yachts. Two unique seven-night itineraries depart every Sunday, visiting more than a dozen exclusive visitor sites in the Galapagos National Park for up close experiences with wildlife, many endemic to the archipelago. Ecoventura also operates the luxury dive live-aboard, MV Galapagos Sky. For more information, visit www.ecoventura.com Follow on Instagram @ecoventura_ec and Facebook at www.facebook.com/EcoventuraYachts.
Follow and Share with Jetsettersblog.