a New Visionary British Brand, the Signet Collection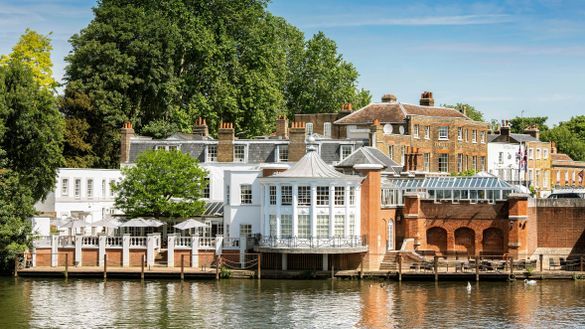 ---
ANNOUNCING THE LAUNCH OF A NEW VISIONARY BRITISH BRAND, THE SIGNET COLLECTION
The Mitre, Hampton Court to be the first hotel from The Signet Collection to open September 2020
June 29, 2020– Announced this week, a new boutique luxury hotel brand The Signet Collection is to launch September 2020 in conjunction with the unveiling of their first hotel The Mitre, Hampton Court. The Signet Collection, which was founded by former COO of Longshot; owners of Beaverbrook and Bel & the Dragon Group. Hector Ross and his team are set to create meaningful stays in time honoured places and will be made up of several destination-defining properties throughout the UK.
The Signet Collection, a home-grown and hands-on brand, is passionate about all aspects of the craft of hospitality and champions the belief that a hotel is only as good as the people in it. With a focus on experiences, history and informality of design, food and service – each of The Signet Collection hotels will be highly individual and will centre around preserving and restoring authenticity. "We start with a special place. Our hotels have history, stories to tell. Each one is imbued with generations of tales, legacies, myths and legends. We unearth this history, these stories. We restore them, reimagining them, passing them on for our guests to enjoy, layered with a British sense of humour, top-notch F&B and memorable experiences" said Hector Ross.
The first hotel in the collection, The Mitre, will debut in September and is a Grade II-listed property dating back to 1665, originally used as ancillary accommodation for guests of King Henry VIII at Hampton Court Palace. Set on the banks of the River Thames, the 36-bedroom hotel will include a 60-cover riverside all day dining and wine bar, a 70-cover brasserie and bar, an 60-cover Orangery, a large riverside terrace, meeting rooms and private dining areas.
Food & beverage will have pride of place for the new hospitality brand headed up by culinary & operations director Ronnie Kimbugwe, whose background includes time with the Gordon Ramsay group at Claridges and a decade with the Bel and Dragon Country Inns.
"Good food is nurturing, it's restorative, it brings people together. It's why we champion British produce, local, independent growers, and suppliers we know and trust. We will serve our guests heart-warming and memory making dishes, done properly, genuinely. We hope our two new riverside restaurants Coppernose and Signet 1665 will be a welcome addition to both the local community, hotel residents and Hampton Court Palace visitors."
Interior designer Nicola Harding is the creative lead behind The Signet Collection and transformation of The Mitre, which combines quirky British sensibility with elegant authentic luxury. Known for her work on the Garden House at Beaverbrook and The Rose Hotel in Deal, Nicola draws inspiration from Hampton Court and the surrounding neighbourhood, accentuating the character of the building and creating spaces that feel effortlessly evolved. "The Signet Collection hotels will blend the old with the new, the refined with the comfortable, and the local with the worldly. Through design we aim to connect our guests with the history and the location of each hotel, providing characterful bedrooms, and playful lively public spaces where people quickly feel at home".
Media Assets:
Images for The Signet Collection and The Mitre Hampton Court can be found here.
###
ABOUT THE SIGNET COLLECTION
The Signet Collection is a vibrant new hotel company created by seasoned hoteliers and restaurateurs Hector Ross and Ronnie Kimbugwe whose vision is to create meaningful stays in time-honoured places throughout the UK. Founded on the mission to create extraordinary boutique hotels in curated destinations for the most discerning travellers, The Signet Collection will launch in September 2020 alongside the first hotel in the portfolio, The Mitre in Hampton Court. The Signet Collection is a home grown and hands-on brand resolute, in its dedication to crafting stunning design in historically significant properties, preserving authenticity and delivering unparalleled F&B, service and experiences. The Signet Collection will be made up of several destination-defining properties which will launch over the next few years in the UK. For more information about The Signet Collection, visit http://www.signet.ltd
ABOUT THE MITRE
Scheduled to open in September 2020, The Mitre is the first hotel from The Signet Collection. Set on the banks of the River Thames, the Grade II-listed property dating back to 1665 was originally used as ancillary accommodation for guests of King Henry VIII at Hampton Court Palace. The 36-bedroom hotel will include a 60-cover riverside restaurant (1665), a 70-cover brasserie and bar (Coppernose), an 80-cover Orangery, a large riverside terrace (planning to launch the world's first Whispering Angel concession), several meeting rooms and private dining areas, a vintage food truck and private boat. For more information about The Mitre Hampton Court, visit https://www.mitrehamptoncourt.com