Abseil from the British Airways i360 pod, 450ft above Brighton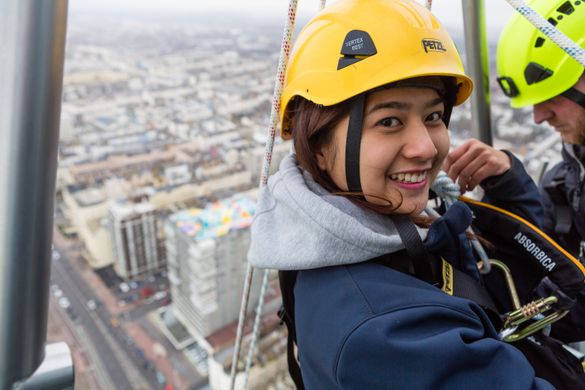 ---
iDrop Abseil mornings are available on Saturdays throughout the summer and autumn, and the first dates are now on sale – June 2, July 7 and August 4. iDrop Abseil makes an ideal charity challenge, hen or stag activity, or adrenaline-fueled start to an adventurous weekend.
The first abseil event took place on April 28 to raise funds for local children's charity Rockinghorse. Twenty-nine people ranging from professional boxer Chris Eubank Jr to an 85-year-old grandmother took part in the challenge.
"Everything in your body is telling you stay in the pod; you're 450ft in the air! It's an adrenaline rush, I enjoyed it, and it's something you can say you've done for the rest of your life," said Chris Eubank Jr.
Allyshia Vallier, age 16, said: "At the start it's very scary but it was amazing; you're looking out at the view and all you could hear up there was yourself, your thoughts and the sea, and it's very calming – it was amazing."
iDrop Abseil is operated by Belay Rope Access. Director Iain Tindall said: "The sheer exposure of British Airways i360 is what makes this abseil special because unlike other venues, you are descending in open space rather than against a wall. And the position on the seafront makes it unique. I would challenge anyone not to feel a few nerves when faced with a 450ft drop, so even for experienced people, this will present a fearsome challenge."
Groups of 20 can book exclusive iDrop Abseil mornings and can upgrade their experience to include hire of Go-Pros plus team T-shirts and Nyetimber English sparkling wine to enjoy afterwards. Interested groups should email: events@britishairwaysi360.com
For terms and conditions please see BritishAirwaysi360.com/iDropAbseil
KEY INFORMATION
DETAILS: iDrop Abseil
DATES: June 2, July 7 and August 4, 2018. TIME: 7.30am to 10am
PRICE: £120pp, individual bookings or groups of 20 people
MORE INFORMATION AND BOOK: BritishAirwaysi360.com/iDropAbseil
AGE: from 16 years; other restrictions see BritishAirwaysi360.com/iDropAbseil
British Airways i360 is an observation attraction in Brighton, with a giant glass pod rising from ground level to 450ft. It was conceived and designed by Marks Barfield Architects, creators of the London Eye.
ENDS
High-res pics https://www.dropbox.com/sh/63yepyd0eliyawh/AAADUmZkohv2TSsmSLJIBXZOa?d
Information for editors
About British Airways i360 British Airways i360 is conceived and designed by Marks Barfield Architects, creators of the London Eye.
The iconic tower has an overall height of 162m, and a glass observation pod that glides up from ground level to 138m above Brighton beach. Visitors enjoy unprecedented unfolding views across Brighton and Hove, the South Downs and the beautiful Sussex coast. 'Flights' carry up to 175 passengers and depart every 30 minutes. While on board, guests can enjoy a drink at the Nyetimber Sky Bar which serves a range of drinks from Sussex including Nyetimber, an award-winning sparkling wine.
At the base of the tower is the British Airways i360 beach building which houses a stylish new restaurant, West Beach Bar & Kitchen, with sea views and a large terrace. Dishes feature ingredients sourced from the local area. The beach building also has flexible beachside events spaces which can be hired for private functions and can accommodate up to 1,100 people. British Airways i360 is licensed for weddings and couples carry marry in the pod, saying 'I do' at 138m above Sussex.
British Airways i360 has worked with the West Pier Trust to reconstruct two of the original West Pier tollbooths using Victorian building techniques. The reconstructed buildings now grace the entrance to British Airways i360, and house the West Pier Tea Room and the British Airways i360 ticket office.
The British Airways i360 shop stocks gifts and souvenirs, many of which have been created by local Brighton artists.
British Airways i360 is owned and operated by Brighton i360 Ltd.
Website:              BritishAirwaysi360.com Twitter:                @BA_i360 Instagram:          @BA_i360 Facebook:           BritishAirwaysi360 Pinterest:            @BA_i360 Hashtag:              #BAi360
About Marks Barfield Architects
The late David Marks MBE was the architect-entrepreneur behind the creation of Brighton i360, together with his wife and business partner Julia Barfield MBE. They founded Brighton i360 Ltd in 2005. Previously David Marks and Julia Barfield performed a similar role creating the London Eye where they remained shareholders and directors until 2006. Together with a tight-knit group of extraordinary individuals, trusted consultants and companies, many of whom worked with David and Julia at the London Eye, they secured the planning permission, partners, land and funding for British Airways i360. Marks Barfield Architects is one of the UK's most versatile and innovative architecture practices, established in 1989. Julia Barfield now chairs the Brighton i360 board.
@marksbarfield
About British Airways British Airways is one of the world's leading global premium airlines and the UK's largest international scheduled airline, carrying approximately 35 million passengers worldwide annually, on around 800 daily flights. The airline employs around 40,000 people, the vast majority of these at its sites throughout the UK, and has an annual turnover of £8.5 billion. It employs 2,500 people in Sussex, several hundred of them in Brighton.
British Airways is the naming rights sponsor of British Airways i360. The attraction is owned and operated by Brighton i360 Ltd.
Ba.com @british_airways
Follow and Share with Jetsettersblog.