AccorHotels in Gangnam, South Korea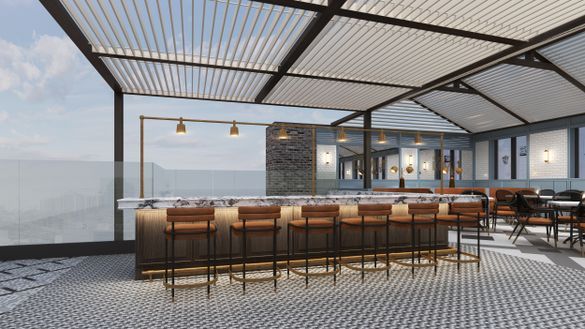 ---
Located in trendy Gangnam district, the 108-room Alcove Hotel Seoul is set to open its doors this October. Designed by SungGahun, Alcove Hotel Seoul Managed by AccorHotels & Ambassador is an urban hideaway for business and leisure travellers featuring seven room types with large private outdoor spaces and a stunning rooftop bar that overlooks the UNESCO World Heritage Site of Seolleung and Jeongneung (Seonjeongneung) Royal Park.
"Last year we celebrated 30 years of our partnership with Ambassador Hotel Group, and today, we are excited to embark on a new chapter together. The opening of Alcove Hotel Seoul offers travellers to the city a design experience with personalized service and an individual charm that are hallmarks of the property," said Patrick Basset, Chief Operating Officer of AccorHotels, Upper Southeast and Northeast Asia.
Overlooking the verdant Seonjeongneung park views, Alcove Hotel Seoul strives for a leitmotif of peaceful ambience with its guest rooms featuring solid wood furnishings with warm decor complemented by premium Simmons bedding and French Nuxe branded bath amenities.
The element of peace extends to the culinary offerings at its restaurant, café, and two bars. Styled like a comfortable neighbourhood bistro, Salmanazar Restaurant serves a range of American classic dishes which can also be enjoyed at the restaurant's private garden while Salmanazar Café offers all-day-and-night dining with gourmet coffees, freshly baked pastries and a selection of wines. For an intimate get-together or gathering with friends, the exclusive members-only Bluewood House lounge and bar is the perfect social club venue for an evening wine down. Perched on the rooftop of the hotel, Club Limit is a metropolitan oasis where creative dishes and mellow music come together against the panoramic backdrop of the city.
For guests looking to keep up with their fitness regime while on the road, the state-of-the-art Bluewood Fitness & Pilates gym and fitness centre is fully equipped with the latest Technogym and Balanced Body Pilates equipment. Guests can also book a private session with professional trainers to maximize their workout time. Other on-site facilities include a 24-hour laundry room and a self-service business corner.
Guest staying at the hotel can visit the royal tombs of the ninth King Seongjong and the 11th King Jungjong of the Joseon Dynasty at the serene forest park. Also within a short walking distance is COEX Mall, Asia's largest underground shopping centre, which houses the country's largest COEX Aquarium with over 180 display tanks and Kimchi Museum. Hotel guests can also book free car services to visit these nearby attractions.
"Alcove Hotel Seoul Managed by AccorHotels is perfect for guest looking for a short getaway. The hotel is located in the heart of Gangnam which is well-known for its underground shopping centres and malls. We look forward to welcoming guests that appreciate creative design with a touch of personalized service in Seoul's most hip and stylish district," said Jae-Yeon Kang, General Manager of Alcove Hotel Seoul.
Special Opening Package
Enjoy a weekend getaway from KRW 193,000 net per night for two from now until November 30, 2018. Please e-mail ha0f8-re@accor.com or call +82 2 6230 8801 for reservations.
Alcove Hotel Seoul is located at 428 Bongeunsa-ro, Gangnam-gu, Seoul, South Korea. Seonjeongneung subway station is a 10 minute walk from the hotel while the airport limousine bus stop is located nearby.
For more information, please visit www.accorhotels.com, www.ambatel.com, www.thealcovehotel.co.kror email info@thealcovehotel.co.kr and call +82 2 6230 8800 for general enquires.
About AccorHotels 
AccorHotels is a world-leading travel & lifestyle group and digital innovator offering unique experiences in more than 4,500 hotels, resorts and residences across 100 different countries.
With an unrivaled portfolio of internationally renowned hotel brands encompassing the entire range from luxury to economy, from upscale to lifestyle and midscale brands, AccorHotels has been providing savoir-faire and expertise for more than 50 years.
In addition to its core hospitality business, AccorHotels has successfully expanded its range of services, becoming the world leader in luxury private residence rental with more than 10,000 stunning properties around the world. The Group is also active in the fields of concierge services, co-working, dining, events management and digital solutions.
Relying on its global team of more than 250,000 dedicated staff, AccorHotels is committed to fulfilling its primary mission: to make every guest Feel Welcome.  Guests have access to one of the world's most attractive hotel loyalty programs – Le Club AccorHotels.  
AccorHotels plays an active role in its local communities and is committed to promoting sustainable development and solidarity through PLANET 21 Acting Here, a comprehensive program that brings together employees, guests and partners to drive sustainable growth.
From 2008, the AccorHotels Solidarity Endowment Fund has acted as a natural extension of the Group's activities and values, helping to combat the social and financial exclusion experienced by the most disadvantaged members of society.
Accor SA is publicly listed on the Euronext Paris Stock Exchange (ISIN code: FR0000120404) and on the OTC Market (Ticker: ACRFY) in the United States.
For more information or to make a reservation, please visit accorhotels.group or accorhotels.com. Or join and follow us on Twitter and Facebook.