Adagio New Themed Holidays Including Garden and Rail Tours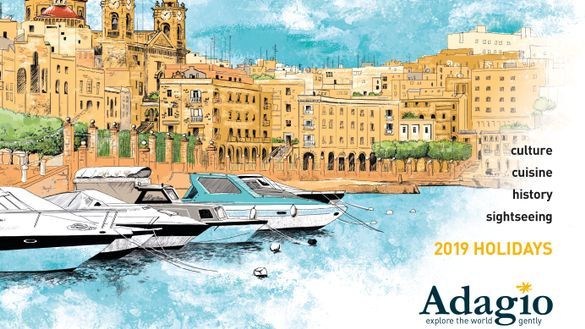 ---
* Featuring 32 holidays including five in the UK and 27 in Europe
*An accompanying new Adagio Smart Phone and Tablet App
*Eight new itineraries including two new garden holidays and a train journey through Northern Portugal
*Six 'Adagio Plus' holidays
*Prices all-inclusive of walks and excursions offering excellent value for money
Adagio (01707 386700, www.adagio.co.uk), the specialists in "gentle walking", small group – big experience, expertly led holidays, has launched its new 2019 brochure, with a selection of 32 different holidays, including eight completely new itineraries which feature two new garden themed holidays and a rail journey.
In conjunction with the new brochure, Adagio has also launched a dedicated Adagio smart phone and tablet app making it easy for clients to follow their itinerary, check the weather and tap into other useful information whilst they are on the go.
Stretching from the Scottish Outer Hebrides to the Mediterranean islands of Malta and Cyprus exciting new additions for 2019 include the Pazos & Gardens of Galicia, which takes in some of Galicia's most impressive properties at the height of Camellia season; an exploration of the Douro Valley as part of Portugal by Train; and, from the Cittàdi Castello on the banks of the Tiber, a journey into Artistic Umbria.
Based on the premise that one of the most relaxing ways to explore a destination is on foot, each of Adagio's travel rich itineraries have been carefully designed to cater for clients who are active but want a more leisurely paced holiday. Immersed in the regional history and culture, with the opportunity to savour authentic local cuisine, they include plenty of time to experience each destination from the inside out under the guidance of an experienced Adagio leader.
Sitting alongside leisurely-paced Adagio favourites such as Flavours of Hidden Spain, Bologna – La Grassa and An Ionian Jewel, six 'Adagio Plus'itineraries are also included.  With a slightly more active countryside element and longer walks than on the standard Adagio holiday, popular choices for these include alpine hiking in the Chamonix Valley on Magnificent Mont Blanc and mountain walks to medieval villages, megalithic monuments and Romanesque churches from the northeast Spanish village of Berdún as part of Picnic in the Pyrenees.
Kevin O'Regan, Managing Director commented: "Our Product Managers travel the world researching each destination to ensure that our holidays have the insider edge.  Not only including the must-see places, they work to make each trip as rich and varied as possible with perfectly placed handpicked hotels, great options for eating the local cuisine and a choice of easy transport links that are often very much integral to the whole experience.  With an emphasis on taking one's time to experience each destination at a relaxing pace, our 2019 brochure is also accompanied by a new Adagio app so that, once booked, clients can easily tap into their plans for the day and other useful information as well as use it to post images and make notes along the way.  With holidays ranging from blazing a leisurely trail on Mont Blanc and journeying on the last surviving metre-gauge train through Northern Portugal to literally stopping to smell the roses when visiting Galicia's exotic Pazo Gardens, there are plenty of excellent options for a relaxingly paced getaway, discovering a destination's iconic sights and lesser known gems, as part of an Adagio holiday."
Some of the new tours featured in the Adagio 2019 brochure include:
Northumberland's Glorious Gardens  (new for 2019)
Staying at the impressive Macdonald Linden Hall with its 450 acres of private grounds, this week long exploration of Northumberland takes in some of the region's most enchanting gardens and historic properties, from the birthplace of arguably the most famous landscape gardener in English history – Capability Brown, to one of the most famous gardens in England, Alnwick Gardens. Combined with short walks into the countryside to appreciate this Area of Outstanding Beauty, other highlights include the late 17th century quarry at Belsay Hall with its array of exotic and rare plants; a guided tour through the formal landscape of Wallington Hall with its colourful hidden away walled garden; one of the largest rock gardens at Cragside, the first hydroelectric Victorian home of the ingenious engineer and inventor Lord Armstrong; and the naturally styled Howick Hall Gardens and Arboretum, home to Earl Grey and the tea which was first blended for him in the 1830's. In addition, there is a tour of the privately-owned Lilburn Tower gardens by its owner and a day spent visiting possibly the holiest site of Anglo-Saxon England, the Holy Island of Lindisfarne, with its priory ruins, castle and thriving harbour.
Adagio (01707 386700, www.adagio.co.uk) 7 night Northumberland's Glorious Gardens starts from £985 including en suite accommodation at the 4 star Macdonald Linden Hall Hotel with breakfast and dinners, all entrance fees as outlined in the itinerary except for Cragside and Wallington (free for National Trust members), garden tours and local transport.  Departs 1 & 22 June, 6 July and 7 September 2019
Pazos and Gardens of Galicia (new for 2019)
Galicia is famed for its gardens and flowers, especially the camellia, iconic for this region of Spain.   Dotted all over the landscape, its traditional pazos, or manor houses, once the homes to kings and nobility, feature magnificent gardens that can be visited in a leisurely fashion meandering along the countryside's ancient paths and pilgrimage routes.  Strolling through vineyards, traditional villages and alongside rivers at the height of the Camellia season, this 7-night holiday cuts a trail past old churches and hórreos (granaries), to pretty coastal towns stopping at impressive Pazos along the way. Included are: Pazo de Mariñán with its magical camellia walkway flanked by the aromatic eucalypt, bay trees and lavender as well as its extensive decorative box hedge labyrinth; the 17th century Pazo de Rubianes with over 800 varieties of camellia and hectares of Albariño vines; and the perfectly kept French 19thcentury gardens of Pazo do Faramello that border St. James' Way.  There are also walks to historic watermills, castles and through the old streets of Santiago de Compostela and its revered Cathedral, a boat trip on the Rias, plus stops to taste the local wine and a visit to a mussel farm.
Adagio (01707 386700, www.adagio.co.uk) 7 night Pazos and Gardens of Galicia starts from £1385/person including flights, en suite half board accommodation, 2 lunches, activities as outlined in the itinerary and local transport. Departs 7 April, 5 May, 9 June & 22 September 2019.
Portugal by Train (new for 2019)
From Porto, a city of faded grandeur built into the banks of the Douro River, explore its maze of medieval alleys, cobbled streets and enthralling mix of Baroque and Neoclassical architecture, before embarking on scenic railroad journeys through the north of the country.  Covering classic railway journeys, from the trams of Porto and the funicular to the Sanctuary of Santa Luzia,to the last surviving metre-gauge lineLinha do Vouga and the iconic train line along the Douro Valley, this week-long holiday takes in the World Heritage cities and UNESCO sitesof Guimarães,Aveiro (Portugal's Venice of the North) and the cultural centre of Coimbra perched over the Mondego River.  In addition, the trip includes other railway highlights such as the Lousado Train Museum and National Railway Museum, along with visits to Port Houses and vineyards and a cruise on the Douro.
Adagio (01707 386700, www.adagio.co.uk) 7 night Portugal by Train starts from £1499 including flights, en suite accommodation in the Moov Hotel Porto Centro with breakfast and dinners,  train journeys, activities as outlined in the itinerary and local transport.  Departs 4 April, 21 June & 26 October 2019.
Artistic Umbria  (new for 2019)
Be immersed for a week in art, history, architecture and countryside vistas in Italy's landlocked heart, staying in a former 17th century palace and monastery in the small Renaissance city of Città di Castello on the banks of the Tiber.  Exploring some of Umbria's and Tuscany's most beautiful hill-top towns and villages, visit Arezzo's many architectural wonders, meander through the alleyways and staircases of medieval Gubbio to its centuries-old palazzo and discover the art and architecture of Umbria's most stylish town Perugia on a guided urban walking tour.  Taking in other highlights such as the walled UNESCO World Heritage listed town of Urbino, the medieval enclave of Monterchi where one can gaze upon Piero della Francesca's masterpiece Madonna del Parto and artwork from other Renaissance masters such as Pietro Perugino, this tour really does offer the ultimate feast for the eyes.
Adagio (01707 386700, www.adagio.co.uk) 7 night Artistic Umbria starts from £1320/person including flights, en suite accommodation at Hotel Tiferno with breakfast, dinner in local restaurants, tours of Urbino, Perugia and Gubbio with a local guide, activities as outlined in the itinerary and local transport.  Departs 14 May, 18 June, 10 September & 15 October 2019.
The Zugspitz Arena  (a new hidden gem for 2019)
Tucked way in the Austrian Tirol and dominated by the Zugspitze, the highest peak on the Austrian-German border, the Tiroler Zugspitz Arena is dramatically surrounded by mountain peaks, lakes, high tarns and an abundance of wildflowers. Based in Ehrwald, one of the most spectacularly located villages in the Alps, this week-long holiday offers an uplifting, yet relatively easy, high alpine experience, by combining gentle walks with the area's extensive transport system.  Featuring an exhilarating cable car ride to the top of the Zugspitze at nearly 3,000 metres where an impressive 360° panorama of 400 mountain peaks in four countries awaits, it also takes in other literal highs such as the Marienberg chairlift ride, which affords superb views of the 'Arena'; the walk along the Panoramaweg to Lermoos with an uplifting gondola ascent to over 2,000 metres; and a gentle climb from Ehrwalder Alm to the region's most beautiful lake, Lake Seebensee. Equally rewarding are lakeside walks around Heiterwang and Plansee as well as a boat trip to relaxingly lap up the views.
Adagio (01707 386700, www.adagio.co.uk) 7 night The Zugspitz Arena starts from £1250/person including flights, en suite accommodation with breakfast in the family run four-star Hotel Alpen Residence, all transport costs and entrance fees, and the bonus of a local travel pass giving unlimited travel in the area. Departs 15 & 29 June, 6 July & 7 September 2019.
The Outer Hebrides  (new for 2019)
The Scottish Western Isles of the Outer Hebrides are a diverse set of inter-connected islands including the third largest island of the British Isles, the Isle of Lewis and Harris.  One island divided by dramatically different landscapes – white swathes of beach, heather covered mountains, boulder-strewn hillsides, pristine lochs and peatlands, explore its rich natural and historical heritage on a mix of scenic drives and walks as part of a week long holiday.  Staying in the harbour town of Stornoway, get an overview of the island's past meandering through the prehistoric Callanish standing stones, exploring Iron Age brochs and visiting a traditional 17th century blackhouses and Lews Castle, before transferring to Tarbert village on the Isle of Harris. Island hop on one day to Scaplay to see the Eilean Glas lighthouse with its views of the Isle of Skye and passing Minke whales and hike from the remote Hamlet of Huisinis, on another, for soaring eagles and remote stretches of beach.  In addition to time spent travelling around South Harris, there are visits to a local gin distillery and tweed producer for which it is well-known with time for a few relaxing drams along the way.
Adagio (01707 386700, www.adagio.co.uk) 7 nightThe Outer Hebrides starts from £1485 including flights, en suite accommodation with breakfast and dinners, activities as outlined in the itinerary with local guides and local transport.  Departs 7 April, 5 May (6 nights only – from £1289), 30 June, 4 August 2019.
Company Background
Adagiois a collection of small group, leisurely guided holidays on foot, for those who want to enjoy the world at a slower pace, and is part of the RWH Travel, which operates over 250 holidays across over 60 countries worldwide.
Alongside Adagio, the company offers Ramblers Walking Holidaysand Ramblers Cruise & Walk Holidays– in association with Fred. Olsen Cruise Lines.  All feature small guided groups, great destinations, well researched walks and experienced leaders with Ramblers Cruise & Walk Holidays follow the same principal where guided walks are all included in the price from each port of call.
Company Mission
The company's mission is to generate funds for walking charities by the provision of outstanding outdoor activity holidays worldwide.
With its not-for-profit philosophy, the company contributes monies to the Ramblers Holidays Charitable Trust which supports walking related and environmental projects in the UK. The company also funds Heart & Sole – an initiative managed by company staff, with the aim of reaching into the heart of the communities visited both in the UK and overseas.
RWH Travel also runs The Walking Partnership – an initiative which champions walking at the 'grass roots' level by providing funding and support to walking groups and clubs throughout the UK.
Ramblers Walking Holidays is the Walking Holiday Partner of the Ramblers, Britain's walking charity which has been pioneering and championing walking and 'rights of way' for over 70 years across England, Scotland and Wales.
Customers travelling on all holidays operated by RWH Travel are fully protected via the company's membership of ABTA (No V5094) and as holders of an ATOL licence (No 990).  RWH Travel is also a member of IATA, ETOA and AITO.
Follow and Share with Jetsettersblog.