Adventure, Unwind and Reconnect: Three Ways to Enjoy Hoshino Resorts TOMAMU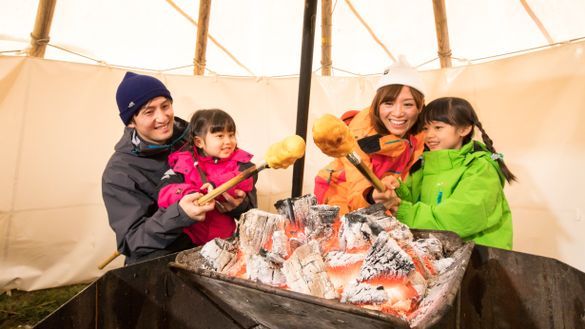 ---
December to March – it's that time of year when visitors flock to Japan's mountains. However, as showcased by Hoshino Resorts TOMAMU, there is far more on offer than quality powder snow. Whether you're after the ultimate ski experience, a luxury rewind, or some family bonding, there's a variety of ways to enjoy the resort and its many offerings.
Get your adrenaline pumping
With an average 135cm of powder snow in January and stretching over 100 hectares, the resort provides prime conditions for winter sports. There are 29 ski courses catering for beginners to the very advanced. For example, the well-seasoned skier can take advantage of the Experts Only Powder Area, or even venture out on a tour to Mt. Karifuri to enjoy untracked powder snow deep in the mountains.
Seeking an adrenaline boost that doesn't require ski or snowboarding skills? Alongside its comprehensive ski facilities, the resort provides a plethora of winter activities from snow sledding, snowmobile riding, to snow rafting. Prepare for a rush with snow mobile rides where you're free to ramp up the speed and adventure across the unfrequented mountains of Hokkaido.
For something more relaxed, the snow buggy tour takes guests out in a fully enclosed vehicle, providing protection from the cold while enjoying the winter landscape. If in luck, you may even spot wild animals such as rabbits or foxes!
In need of a luxury rewind?
After a year that's passed by far too quickly, time to rewind is much needed. Luckily, the luxury facilities at Hoshino Resorts TOMAMU are designed to provide ultimate relaxation. Mina-Mina Beach is an 80-metre indoor pool surrounded by mountains and lit up beautifully in the evening. With the temperature maintained at 30 degrees year-round, this is a great place for those who need time to adjust to Hokkaido's cold weather.
To elevate the relaxation journey, there is the adjoining onsen, Kirin-no Yu. This open-air bath is particularly calming during the winter as snow falls around guests soaking in the warm hot springs. For those who seek total privacy, all accommodation at Hoshino Resorts RISONARE Tomamu provides in-room saunas and jet baths that overlook the surrounding slopes.
Of course, these relaxing in-house experiences are well balanced with some fresh air. Snow camping allows guests to immerse themselves in Tomamu's unspoiled winter environment, and whilst it may sound very adventurous, the activity is seamlessly organised by the resort. There are two options; a relaxed day experience, or an evening experience that begins with the sunset, and both are complete with a heated tent, bonfire, and marshmallows to grill!
Reconnect with some unforgettable memories
Staying at Hoshino resorts TOMAMU as a family is a breeze – the resort is packed with activities that cater for guests of all ages and interests. From hands-on workshops to family picnics, the choices are endless.
If in need of a break from the snow sports but still keen to enjoy the winter atmosphere, the resort offers Ice Fishing at Tomamu Pond or Kanayama Lake. A heated tent will keep the entire family comfortable while fishing for a variety of local fish such as the Hokkaido Wakasagi or Rainbow Trout. This can be followed by a handmade dessert with the Baumkuchen Making workshop. Baumkuchen is a German pastry that is traditionally enjoyed during Christmas and has found overwhelming popularity in Japan – fitting for the festive season!
For those seeking a more hands-free experience, there is the Family Snow Picnic where a little forest cabin is set up with food and drinks and can be combined with other activities such as snow rafting. This can be extended into the evening with a Night Snowmobile Sledge Trip. The off-the-beaten-track location of Tomamu means the night sky is far clearer than in the urban metropolis' that most guests journey from. The uninterrupted views of the night sky accompanied by the glowing white landscape is sure to provide a fresh sense of wonder for everyone in the family
About Hoshino Resorts TOMAMU
Surrounded by 1,000 hectares of vast nature, Hoshino Resorts TOMAMU is one of Hokkaido's largest resorts to enjoy sightseeing and activities in the Tomamu region, all year round. In winter, it is regarded as Japan's most family-friendly ski resort with its convenient ski-in ski-out accommodation and world class facilities. With high-quality dry powder snow gracing a diverse terrain, the resort caters to skiers and snowboarders of all levels. During the summer, guests can further explore the region through a variety of outdoor activities including river sports, cycling and hot air balloon rides, and witness a beautiful "sea of clouds" from the UNKAI Terrace.
For more information visit: https://www.snowtomamu.jp/winter/en/
About Hoshino Resorts
Hoshino Resorts was established as a family business in 1904 and has grown into one of the largest Japanese-owned and operated resort brands. With 37 resorts across Japan, the company is expanding globally with new resorts in Bali and Guguan, Taiwan. As Japan's premier resort company, Hoshino Resorts specialised in operating Japan ryokans (traditional Japanese inns) and hotels and offers unique Japanese cultural experiences specific to each region. The company remains proudly family-owned, offering a diverse range of Japanese accommodation, cuisine and culture to visitors.
Follow and Share with Jetsettersblog.