AirAsia now on sale from Melbourne Avalon Airport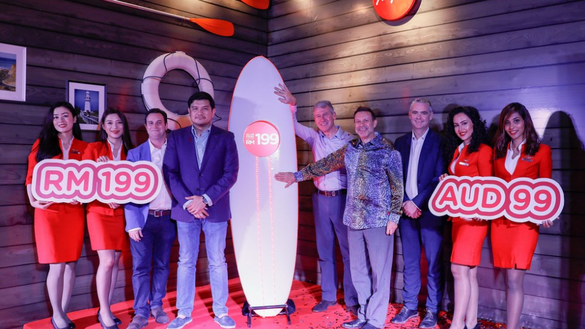 ---
AirAsia now on sale from Melbourne Avalon Airport
First international services from Melbourne Avalon to take flight on 5 December
Fares on sale today from AUD $99* to Kuala Lumpur (Malaysia), $147* to Phuket (Thailand), $157* to Ho Chi Minh City (Vietnam) and $229* to Delhi (India).
MELBOURNE, 11 July 2018 – AirAsia has announced the first-ever international flights from Melbourne's Avalon Airport will take flight from 5 December, 2018.
Geelong and Melbournes' fast-growing western suburbs will benefit most, while those in the central, north and north-east can look forward to great value fares, no Tullamarine freeway tolls, affordable parking and a seamless, hassle-free arrival and departure experience.
The double-daily flights D7219, from Avalon Airport departing mid-morning and D7217 later in the evening, will transition from Melbourne Tullamarine after almost a decade of operations, marking a new era for Victorians as the nation's first dedicated low cost international airport officially opens.
AirAsia X Malaysia CEO Benyamin Ismail said, "Since announcing we'd be the flagship carrier from the state of the art new terminal at Avalon Airport in February, we've been preparing to make this much anticipated open for sale announcement.
"This is a game changer for consumers, for tourism and for the industry. Just in time for the peak summer holiday period and before Christmas, affordable and hassle-free international travel from Avalon Airport in Victoria will become a reality.
"In preparation, we're ramping up our presence in Victoria through a range of regional and state tourism marketing and branding partnerships alongside greater engagement with the local travel trade.
"We're also making tweaks to our inflight and ground service offerings, introducing Australian cabin crew and revamping our onboard menu to include locally sourced and produced Victorian items.
"We'd like to thank the Victorian and Australian governments, and our tourism and airport partners in Victoria for their support to help make these new services a reality."
Avalon Airport CEO Justin Giddings said, "The new international terminal construction is well underway. At almost 9000sqm, it will house state of the art facilities with the latest innovations in customs equipment and processes, as well as a fantastic choice of Duty Free shopping and food and beverage options.
"By the time the first AirAsia flight touches down at Avalon, we'll have affordable parking right out the front of the new terminal, or as always, the option for SkyBus to deliver passengers from Melbourne, Werribee or Geelong right to our front door. We look forward to offering Victorians a truly efficient and comfortable international airport experience."
AirAsia's long-haul airline, AirAsia X, will operate the twice-daily return services using an A330-300 aircraft fitted with 12 Premium flatbeds, a child-free quiet zone and 365 ergonomically-designed economy class seats.
With AirAsia's Fly-Thru connecting services, Australian consumers will have a world of affordable travel destinations available throughout the airline's network of more than 130 destinations throughout Southeast
Asia, the Middle East and the US, including popular leisure favourites such as Thailand, Vietnam, India, China, Indonesia and many more.
To celebrate the milestone, AirAsia has launched special open for sale fares from just AUD $99* to Kuala Lumpur (Malaysia) $147* to Phuket (Thailand), $154* to Bangkok (Thailand), $157* to Ho Chi Minh City (Vietnam), $153* to Siem Reap (Cambodia) and $229* to Delhi (India), the lowest they've ever been for departures ex Melbourne.
The inaugural AirAsia X Flight D7218 will arrive at Melbourne Avalon on the morning of the 5th December 2018.
The airline has updated its booking system to reflect the new terminal, Avalon Airport (Airport code AVV) for all flights arriving and departing from 5 December, 2018. Melbourne Tullamarine (Airport code MEL) will continue to remain available for bookings until 4 December, 2018.
Guests booked to travel with AirAsia from Melbourne from 5 December will be contacted directly by the airline and provided with their new travel details including a range of provisions should they wish to amend their travel plans.
Guests can always reach out to AirAsia through its social media and customer service channels published at support.airasia.com.
To book your next journey from Melbourne Avalon visit: airasia.com and for more information about Melbourne Avalon Airport: avalonairport.com.au
*Promotional all-in fares are for one-way travel only. Booking period 11JUL18-15JUL18 for travel 05DEC18-13AUG19 for flights departing Melbourne Avalon (AVV), subject to government and regulatory approvals. For full terms and conditions, visit airasia.com
Photo Caption: (From Left to Right) AirAsia X Group Head of Commercial, Barry Klipp; AirAsia X Malaysia CEO Benyamin Ismail; Mayor for the City of Greater Geelong, Councillor Bruce Harwood; Australian High Commissioner to Malaysia, H.E.Andrew Goledzinowski AM; Avalon Airport CEO, Justin Giddings flanked by cabin crew at the launch of AirAsia to transition its Melbourne services to Avalon Airport.
Follow and Share with Jetsettersblog.