AIRE Ancient Baths, The Ultimate Wellness Experience London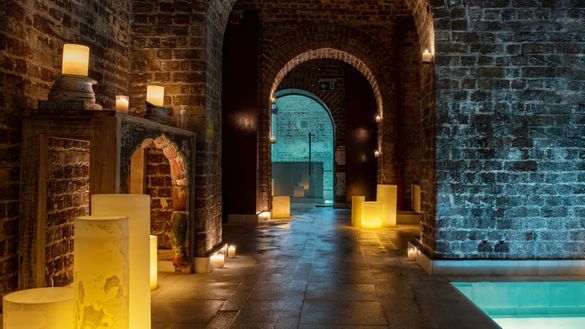 2
---
With this new opening, the London property located in Covent Garden becomes the brand's eighth location, joining the seven international locations already open including Barcelona, New York City and Chicago
AIRE Ancient Baths is located in a spectacular, historical building in Covent Garden with a unique heritage. Guests can look forward to unwinding in thermal baths with varying temperatures, as well as relaxing massages and signature wellness experiences
The coveted luxury wellness brand, AIRE Ancient Baths, has officially opened its first property in the United Kingdom, located in London's Covent Garden. Inspired by the ancient ritual of thermal bathing in Ancient Greek, Roman and Ottoman civilizations, AIRE's original wellness concept reimagines this tradition for the modern day. AIRE experiences are world-renowned and take place in restored historical buildings in outstanding cities and locations across the globe.
AIRE Ancient Baths London is situated between the Strand and the Embankment Garden, in the Adelphi area, known for its exquisite neoclassical architecture. The building is 2-3 Robert Street, constructed in the 18th century and was once the home of Scottish novelist and playwright J.M. Barrie, the author of Peter Pan. Located in the heart of the city, AIRE Ancient Baths offers a place of serenity in which guests can truly escape to, away from bustling London life. By working with the original architecture, AIRE have created a haven of 1,300 m2 that simultaneously celebrates the legacy of the building whilst transforming this already iconic space into an innovative environment for the contemporary age.
Amadeo Serra, CEO of AIRE Ancient Baths: "We are delighted to welcome our first guests in AIRE London, located in a historic building in Covent Garden, just steps away from the Thames. The blend of art, history and the connection to author J.M. Barrie symbolizes AIRE's philosophy when selecting buildings, and we are proud to open in a building with a unique heritage. We hope that AIRE will become an oasis in the heart of London, providing a centre of wellness and relaxation for both locals and travellers to enjoy. It is a pleasure to bring our signature brand of luxury indulgence to such a historic location. Since we opened our first location in Seville almost twenty years ago, AIRE's objective has been to create contemporary wellbeing experiences that draw inspiration from ancient bathing rituals, creating unique treatments for our guests. We chose to expand into London as it is one of the most vibrant cosmopolitan cities in the world. AIRE provides the perfect place for Londoners to pamper themselves away from the hustle and bustle of everyday life."
AIRE Ancient Baths effortlessly modernises the classic bathing ritual, reimaging the experience for the contemporary audience. AIRE Ancient Baths takes water as the focal element and uses it to create an atmosphere of tranquillity and sophistication for guests.
The London AIRE Ancient Baths Experience
The London AIRE Ancient Bath Experience is an indulgent journey through the thermal baths. Centred on the element of water, guests are guided through seven thermal baths at their own pace, all with different but specially optimised temperatures, to create the ultimate relaxation experience. Guests can enjoy the sensations created between temperatures, as they move between the Tepidarium (36º), the hot water bath of the Caldarium (40º) and the cool water baths, Frigidarium (14º and 10 º). The Vaporium (Steam Bath) and Balneum (Bath of a Thousand Jets) are designed to soothe the mind whilst the varying water pressure provides an indulgent experience for the body. For the ultimate oasis of relaxation, guests are invited to unwind in the Flotarium; the warm salt bath has been specially designed to replicate the density of the other-worldly Dead Sea and provides a place to float and let go.
In its quest to create an urban sanctuary, AIRE Ancient Bath works with the senses to immerse its guests in its wellness concept. The space is illuminated by candlelight, highlighting the brick work of the walls and the vibrant blue of the thermal pools. With each bath oscillating between pure silence, and soothing music that can be heard underneath the water, AIRE cleverly creates a sensory journey to guide guests away from all distractions.
The AIRE Ancient Baths offering also features relaxing massages from 30 to 75 minutes in length, signature experiences, and couples' experiences which all include an element of massage and are inspired by ancient practises and holistic rituals designed to promote wellbeing and true relaxation.
AIRE Ancient Baths London starts from £150 for single guests and £320 for couples. The experience includes a two-hour journey to the thermal baths with a 30-minute relaxing massage.
Some of the signature treatments include:
The Wine Ritual
Designed as an exclusive treatment for AIRE Ancient Baths, The Wine Ritual is an unforgettable experience where guests are submerged in an antioxidant rich formulation made of tempranillo grapes from Ribera del Duero region, exclusively for AIRE. The three-hour experience includes the private 30-minute immersion into red wine in a 17th Century Venetian Well bath, as well as a 15-minute cranial massage. After being submerged in the wine bath, guests can sooth their body in a 60-minute full-body massage with grape seed oil, transporting the mind to a deep state of relaxation.
Prices start from £450 pp and includes a tour of the baths.
The Holistic Ritual
Guests can relax into a state of inner peace with AIRE Ancient Bath's Holisitc Ritual. This tranquil experience has been created to calm the mind whilst holistically pampering the body and hydrating the skin. Guests will feel their energy renew as they experience a full-body exfoliation and delicate massage using a green tea and lime scrub whilst their hair is nourished by a hydrating honey mask. After the exfoliation, guests will receive a green tea full-body massage of medium intensity, designed to be complemented by the subtle aroma of exquisite tea.
Prices start from £180pp and includes a tour of the baths.
###
About AIRE Ancient Baths
Inspired by the tradition of baths from ancient Roman, Greek and Ottoman civilisations, AIRE Ancient Baths are temples dedicated to the relaxation of the body and mind. AIRE experiences take place in restored historical buildings in city centre locations. The company has an international presence with seven established centres and as well as the newly opened London property.
AIRE's other properties include a restored 19th-century warehouse next to El Born market in Barcelona; a rural farmhouse that dates back to 1467 in Vallromanes (30 km from Barcelona); a Mudejar house-palace in the heart of the Santa Cruz neighbourhood of Seville and a building located on the ruins of the old souk of Almeria in Andalucia are four AIRE locations in Spain. The company is also present in the USA with a property in the heart of New York City (TriBeCa) which was a former textile factory and another in Chicago (River West), also industrial in nature. As part of its ambitious expansion plan, AIRE Ancient Baths launched a new property in 2020 in Copenhagen in Carlsberg Byen, which was the old factory of the legendary Danish beer with Toronto (2023) are set to follow. www.beaire.com
AIRE Ancient Baths London is located on 2-3 Robert St, WC2N 6RL Covent Garden, London. For more information about AIRE London and the opening hours, please visit www.beaire.com
Follow AIRE Ancient Baths London on Instagram.
Media Enquires
AIRE Ancient Baths is represented by LOTUS in the United Kingdom. For more information, please contact Marta Moya, Lydia Matthews or Matilda Haymes at aire@wearelotus.co.uk / 0207 953 7470.

Follow and Share with Jetsettersblog.