Algarve Adventure Tours All Packaged Up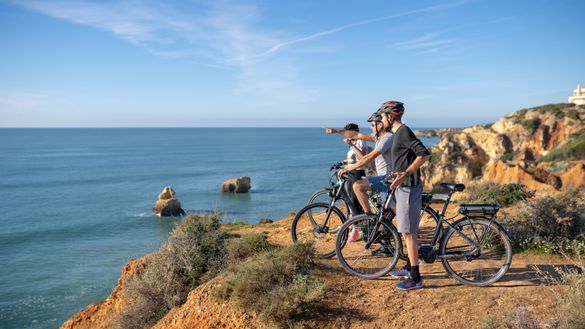 ---
Attention all adventure seekers!  The Algarve in Portugal, with its 200kms of coastline, surfing beaches, marked trails, nature reserves and picturesque villages, is ready to explore with holiday packages for those that prefer more action from their holiday.
Salt Mine Exploration
Head 230 metres underground to learn about the Loulé rock salt mine and discover 230 million years old geological formations. Visitors can do a 1.3 km walking tour inside the mine to learn about the old and current mining processes and the rock salt applications throughout history. The two hour tours run four times daily.   Find out more Here
Luxury on Two Wheels
Offering what they call 'Luxury on Two Wheels', Bike Tours Portugal provide luxury accommodation and gourmet meals as a part of their highly tailored bicycle tours around the Algarve. They provide every possible service with a range of guided and self-guided routes on offer which include exclusive lodgings, gourmet picnics for lunch, luggage transfers and on-tour bike repair services. For a 5-day Sun and Sea tour, prices start at £3,050 per person and for a Road Tour on some of the Algarve's most stunning driving routes, prices start form £1,976 per person. Find out more Here
Hang 10 then Hang Loose
Freeride Surfcamp and School are offering a Surf and Sleep Retreat with a stay at the 4-star memmo Baleeira Hotel included. Based in Sagres, with 3 hours of surfing a day, this package means you can hang 10 in the morning and hang loose at a 4-star hotel in the evening. A 6-night stay with 5 days' surfing starts from £456 for a double room.Find out more Here
Dirt Bike Touring with a Pro

Ruben Faria Adventure Tours offer something quite unique: dirt bike touring. Home to professional off-road motorbike race routes, the Algarve is the perfect location to give it go. Run by professional rider Ruben Faria, they offer guided tours riding on off-road trails and roads along the coast and through the hills, with accommodation at 5-star hotels.  The week-long Coast to River Adventure starts at £1,142 per person including accommodation and lunch. Find out more Here
Classic Motorbikes for the Inner Rebel
Ever wanted to feel like James Dean's A Rebel Without a Cause? Soulful Bikes rent classic motorbikes like Harley Davidsons, Triumphs, Royal Enfields and Mash motorbikes with a side car for touring around the Algarve. Clients can follow prescribed self-guided routes or tailor-made ones, with pick-up and drop-off at 4 locations in the region. Bike rental starts £56 per day per person, including insurance, helmets and baggage transfers. Accommodation must be organised by the client themselves. Find out more Here
Walk on the Wild Side

Visit Sagres, Europe's most southwestern point, and explore the Atlantic coast's wild beaches and preserved coastline. A walk on Rota Vicentina Natural Park's network of trails gives a unique experience of two worlds, between a living and authentic rural culture and a surprisingly wild coastline. A2Z Portugal offers guided and self-guided walking tours including accommodation, breakfast and luggage transfers. A self-guided 7-day coastal walking tour starts at £557 per person, including 6 nights' accommodation.  Find out more Here
Website for Cycling & Walking Lovers
Algarve Tourism Bureau has an excellent website Cycling Walking Algarve that outlines the best scenic walking and cycling trails across the region with links to partners for bike rental, guides and accommodation.
Find out more HERE
For further information, please visit:
www.visitalgarve.pt (tourist info) or http://www.algarvepromotion.pt/en/ (for professionals)
Social Media Channels:
Facebook, Instagram
The Algarve is the southernmost region in Portugal framed by a 200km coastline. Known for its promise of more than 300 days of sun per year, the region is home to award-winning beaches, authentic gastronomy and a range of outdoor activities from surfing to cycling, walking, and birdwatching that attracts thrill seekers, nature lovers alike.  The Algarve's 16 municipalities offer traditional and distinct experiences that allow for visitors to discover its rich heritage as a region.
Follow and Share with Jetsettersblog.