Amatara Wellness Resort Sleep Optimisation Programme in Thailand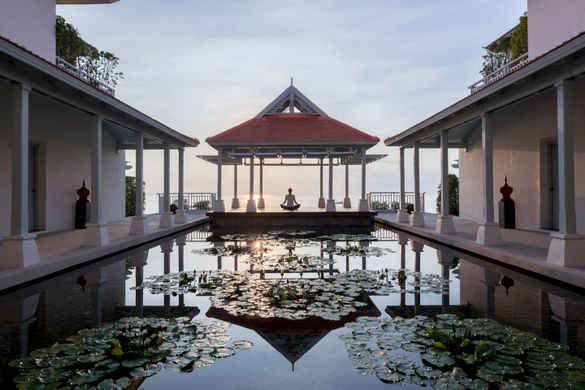 ---
Wake up to the health benefits of sleep with a seven-night retreat in Thailand 
28 November 2018: Fast becoming a favourite among Thailand's leading wellness retreats, Amatara Wellness Resort, is offering guests the chance to rest and reset with the launch of their seven-night 'Sleep Optimisation' programme. In partnership with qualified sleep technicians from Bangkok Hospital, Phuket, Amatara's preventative programme addresses life's stresses and strains, as well as body imbalances which deplete sleep quality.  The holistic retreat combines western therapeutic and diagnosis techniques with a healthy diet, natural therapies and expert consultations.
With today's complex and busy lives, the continuous demand on mental energy means quality sleep can often be elusive. We all know that prolonged insufficient sleep can lead to a number of health concerns from an inability to focus and increased anxiety, to physical symptoms such as weight gain, high blood pressure and diabetes; but often deeply ingrained bad habits can prevent us achieving optimum rest.
Amatara Wellness Resort seeks to guide guests back to their own natural sleep-wake cycles through therapies to sooth and calm the mind and through the elimination of external and internal factors that negatively affect their health. Guests are supported through consultations and a Polysomnography (overnight sleep test) with qualified sleep technicians from Bangkok Hospital in Phuket and neurologist to create a personalised programme to fit individual needs and goals.
The Sleep Optimisation programme incorporates Ayurvedic treatments such as Shirodhara, the pouring of a thin, steady stream of warm, herb-infused oil onto to the centre of the forehead; the teaching of powerful relaxing mediation techniques used in pranayama and yoga nidra sessions; lavender sleep rituals and Indian head massages. Encouraging a pure healthy diet, the resort asks guests to avoid foods that over stimulate the nervous system such as caffeine and chocolate and to commit to zero screen time after sunset until after breakfast. In keeping with Amatara's philosophy, the retreat ensures progress is long-lasting with a personalised health plan to take home and the knowledge and skills to further develop better lifestyle choices.
Aiming to position itself as one of the foremost destinations for wellness-conscious travellers, Amatara Wellness Resort is setting the benchmark as the first and only luxury destination spa in Phuket, and a compelling choice for leisure travellers to Thailand. Integrative health programmes are coupled with warm,  uniquely Thai hospitality; beautiful sea view pool villas and spacious suites; and – unusually for a wellness resort – a dedicated Kids Club and childcare service, making it the ideal backdrop for a fun-filled family-friendly getaway to 'The Land of Smiles' that leaves guests feeling refreshed and reinvigorated.
Healing Holidays (020 7843 3597; www.healingholidays.co.uk ) can arrange a 7-night Sleep optimisation programme at Amatara from £2,999 per person sharing. This includes flights, transfers, accommodation in a Bay view suite, full board and all activities and treatments according to the sleep optimisation programme.
The Sleep Optimisation programme includes:
Accommodation as per selected room category
Full board, 3 healthy cuisine meals or set detox program
Individual wellness consultation (60 minutes)
Departure consultation (30 minutes)
Blood pressure check-up
Physical analysis (30 minutes)
2 Lavender sleep ritual massage (90 minutes0
1 Follow up consultation(30 minutes)
1 Indian head massage
1 Neurologist consultation
1 Polysomnography (overnight sleep test)
1 Private pranayama session (50 minutes)
1 Shirdohara treatment (60 minutes)
1 Signature of Amatara massage (90 minutes)
1 Yoga Nidra deep relaxation session (50 minutes)
Daily group fitness classes, including meditation and yoga
Amatara Wellness Resort, Phuket, Thailand
Tucked away in a tranquil corner of Cape Panwa, Phuket, the Amatara Wellness Resort centres around an experience of total wellness, ranging from its holistic programmes to its exclusive retreat packages. As the first and only luxury destination spa in Phuket, Amatara offers all-inclusive programmes, spacious and stylish accommodation, organic, whole food cuisine tailored to individual heath goals, and personalised wellness treatments and activities.
Offering that rarest of finds for spa lovers with families – a credible, results driven wellness offering combined with family friendly accommodation, a kid's club and extensive facilities including  two swimming pools, games room, water sports, scuba diving school, tennis courts and yacht charter.
Follow and Share with Jetsettersblog.