America's Unique Connection With Britain's Greatest Palace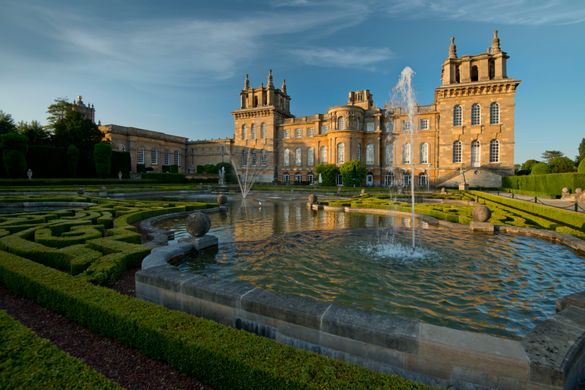 Blenheim Palace, UNESCO World Heritage Site in Oxfordshire, attracts thousands of visitors from America every year.
Quintessentially British, the stunning stately home offers overseas visitors incredible history and heritage, unrivalled 'Capability' Brown landscaped Parkland, and the Finest View in England, making it the ultimate Insta-worthy destination.
However, the magnificent baroque Palace's fascinating story is strongly linked to the USA and, in particular the 'Dollar Princesses', who changed the fortunes of the Marlborough family and its ancestral seat.
Marriages between wealthy American heiresses and English aristocracy in the 19th and early 20th century produced many famous offspring, including Winston Churchill, who was born at Blenheim Palace.
While some heiresses found love as well as peerages when they crossed the Atlantic, others were marriages of convenience – as English Lords needed their wives' 'new money' to prop up their crumbling fortunes…
Jennie Jerome was born in Brooklyn in 1854 to Clara and Leonard Jerome, who had been dubbed 'the King of Wall Street' thanks to the wealth he had accumulated through the stock market.
Jennie was a renowned beauty, and coupled with her family's wealth, was one of the most eligible women in high society when she came of age. It worked and she became friends with Prince of Wales (the future King Edward VII) and was introduced to Lord Randolph Churchill, son of the Duke of Marlborough.
While Lord Randolph was a prominent Conservative politician, he never reached the highest office but their son went on to be one of history's greatest statesmen.
Churchill remains one of the most highly regarded leaders of the 20th century and his term in power helped the Allies win the Second Word War.
Visitors enter into the private world of the 'Greatest Briton' in a dedicated exhibition within the Palace.
The interactive exhibition uses multi-media to enhance the visitor experience including video content which is screened within the rooms. There are transcripts from private communications and a section is dedicated to Churchill's past love interests too.
Consuelo Vanderbilt and Charles Spencer-Churchill, 9th Duke of Marlborough were married 21 years after Jennie's marriage to Lord Randolph. The 9th Duke married the wealthiest and perhaps most famous Dollar Princess: Consuelo Vanderbilt, great-granddaughter of railroad tycoon Cornelius Vanderbilt.
Like Jennie Jerome's Wall Street money, Vanderbilt's relatively new railroad fortune seemed déclassé to both New York high society and British aristocrats. But Consuelo's wealth — and her mother's ruthless ambition to land a noble son-in-law — opened many doors in the United Kingdom.
Consuelo at first had no interest in marrying the duke. She was, in fact, already engaged to a man she loved. However, under pressure from her mother, Consuelo agreed to the trans-
Atlantic union. On November 6, 1895, Consuelo married Charles in St. Thomas Episcopal Church on New York's Fifth Avenue.
In her hand, she clutched roses and lilies of the valley grown in the greenhouse of Blenheim Palace, the ancestral home of the Dukes of Marlborough, an estate second only to Buckingham Palace in pre-eminence.
In his hand (figuratively speaking) was a marriage settlement signed by Consuelo's father that promised the duke $2.5 million in shares of Vanderbilt stock and $100,000 a year to both newlyweds.
Their marriage, however, was ultimately even less successful than Jennie and Lord
Randolph's. On their honeymoon, Charles is said to have told Consuelo he was in love with someone else. He then set about spending her dowry on restoring his family seat, Blenheim Palace.
Despite the renovations, Consuelo complained about its drafts and lack of indoor plumbing, the 65 long miles to London, and, worst of all, her loveless marriage. She and the Duke separated in 1906 and divorced in 1921.
Visitors can see the portrait, commissioned by Consuelo's mother to attract an English Duke, on display at Blenheim Palace.
The 9th Duke married American socialite, and most beautiful woman in the world, Gladys Deacon who along with His Grace threw lavish parties during the decadent roaring twenties.
Blenheim Palace is currently staging an exhibition celebrating this decadent decade; Let's Misbehave: Blenheim Palace in the 1920s, until 13 April.
Follow and Share with Jetsettersblog.