An Incredible Covidly-Careful but Carefree Experience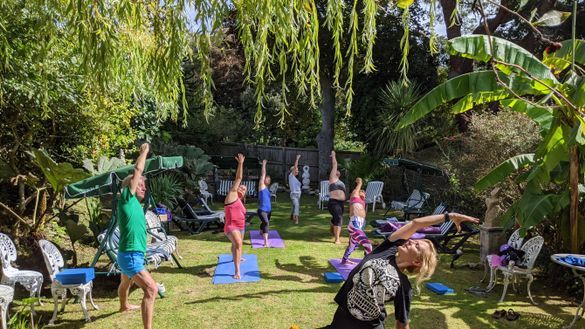 1
---
Skyros holidays continue at The Grange by the Sea in the Isle of Wight with inspiring masterclasses, coastline walks and delicious food. Meet likeminded people – albeit at a social distance – and take the opportunity for a long-overdue break. Check out guest reviews and find out more about Safe Stays at The Grange. See what's on this October below.and here: www.skyros.com/holiday-locations/isle-of-wight/
Friday 2 to Sunday 4 October
Adventures in Comedy Writing with Logan Murray
Comedy, like any art, is a craft. There are tips and techniques to be learnt. if you understand comedy grammar then unlocking the funny ideas becomes easier. From finding your creative inspiration to learning the building blocks of humour, this workshop will help you discover your unique comic voice.
Monday 5 to Friday 9 October
Weaving with Colour with Theresa Sundt
Join professional artist and certified colour therapist, Theresa Sundt, and explore Weaving with Colour which has an extraordinary calming and meditative effect. During this course you will learn how to thread a frame loom and weave a variety of techniques as well as get to know your own colour personality.
Thriving in Transition with Julian Russell
During this course we will develop an inspiring vision for our future and the inner resources to help us get there. This course applies equally well to those in transition (change of job, relationship, children leaving home, retirement, loss and health) and those who simply want to feel more empowered in their lives.
Drop-in classes include 'Colour Therapy – hands on', 'Know Your Colour Personality', 'Paint the Rainbow for Balance and Wellbeing' and 'Love Yourself, Love the World'.
Monday 12 to Friday 16 October
Joke Writing with Kate Smurthwaite
Learn how to write funny. A great joke gets our audience laughing and brightens our day. Even serious books, plays and films benefit from a few carefully-crafted 'lighter moments'. We'll look at the basics of idea generation and common joke structure as well as more sophisticated techniques you might recognise from popular shows.
The Song & You with Luke Meredith
Singing is more than a talent or an activity, it's a state of mind that connects directly to your soul. This course teaches you to make that connection with your own voice within the context of songs familiar to you, especially ones that have special meaning. Explore the physical and spiritual effects of singing and performance.
Drop-in classes include 'Morning Fitness Walk, 'Write Yourself Happy', 'Beat Writer's Block', 'Comedy Improv', 'Voice Games', 'Let's Make a Musical' and 'Community of Song'.
Friday 16 to Sunday 18 October
Life Writing with Nick Barlay
Explore approaches to life writing through a combination of examples, discussions and practical exercises to discover forms most appropriate to unique and individual stories. Autobiography? Memoir? Reportage? Family History? The writer's intimate connection to the material can add a new and resonant dimension to a reader's experience.
Monday 19 to Friday 23 October
Exploring Mindfulness through Expressive Art with Ignacio Lalanne
This course consists of discussions, guided meditations and expressive and playful art-making. It does not matter if you consider yourself an artist or not, this is all about the process and exploration. The course will teach you how art-making can be a vehicle to experience mindfulness and an increased sense of wellbeing and presence in your life.
Walk & Talk Wilderness with Julia Gillick
A series of 2 hour facilitated eco-therapy walks in the local area linking landscape to emotions via metaphor. You'll be led on gentle-paced walks and guided through a series of topics for paired conversation. These walks create a structure for authentic, deep and inspiring dialogue, all conducted in harmony with the landscape.
Drop-in classes include Nature Story-Telling Workshops, Nature Connection Activities, Enzo, Shodo and Ikebana (exploring kindness and compassion with still life).
Monday 26 to Friday 30 October
Creating Laughter with Arthur Smith
"Laughter is the shortest distance between two people." This Masterclass is for anyone who wants to write or perform comedy or for those who just want to gaze at Shanklin's shoreline and chuckle along with the waves. Arthur will provide advice, exercises, insights and showbiz gossip but, most importantly, will give all students a certificate.
Making Mosaics with Roz Wates
Roz's famously addictive mosaic course sets up residence for a week on the Isle of Wight: go over the basics or try out new materials and techniques. Creative, sociable and fun, this is a mosaic-making course for beginners and improvers. There will be a materials cost of between £15 and £35 depending on the scope of your projects.
Drop-in classes this week include 'A Brief History of Mosaics', 'Mosaic Opera: a Guide to Traditional Mosaic Patterns', 'Autumn Patterns: Playing with Nature', and 'Traveller's Tales'.
Note: Holidays are inclusive of masterclass, drop-in classes, accommodation and all meals. See the full programme of UK retreats here: skyros.com/holiday-locations/isle-of-wight/
______________________________________
For more information, call Skyros on 01983 865 566 or email press@skyros.com
Follow and Share with Jetsettersblog.