An Ode to Blacklane's 300th City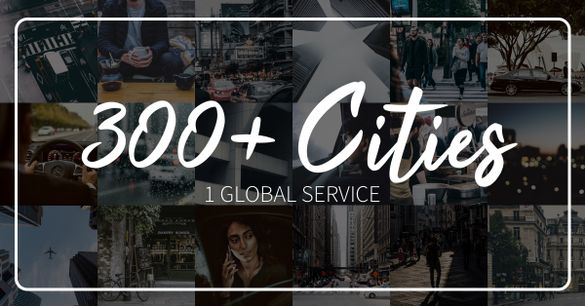 There once was a chauffeur business
That expanded with particular swiftness.
To announce its new city,
Blacklane got witty
And showed the world it's ambitions.
Today's city is number 300.
"What could it be?" people thundered.
Would it be in Korea?
Perhaps Tanzania?
Yet because of this poem, no one wondered.
Blacklane's 300th is Irish.
Our service worldwide is stylish.
To end the shtick,
It's Limerick,
And below is a gift you'll cherish.
Book your Blacklane chauffeur today.
We'll give you no reason to delay.
We'll make you a deal,
An offer, a steal:
20 percent off on this day.*
Each ride is full of benefits
That fill your trip with excellence,
Like meet-and-greet
And free child seats.
Our chauffeurs are service specialists.
Here it is, your voucher code,
For next time you're on the road.
LIMERICK2018.
Use on the last screen,
Of the website or app you can download.
Newest Cities Bring Blacklane to 100 in Asia-Pacific Region
Limerick is one of Blacklane's 32 new cities in 11 countries. The company's chauffeur service now reaches 300 cities in 60 countries worldwide. By adding 14 cities in Asia-Pacific countries, Blacklane now serves 100 cities in the region with chauffeured rides. All new cities are:
Bahrain (2): Muharraq and Riffa.
France (2): Biarritz and Montpellier.
Germany (10): Augsburg, Darmstadt, Duisburg, Krefeld, Mainz, Mönchengladbach, Neuss, Offenbach, Wiesbaden and Wuppertal.
Greece (1): Pireaus.
India (3): Faridabad, Gurgaon and Noida.
Indonesia (2): Bekazi and Tangerang.
Ireland (1): Limerick.
Italy (1): Como.
Japan (4): Kobe, Nara, Sakai and Yokohama.
Malaysia (5): Kajang, Klang, Petaling Jaya, Rawang and Subang Jaya.
Switzerland (1): Winterthur.
All Blacklane chauffeured rides give guests:
All-inclusive rates guaranteed at the time of booking. Blacklane never adds taxes, tolls, fees, tips or surges to fixed fares.
Full duty of care.
Instant booking confirmations.
Commercially licensed and insured English-speaking chauffeurs.
Chauffeur meet-and-greet, including luggage assistance.
Up to one hour of free chauffeur waiting time at airports and up to 15 minutes at all other locations, for transfers.
Free changes and cancellations for transfers up to one hour before pickup.
Real-time flight tracking and adjustment of pickup times according to actual arrival times.
Free cancellations for transfers up to one hour before pickup.
Chauffeur contact information sent over SMS and email one hour before pick-up.
24/7 multi-lingual customer service on the phone, email and social media.
Carbon-neutral rides, either in emissions-free vehicles or through Blacklane's carbon offset program
* Voucher Terms and Conditions
The voucher code LIMERICK2018 will give guests 20% off a one-way or hourly ride booked today (September 5, 2018), in any of Blacklane's 300 cities. Each guest can use the code only one time. Rides may take place today or any day in the future. Enter the code at the last page of the booking process on the website or app.
About Blacklane (www.blacklane.com)
Blacklane is the premium mobility provider. We serve 60 countries and 300 cities with a global chauffeur service and 500 airports with airport concierge services and lounge access. We guarantee high quality at fair, fixed and all-inclusive rates. You can book Blacklane on our website or mobile apps or via distribution and channel partners.
Follow and Share with Jetsettersblog.