Andante Travels Top Tours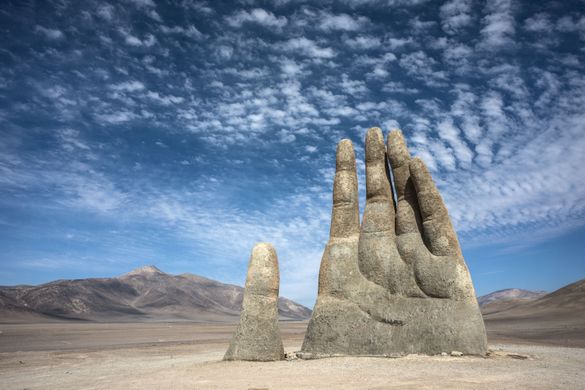 ---
As award-winning special interest travel company Andante Travels (www.andantetravels.co.uk, 01722 713800) continues its 35th anniversary celebrations into the new year of 2020, it has rounded up a selection of its tours that have been on offer for over a decade. The longevity that Andante's tours enjoy is the result of its expert guides knowing their destinations inside and out, and a tight-knit team producing itineraries that evolve as things on the ground change, which they often do being based around both archaeological and historical sites.
Andante called upon its expert guide lecturers, who lead its ancient-world adventures, for insight into why this core group of tours continues to be successful and the answers received were captivating. What's more, each tour featured will depart in 2020.
A 16-day adventure that traces the footsteps of the Maya at an array of sites ranging from the iconic Chichén Itzá to Yaxchilán with its remarkable architecture, this tour has been running for over a decade now. Speaking about how this tour has changed over the years, expert guide lecturer David Drew explained that "it is only since the 1980s that serious advances have been made in 'cracking the Maya code', as the phrase goes. And so, every year we can mention a new gloss, further progress in understanding the nature of Maya society and how it functioned, given new understandings of what the Maya texts say. The impact of Maya hieroglyphic decipherment is something that we constantly stress on the tours themselves." He also said that "in the past we have very much modified the itinerary on our Maya trips according to where archaeological work is going on," and added that the history of the Maya – along with the work going on to unravel it – "makes their story one of great novelty to travellers." Departs 2nd November, 2020 | From £4,995pp
A tour that was revived for 2019 and will continue throughout 2020, Lebanon appeared in Andante's 2010 brochure and has been increasingly popular throughout time. Expert guide lecturer and archaeologist Oliver Gilkes opened up about how the itinerary has changed since its inception and said: "Well, the big change here is that it is possible to visit again. After seven years of Lebanon being off limits, places like Baalbek and Sidon can be reached by groups in relative safety. Of course, like any country that has stabilised itself and is once again possible to visit, there will be a hundred things that need improvement. Visiting Baalbek is one of the great highlights of any archaeological trip to a Mediterranean country. Amazingly it, and the other major sites of the country, seem to have escaped damage." Multiple departures in 2020 | From £3,045pp 
This trip appeared in Andante's 2010 brochure under the guise "Sicily Antiqua", but is now known as Classical Sicily and remains one of the company's most popular tours. Dr. Eireann Marshall, who won Wanderlust magazine's Top Culture & History Guide of 2019 at its World Guide Awards, has been leading this tour for over a decade and spoke about its evolution: "My very first solo tour was to Sicily, a tour that was then called Sicilia Antiqua, back in 1997 and I was young and nervous. The tour has stayed the same length, though we have tweaked the sites over the years due to site closures and to listening to our clients' feedback. Some of the sites have become a lot busier, particularly Agrigento and Piazza Armerina, though some of the sites, like Selinus and the Cave de Cusa, still seem to be well-kept secrets. The site conditions have depended on the popularity of the sites. Some of the popular sites have really been done up, like Piazza Armerina, the restoration of which is exemplary in the main. Other sites, like Morgantina, which nobody seems to go to, have become more overgrown. The biggest change, perhaps, has been the special private evening visit to the Cappella Palatina – we used to have 15 minutes of a stressful visit, whereas now we get the whole of this wonderful chapel completely to ourselves. The tour has remained as popular as it has because Sicily is literally littered with UNESCO World Heritage Sites and because it has a wonderful cuisine – perhaps the best in Italy. The other big change is all the security on sites – before entering some of the most important sites, you now have to go through security systems, which is a real sign of the times." Multiple departures throughout 2020 | From £3,345pp.
Led by Dr. Paul Bahn, the world's leading rock art expert, Andante's Chile & Easter Island tour is one of its most beloved by guests from all around the world. Dr. Paul Bahn explained that there have been a few tweaks to the itinerary over the years: "The one major change has been that there are now more restrictions on what one can do and see on Easter Island – in particular, thanks to damage caused by the shooting of the Rapa Nui film in the 1990s, one now has to look at the best petroglyphs through binoculars instead of getting close to them. The boulders are in serious danger of falling into the ocean." When asked what he believes makes this tour so popular, he added: "Easter Island is a place that fascinates everyone, and I know of no other tour like this one that shows people every single archaeological feature on the island to which a group can be taken. And, while most people sign up for Easter Island, many of them also fall in love with the Atacama Desert and its geoglyphs and landscapes." Departs 7th November, 2020 | From £8,495pp. 
Another long-running tour, this is a mosaic-filled Italian escape that covers archaeology, religious history and architecture alike. Dr. Eireann Marshall explained that the itinerary for this tour is almost exactly the same as it was 10 years ago: "This tour has largely remained the same – it is a two-hotel tour as it always has been and the combination of Aquileia and Ravenna has remained the same. There have been small changes, the most important of which is the special private evening visit to San Vitale and Galla Placidia. The opening of the Roman port at Classe and the new site museum have also been welcome improvements." Departs 20th April, 25th May and 2nd November, 2020 | From £2,495pp.
Pompeii, Herculaneum & Classical Campania
Considered to be Andante Travels' flagship tour, Pompeii is a destination that changes frequently – meaning it's likely that no two visits are ever the same. The itinerary has been revamped for 2020 and it now includes private access to the Theatre of Herculaneum, private access to the Cave of Sejanus and private access to the Paestum Museum's store rooms, where guests can see Lucanian painted tombs off-limits to members of the public. Dr. Eireann Marshall, who leads some of the Pompeii departures offered by Andante, revealed that guests get to spend more time at the site than included as part of other itineraries: "On our tour, we spend all day in Pompeii, whereas cruise tourists spend typically an hour and a half on site and they always go to the same places. The other things that have changed on this tour is that we are now spending all day in Herculaneum because it has opened up so many new sites, including 2 new museums. We have also sought to include private access to sites, and we are including the Cave of Sejanus, which is another new site, along with the Theatre of Herculaneum and the store rooms at Paestum Museum." Eireann added: "I would say that the biggest change in Pompeii is the huge swell in tourism. We used to go to the brothel, but I don't include this on the itinerary anymore because there is a one-way traffic system and it always has huge queues. Cruises didn't used to go to Pompeii, but they do now and have made visiting the area around the forum, brothel and theatres even harder." Multiple departures throughout the year | From £1,945pp. 
2020 is an especially exciting time to visit Tunisia with Andante travels because its tours offer access to Bulla Regia, with its characteristic underground houses. Elsewhere, explore the UNESCO-listed sites of Dougga and Kairouan, discover the beautifully preserved Phoenician site of Kerkouane, marvel at the grand El Djem amphitheatre, and pore over ancient artefacts and mosaics at the Bardo at Sousse museums. Dr. Eireann Marshall opened up about visiting the country and revealed that it has some truly phenomenal archaeological sites: "I would say that Tunis feels different in that there is more of an air of freedom now as there are no more posters of Ben Ali dominating the skyline. The itinerary really hasn't changed much, but the quality of the hotels has gone down a bit as Tunisia is still in recovery. There has been a tendency to restore and reconstruct ancient sites near Tunis in order to attract tourists and this has been more visible, and the Capitolium in Oudna has grown over the years as they have rebuilt it. They seem to have a very different idea of what ancient sites should look like. The sites that are out of the way are still blissfully tourist free and wonderful – their conditions haven't changed." Departs 3rd March, 3rd November and 11th November, 2020 | From £2,195pp.
Jordan | Petra & the Desert Fortresses
Another of Andante's flagship tours, Jordan is a destination worthy of a visit from any lover of history and archaeology. At 10-days long, this is an expert-led adventure that takes in a cruise through the lunar-like landscape of Wadi Rum in a fleet of 4x4s, a chance to experience weightlessness in the Dead Sea, and a full two-day exploration of Petra. Nick Jackson, an expert guide lecturer who leads this tour for Andante Travels, explained that it enjoys such longevity because "guests wait all their lives to visit Jerash and Petra, as they are two of the great archaeological sites of the world". Nick added that things are always changing at the sites visited as part of this itinerary, which keeps the tour fascinating: "No two visits are ever the same, there's always something new. Also, as excavation priorities and techniques develop, focus shifts in some cases to a specific period ignored before. For example, Early Islamic Jerash was not understood well or even visible when I first started showing guests, but now it is!" Departs 24th March, 6th October and 28th October, 2020 | From £3,195pp.
For more information, call Andante Travels on 01722 713800 or visit https://www.andantetravels.co.uk/
Founded in 1985, Andante Travels – part of the Specialist Journeys group – has grown to become one of the UK's leading specialist tour operators. The company has previously won the 'Best Small Holiday Company for Customer Service' title at the prestigious British Travel Awards, and thanks to the wonderful support of its travellers, it won the Best Special Interest Holiday and Best Holiday Company to the Italian Peninsula & Malta categories at the 2018 British Travel Awards, and was also shortlisted for the Best Cultural Tour Operator in the 2018 Silver Travel Awards. In 2019, Andante made the shortlist for the Marketing Excellence prize at the South Wilts Business of the Year Awards. It won two prizes at the Luxury Lifestyle Magazine Readers' Travel Awards and, most recently, the company won silver for Best Special Interest Holiday Company and bronze for Best Holiday Company to the Italian Peninsula at the 2019 British Travel Awards.
Andante's tours have been named 'Trips of a Lifetime' by the National Geographic Traveler on five occasions and in 2018 it appointed Jackie Willis as its new CEO, who brought with her over 35 years of touring and travel experience. Over the years, the company has introduced thousands of people to the wonders of the ancient world. Its tours are all designed and led by renowned experts, who bring a unique, special insight to each site visited in every corner of the globe, and every one of its itineraries boasts exclusive access to either a museum or venue, a specific archaeological site or to a workshop. Andante's tours are peppered with hands-on, immersive experiences that offer an authentic taste of each destination and leave the guest with memories that will last long after they return home.
Follow and Share with Jetsettersblog.