apan's Sub-Tropical Islands With Okinawa's Virtual Travel Experiences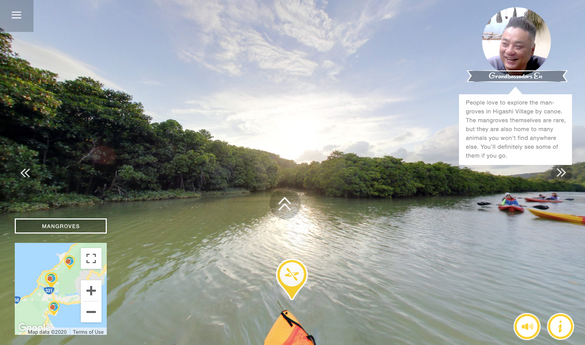 ---
– With its unique combination of Japanese culture, subtropical temperatures and stunning scenery, Okinawa is one of the most fascinating destinations to explore in the Far East and whilst the world remains in lockdown we've rounded up some of the best ways travellers can experience the prefecture from the comfort of their own home.
From virtually canoeing through mangroves and trekking to jungle waterfalls to learning the history of karate's birthplace and how to make the best Okinawa Soba noodles, there's plenty to capture the imagination and inspire the mind for when travel is once again a possibility…
Virtual exploration of land and sea… 
Okinawa's 160 islands are blessed with incredible natural beauty which can be explored virtually with Nuchigusui Walk and BeOkinawa. Travellers can take a digital trek through the jungle landscapes of the Yambaru National Park to spot cascading waterfalls, board a canoe and navigate meandering mangroves, stroll through a traditional Okinawan village and peek inside its buildings, take in a picturesque sunset from the idyllic beaches of Kume Island and stargaze into the night from one of the prefecture's many dark sky sites – all without needing to leave the sofa!
Okinawa's virtual tours can be experienced here: http://beokinawa.jp/nuchigusui/nw/
Popcorn at the ready… 
Travellers looking to immerse themselves in Japanese cinema to inspire future exploration should look no further than the 'Adventures of Paradise: Tales from Okinawa' – a collection of short films inspired by the destination that are free to stream right now with Film Doo. The five authentic tales follow a series of characters all seeking a fresh adventure and new beginnings. Each film has English subtitles and can be found here:
https://www.filmdoo.com/films/adventures-of-paradise-tales-from-okinawa/
Transport the taste buds…
Travel may not be possible right now but the iconic flavours of Japan's southern islands can be recreated from home with this step-by-step guide on creating authentic Okinawa Soba, a delicious thick noodle unlike other soba in Japan and often served in flavoursome soups and broths. Believed to be created almost 500 years ago, Okinawa Soba is so widely celebrated in the prefecture it even has its own official day – the Okinawa Soba Day, held on the 17th October every year. Learn how to recreate the special noodle here:
https://www.visitokinawa.jp/information/sun-sun-kitchen
Discover the birthplace of Karate…
Sport enthusiasts or those looking to learn more about the history of martial arts can bring the dojo into their own homes with this collection of karate videos from the Okinawa Karate International Tournament whilst learning the history of the sport from Visit Okinawa – perfect for young minds stuck indoors during the lockdown. Okinawa is the birthplace of the sport and it is still widely practiced today across the prefecture. Learn more here:
https://www.visitokinawa.jp/information/karate
https://www.youtube.com/channel/UC4CUvmlV2HCJHy-vhIBLKWg/videos
All image credits: OCVB
About Okinawa:
Japan's southernmost prefecture, Okinawa, comprises 160 subtropical islands boasting a year-round warm climate comparable to Hawaii, Miami and Cancun. Just 3 hours by air from Tokyo and blessed with incredible natural beauty, from lush forests to crystal blue waters with abundant coral and golden sands, Okinawa is perfect for beach lovers and sport enthusiasts alike whilst still appealing to culture seekers thanks to its unique history and heritage. Using the bountiful fresh produce its natural environment produces, Okinawa's culinary culture is also unique and is believed to be a key factor in Okinawa's status as one of only five blue zones in the world recognised for longevity.
For more information, visit: www.visitokinawa.jp. 
Follow and Share with Jetsettersblog.