Audley Travel exploring little known gems of Peru's Pre-Inca North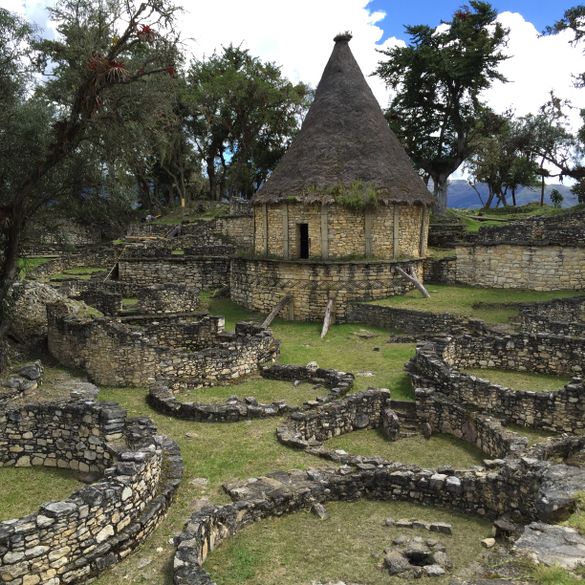 ---
Audley Travel has launched a new sample itinerary for its tailor-made trips to Peru which takes in the highlights of the seldom visited rugged landscapes of the north of the country. Highlights on this diverse itinerary include the ruins of Pre-Inca kingdoms, stunning colonial architecture of Peru's third largest city, Trujillo and the cascading waters of Gocta Falls.
Moche ruins around Trujillo
Led by their personal guide, clients learn about the Huacas del Sol y de la Luna (the fifth century tombs of the Sun and the Moon) and the Chan Chan adobe ruins, built by the Chimu civilisation. The trip then moves on by private transfer to Chiclayo, travelling through arid coastal landscapes with a stop at the Moche archaeological site of El Brujo to view the colourful geometric murals.
Pyramids and museums north of Chiclayo
Clients spend a morning at the fascinating Tucume pyramids, exploring the 26 major pyramids, platform mounds, walled citadels, ceremonial centres and ancient cemeteries.  Visitors often see tiny burrowing owls nesting in the sandy soil, as well as catching fleeting glimpses of thevermillion flycatcher. The afternoon is spent in the town of Lambayeque at the Museum of the Royal Tombs of Sipan – home to some of Peru's most spectacular treasures.
Sacred water and tombs at Cajamarca
At Cajamarca, clients visit Cumbe Mayo ('thin stream'), a still-functioning canal accessible by a scenic walk through countryside dotted with limestone pillars. The water carried by the canal was believed to be sacred and visitors will see the boulder-altar that marks the spot where spiritual leaders performed ceremonies at the full moon. Time is also spent exploring the empty tombs at Otuzco's volcanic rock face, where the Cajamarca culture placed the mummified bodies of their nobility in the holes in the rock.
Mummies and burial buildings near Leymebamba
The Revash ruins (a group of burial buildings) are found carved into the cliffs near Santo Tomas de Quillay, with unusual roofs made of wooden legs tied together with vegetable fibre. In nearby Leymebamba clients continue their day exploring the local museum, which houses a collection of over 200 Chachapoya mummies.
Kuelap
Thispre-Incan fortress has monumental aspects that are rivalled in size and grandeur only by Machu Picchu and until now attracted 95 per cent domestic visitors. It is made up of hundreds of round stone houses, formed from millions of cubic feet of stone and it wasn't re-discovered until 1843. The impressive structure, which is estimated to have taken over 200 years to complete, is now easily accessible by a recently completed cable car.
Gocta Falls
A highlight for Audley's staff who have visited this region of Peru is the trek to Gocta Falls, one of the highest waterfalls in the world. The Falls were very much a local secret until 2002 when a German explorer encouraged the Peruvian government to map the area. The walk is tough but rewarding, and hikers enjoy the stunning views as well as bird and butterfly spotting along the route.
Mark Garrett, Head of Latin America for Audley Travel, says: "This is a fantastic area of Peru to explore and we are delighted to be able to introduce it to our clients as an alternative to the more frequently explored Inca ruins in the south. Our team has spent a lot of time in the area finding the little gems that we know will delight our clients.  As with all of Audley's suggested itineraries, it gives a basis on which our specialists can develop a client's own personalised trip to northern Peru, taking into account their interests, tastes and budgets."
An 16-day tailor-made trip,  Highlights of Peru's Pre-Inca North, costs from £4,575 per person (based on two sharing) and includes flights, transfers, accommodation, excursions and a private car with a guide. For more information visit audleytravel.com/Peru or call 01993 838620.
–
Follow and Share with Jetsettersblog.