Aurora Expeditions 360° Virtual Tour of Greg Mortimer ship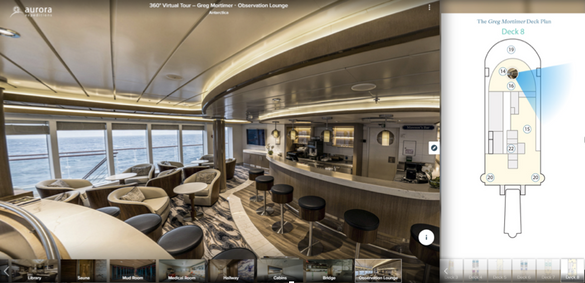 ---
Aurora Expeditions, Australia's leading expedition cruising company will tomorrow launch a 360° virtual tour of its new ship the Greg Mortimer, the world's first passenger ship to feature the Ulstein X-BOW®.
The virtual tour allows travel agents and customers to familiarise themselves with the new ship for those interested in a trip aboard the Greg Mortimer. Aurora Expeditions is also supplying an iframe code to allow travel agents the opportunity to embed the 360° virtual tour on their website.
Aurora Expeditions has recently launched their new 2021/22 program with an exclusive early bird deal offering a saving of up to 30% on new voyages booked and deposited by 31 March 2020, or until sold out, whichever comes first*.
The 360° virtual tour can be found on the Aurora Expeditions site here.
The full 2021/22 program is available for download here.
For further press information please contact Cedar Tree Public Relations:
Frangelica Flook: Frangelica.flook@cedartreepr.com
T: +44 (0)20 7978 4534, M: +44 (0) 7747 606 898
Interviews with Aurora Expeditions' Managing Director, Robert Halfpenny, available on request.
ENDS
NOTES TO EDITORS:
Some of the main highlights of the new Aurora Expeditions 21/22 program include:
NEW: South Georgia & Antarctica Odyssey
17 December 2021 – 10 January 2022: Sailing on the Sylvia Earle
On this epic voyage, not only will you explore the famed white continent and far-flung South Georgia, you will also sail to the South Sandwich Islands, a chain of seldom-visited volcanic islands located 740 kilometres south-east of South Georgia.
15 – 21 April 2021: Sailing on the Greg Mortimer
In Guanacaste, passengers will explore a slice of Costa Rica rarely visited by expedition vessels including the UNESCO World Heritage-listed Guanacaste Conservation Area, hiking in wildlife-rich rainforests and venturing to peaks in Rincón de la Vieja.
NEW: Ireland's West Coast
19 – 31 May 2021: Sailing on the Greg Mortimer
A voyage along Ireland's rugged west coast exploring the hundreds of islands, enchanting peninsulas and fjords, soaring cliffs and crumbling castles.
NEW: Sub-Antarctic Safari
8 – 24 November 2021: Sailing on the Sylvia Earle
Steeped in history, the Falklands~Malvinas is also a beacon for bird lovers. Discover an incredible diversity of charismatic penguin species including king, macaroni, rockhopper, magellanic and gentoo.
NEW: Solar Eclipse in Antarctica
24 November – 15 December 202: Sailing on the Sylvia Earle
In December 2021, a full solar eclipse will occur that will be visible over the Weddell Sea, offering passengers the rare and historic opportunity to witness this remarkable spectacle in Antarctic waters.
The full 2021/22 program is available for download here.
For Bookings:
For more information or to book visit www.auroraexpeditions.com.au
Or email info@auroraexpeditions.com.au
About Aurora Expeditions
Aurora Expeditions is an Australian-owned adventure company founded by renowned mountaineer and explorer, Greg Mortimer, and his wife Margaret. Over the past 28 years it has become the leader in small-group, expedition-style travel to polar regions and other wild places.
Aurora Expeditions offers its passengers intimate experiences in remote destinations through a range of flexible, innovative itineraries. Some voyages offer mountain climbing, sea kayaking, camping, photography, and polar snorkelling and scuba diving options. Aurora Expeditions' expert naturalists, geologists, historians, guides and crew help unlock the wonders of these special places.
Committed to the preservation of the environment, Aurora Expeditions was one of the founders of the International Association of Antarctic Tour Operators (IAATO), which created the environmental protocols for all commercial visitors to Antarctica and is a member of the Association of Arctic Expedition Cruise Operators (AECO). In doing so, Aurora Expeditions encourages its passengers to respectfully visit the planet's wilderness areas and return as ambassadors charged with protecting these important regions.
For more information visit www.auroraexpeditions.com.au
Follow and Share with Jetsettersblog.