Aurora Expeditions mew Ship, the Sylvia Earle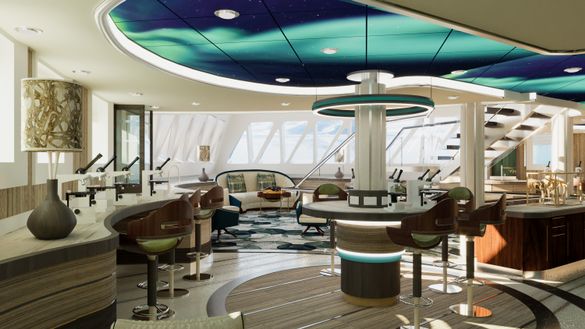 ---
Named after world renowned oceanographer and marine conservationist, Dr. Sylvia Earle, the Sylvia Earle features the cutting-edge Ulstein X-BOW®, a core design element that's essential to the speed, agility and impressive fuel efficiency of the ships in the Aurora Expeditions fleet.
CEO Monique Ponfoort says: "Exploring the natural world is at the heart of what we do and therefore we have brought elements of nature into the interior design of the Sylvia Earle. Ensuring passengers completely immerse themselves in the destination is of paramount importance to Aurora Expeditions. The goal for us has always been to create lifelong ambassadors for the protection of the wilderness areas they travel to, and education and conservation are integral to our DNA, and this design is reflective of that."
Tomas Tillberg, Managing Partner of Tomas Tillberg Design and his team have led the design of the Sylvia Earle, as they did with the Greg Mortimer.
"The close collaboration with Aurora Expeditions on the designs of the Sylvia Earle has resulted in a design that is not only visually appealing, but also eco-friendly as we have chosen materials that are considered environmentally sustainable as much as possible. The design also emphasises the importance of a casual elegant comfort, that will really make guests feel at home."
Victoria Primrose, Head of Marketing at Aurora Expeditions comments "We deliberately chose a simple, natural colour palette, taking inspiration from the remote and pure natural areas that we travel to. We have also integrated new beautiful spaces on board such as the Sylvia Earle Science Centre, with input from Dr. Sylvia Earle, to come up with the perfect space to run our onboard citizen science programs.
The Sylvia Earle will be the second in the fleet to sail with the patented ULSTEIN X-BOW®, whose inverted bow design, in combination with Rolls-Royce dynamic stabilisers, offers unrivalled stability and comfort1 on ocean crossings. The Ulstein X-BOW® on the Sylvia Earle is predominately glass, offering extraordinary views to the front of the ship. In polar regions, this means that passengers will be able to appreciate the majesty of an iceberg immediately as it appears on the horizon. It will also feature an outdoor swimming pool, heated by repurposing engine heat, which will be a welcome addition in warmer regions.
The ship will visit many new destinations within the Aurora Expeditions program, including Alaska, Baja California, the Russian Far East, Raja Ampat and West Papua. Many of the itineraries also visit Mission Blue Hope Spots including The Gulf of California, the Coral Triangle, and Misool Marine Reserve.
*Tier 3 compared to the older Tier 1 engines.
1Aurora Expeditions does not claim that this will prevent or cure motion sickness or seasickness.
For further press information please contact:
Annabel Carroll // PR Manager
M: +61 (0)451 915 112 E: acarroll@auroraexpeditions.com.au
Notes to Editors 
High-resolution renders can be downloaded here.
About Aurora Expeditions
Aurora Expeditions is an Australian-owned adventure company founded by renowned mountaineer and explorer, Greg Mortimer, and his wife Margaret. Over the past 29 years, it has become the leader in small-group, expedition-style travel to polar regions and other wild, remote places including Antarctica, South Georgia and the Falklands, the Arctic (European and Canadian), Alaska, the Russian Far East, Costa Rica, Baja California and West Papua.
Aurora Expeditions offers its passengers intimate experiences in remote destinations through a range of flexible, innovative itineraries. Some voyages offer mountain climbing, sea kayaking, camping, photography, and polar snorkelling and scuba diving options. Aurora Expeditions' expert naturalists, geologists, historians, guides and crew help unlock the wonders of these special places.
Committed to the preservation of the environment, Aurora Expeditions was one of the founders of the International Association of Antarctic Tour Operators (IAATO), which created the environmental protocols for all commercial visitors to Antarctica, and is also a member of the Association of Arctic Expedition Cruise Operators (AECO). In doing so, Aurora Expeditions encourages its passengers to respectfully visit the planet's wilderness areas and return as ambassadors charged with protecting these important regions.
Aurora Expeditions has recently updated its health and safety protocol, as well as implementing a new deposit protection scheme. Further information can be found here: https://www.auroraexpeditions.com.au/why-travel-with-us/health-safety/
For Bookings: 
For more information or to book visit www.auroraexpeditions.com.au
Call us on 1800 637 688 (Freecall AUS only)
Or email info@auroraexpeditions.com.au
Sylvia Earle, The Ship and The Explorer 
Due to sail on her maiden voyage in November 2021, the Sylvia Earle honours the highly accomplished marine biologist, oceanographer and explorer, Dr. Sylvia Earle. As the first female chief scientist of the U.S. National Oceanic and Atmospheric Administration and named by Time magazine as its first Hero for the Planet in 1998, this vessel pays tribute to Sylvia's long-standing conservation efforts for marine protected areas and ocean wildlife. Sylvia Earle is actively involved in the development of her namesake.
The ship is the second to join the Aurora Expeditions fleet and is complete with the patented ULSTEIN X-BOW®, this unique bow design in combination with Rolls Royce dynamic stabilisers offers unrivalled stability and comfort* on ocean crossings. The X-BOW® cuts through sea swells, minimising vibrations and disturbances, and makes quicker transits through waves. This helps reduce fuel consumption by up to 60%*.
The ship will visit many new destinations within the Aurora Expeditions program, including Alaska, Baja California, the Russian Far East, Raja Ampat and West Papua.
For more information visit www.auroraexpeditions.com.au
Follow and Share with Jetsettersblog.