Aurora Expeditions Wild and Remote Voyages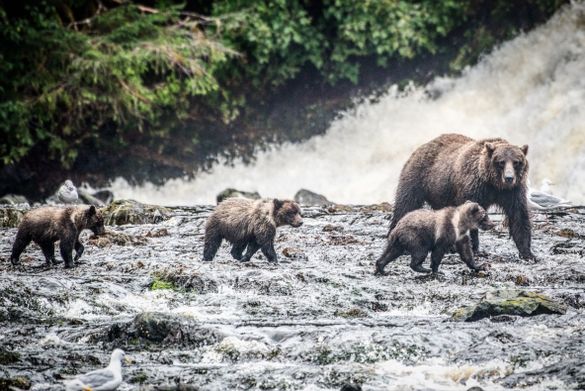 Aurora Expeditions, Australia's leading expedition cruise company has today launched its exciting and intrepid new Global and Arctic 2022 program aboard both the Greg Mortimer, and their new ship, the Sylvia Earle, on track for delivery in October 2021.
The  program features 12 brand new itineraries and destinations that continue to push the boundaries of expedition voyaging and will take our expeditioners to some breathtaking and incredible remote corners of the planet, including the Russian Far East, Raja Ampat/West Papua, Alaska, the Northwest Passage and Baja California.
Launching alongside the new itineraries will be an exclusive early bird deal of up to 25% off.*
Both the Sylvia Earle and the Greg Mortimer Global and Arctic 2022 programs will visit some of the Mission Blue Hope Spots as championed by Sylvia Earle herself. These include The Gulf of California, the Coral Triangle and Misool Marine Reserve in Raja Ampat and the North West Passage. Through visiting these places, Aurora Expeditions aims to raise further awareness on the importance of conserving these incredibly biodiverse, marine areas.
Aurora Expeditions CEO Monique Ponfoort notes, "At a time where international travel is at a temporary standstill but we are all dreaming about future travel adventures, we are really excited to launch our new 2022 Arctic and Global program to give our loyal expeditioners some phenomenal new, remote and beautiful destinations to consider."
"With the upcoming delivery of our second purpose built expedition ship the Sylvia Earle, it continues to be an exciting period of growth for the business. We hope these new itineraries evoke some wanderlust for those of us who are patiently ready and waiting to get out and explore the world again."
Some of the main itinerary highlights of the new Aurora Expeditions Global and Arctic 2022 program include:
NEW North West Passage – 17 days 
Sailing on the Greg Mortimer
Get a glimpse into the world that captivated early explorers such as Franklin, Amundsen and Larsen, by exploring a portion of the fabled Northwest Passage. Visit the final resting places of some of the legendary explorers to have ventured here and experience the archipelago of islands and channels that make up Canada's High Arctic region. Along the way, we hope to meet local indigenous people who call this remote wilderness home, and encounter enigmatic arctic wildlife, including walrus, beluga whale, polar bear and the elusive narwhal.
NEW Wrangel Island – 16 days 
Sailing on the Sylvia Earle
Set sail from Nome, Alaska, for Russia's most remote and treasured wildlife sanctuaries, Wrangel Island Nature Reserve. Discover a wonderland offering the world's highest concentration of polar bear dens (home to both parents and cubs), the largest population of Pacific walrus, nesting grounds for 100 migratory bird species including snowy owls, snow geese and long-tailed skuas; and reindeer, musk oxen and arctic fox. Having escaped glaciation during the last ice age, Wrangel Island is a bonsai garden of some 400 plant species and boasts a human history as spare and dramatic as the land. Explore the Chukotka coast, where beluga, gray and humpback whales feed, and experience traditional Chukchi life before returning to Nome.
NEW Baja California & Sea of Cortez – 9 days 
Sailing on the Sylvia Earle 
The Gulf of California, also known as the Sea of Cortez, was once famously dubbed the 'aquarium of the world.' The rugged islands, coastal desert and the surrounding turquoise waters are of striking natural beauty. The islands and protected areas of the Gulf of California are one of Dr Sylvia Earle's designated Hope Spots and a UNESCO World Heritage-listed site. It is one of the most productive ocean regions in the world – home to over 900 species of fish, including sharks – 90 of them endemic – more than 2,000 invertebrate species and a variety of whales, dolphins, rays, sea turtles and sea lions.
NEW Alaska Adventure and Haida Gwaii – 13 days 
Sailing on the Sylvia Earle
Weaving through fjords, coves and bays that are best enjoyed on a small ship, explore small settlements, including Annette Island's Metlakatla Indian Community, the only Indian Reserve in Alaska. In Sitka Sound, Zodiac-cruise at Saint Lazaria National Wildlife Refuge, home to over a 500,000 breeding seabirds, as bald eagles and peregrine falcons circle the skies and Mount Edgecumbe looms nearby. In Misty Fjords National Monument, sail along Tracy Arm Fjord towards the splendid twin Sawyer Glaciers. With special permission, we visit Haida Gwaii, where indigenous Haida guides will welcome you to their community and share stories about their history and culture. Near Bella Coola, Nuxalk Nation guides will lead expeditioners on an exclusive excursion for a grizzly bear encounter, a unique selling point of this voyage.
NEW Raja Ampat & West Papua – 14 days 
Sailing on the Sylvia Earle
The tropical archipelago of West Papua is ideal for expedition cruising. Raja Ampat and the nearby islands of the Indonesian archipelago are a melting pot of culture, history and nature. Discover the influence of Melanesia, Islam, and the Portuguese explorers and Dutch traders who ventured to the 'Spice Islands' in search of highly prized spices such as nutmeg. Raja Ampat is also a marine biodiversity hotspot. With 75 per cent of the world's coral species and over 1,500 species of tropical fish found here, it is a paradise for divers and snorkellers.
NEW Kamchatka and Chukotka – 17 days 
Sailing on the Sylvia Earle
Soak in coastal hot springs serenaded by thundering waterfalls. Zodiac cruise along black-sand beaches, where Kamchatka brown bears and cubs forage, and share swift rivers with Steller's sea eagles diving on salmon. Visit the Commander Islands ('South Georgia of the North Pacific') where seabirds populate a breathtaking maze of arches and sea stacks. Red-legged kittiwakes, red-faced cormorants, parakeet and whiskered auklets and perhaps even laysan albatross are on show. Visit the grave of explorer Vitus Bering near waters bustling with sea lions, fur seals and busy sea otters, while orcas and humpback whales patrol the bays. In Chukotka enjoy tundra wildflowers, cliff-climbing bears and a warm welcome by reindeer herders.
Other new itineraries include Greenland Odyssey, Kuril Islands, Baja California Odyssey, Aleutian Islands, Alaska Odyssey and Alaska Adventure.
These new itineraries sit alongside some of our most popular Arctic voyages including Svalbard Odyssey, Iceland Circumnavigation and Jewels of the Arctic.
Sylvia Earle external renders: https://library.aurora-expeditions.com/web/f5f037eb04a1a46c/the-sylvia-earle-external-renders/
Sylvia Earle internal renders: https://library.aurora-expeditions.com/web/536db8e8b689e12a/sylvia-earle-internal-renders/
Please note the usage rights when crediting imagery (can be found in the right-hand panel when an image is open)
You can download imagery in multiple different formats/sizes to suit the purpose
You can filter the itinerary image by using the destination drop down in the top left corner
*Terms & Conditions apply. Valid on select ship voyages only. Offer is valid on new bookings only aboard the Greg Mortimer or Sylvia Earle which must be booked and deposited by January 26th 2021. Promotion is subject to availability at the time of booking and capacity controlled. The promotion is only available in conjunction with the back-to-back voyage discount or the loyalty program offer, and not available with any other offer. The promotion can be withdrawn at any time and is not redeemable for cash. Normal booking terms and conditions apply. To confirm your booking, a completed booking form and non-refundable deposit of $2,500 pp in the booking currency is required within 7 days of reserved berth/s. Additional terms and conditions may apply. Please visit www.auroraexpeditions.com.au/terms-and-conditions for full terms and conditions.
About Aurora Expeditions
Aurora Expeditions is an Australian-owned adventure company founded by renowned mountaineer and explorer, Greg Mortimer, and his wife Margaret. Over the past 28 years it has become the leader in small-group, expedition-style travel to polar regions and other wild, remote places including Antarctica, South Georgia and the Falklands, the Arctic (European and Canadian), Alaska, the Russian Far East Costa Rica, Baja California and West Papua.
Aurora Expeditions offers its passengers intimate experiences in remote destinations through a range of flexible, innovative itineraries. Some voyages offer mountain climbing, sea kayaking, camping, photography, and polar snorkelling and scuba diving options. Aurora Expeditions' expert naturalists, geologists, historians, guides and crew help unlock the wonders of these special places.
Committed to the preservation of the environment, Aurora Expeditions was one of the founders of the International Association of Antarctic Tour Operators (IAATO), which created the environmental protocols for all commercial visitors to Antarctica and is also a member of the Association of Arctic Expedition Cruise Operators (AECO). In doing so, Aurora Expeditions encourages its passengers to respectfully visit the planet's wilderness areas and return as ambassadors charged with protecting these important regions.
Aurora Expeditions has recently updated its health and safety protocol, as well as implementing a new deposit protection scheme. Further information can be found here: https://www.auroraexpeditions.com.au/why-travel-with-us/health-safety/
For Bookings: 
For more information or to book visit www.auroraexpeditions.com.au
Call us on 1800 637 688 (Freecall AUS only)
Or email info@auroraexpeditions.com.au
Greg Mortimer, The Ship and The Founder
The recently launched expedition vessel Greg Mortimer is an intimate ship built with activity and exploration in mind. Mortimer, the man, was the first Australian to climb Everest and the first person to climb Mt Minto in Antarctica and, along with wife Margaret, co-founded Aurora Expeditions in the early 1990s.
This small expedition ship is the world's first to sail with the patented ULSTEIN X-BOW®, this unique bow design in combination with Rolls Royce dynamic stabilisers offers unrivalled stability and comfort* on ocean crossings. The X-BOW® cuts through the swell, minimising vibrations and disturbances, and makes quicker transits through waves. This helps reduce fuel consumption by up to 60%.
Founder of Aurora Expeditions Greg Mortimer said: "Our ships are designed primarily to connect people with the environment. With the revolutionary ULSTEIN X-BOW® technology to cross oceans more comfortably, expansive observation decks to bring you closer to the environment, a first-class team of naturalists and unsurpassed environmental credentials, our ships offer the perfect base camp for in-depth explorations and culturally led itineraries."
Sylvia Earle, The Ship and The Explorer 
Due to sail on her maiden voyage in November 2021, this new ship honours the highly accomplished marine biologist, oceanographer and explorer, Dr. Sylvia Earle. As the first female chief scientist of the U.S. National Oceanic and Atmospheric Administration and named by Time Magazine as its first Hero for the Planet in 1998, this vessel pays tribute to Sylvia's long-standing conservation efforts for marine protected areas and ocean wildlife. Sylvia Earle is involved in the development of her namesake.
The Sylvia Earle is the second small expedition ship to join the Aurora Expeditions fleet and is complete with the patented ULSTEIN X-BOW®, this unique bow design in combination with Rolls Royce dynamic stabilisers offers unrivalled stability and comfort* on ocean crossings. The X-BOW® cuts through the swell, minimising vibrations and disturbances, and makes quicker transits through waves. This helps reduce fuel consumption by up to 60%*.
For more information visit www.auroraexpeditions.com.au
Follow and Share with Jetsettersblog.