Australia – New Sunset Wildlife Tour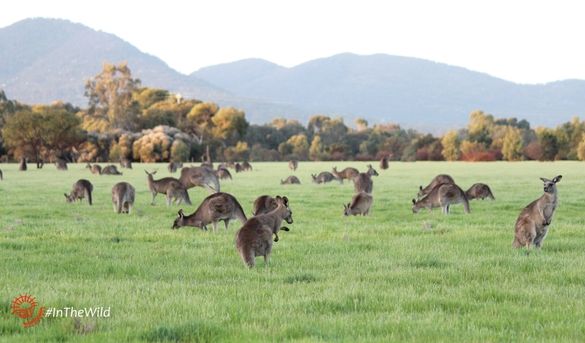 ---
A new afternoon and evening tour near Melbourne shows travellers wild kangaroos, koalas and birds at the best time for wildlife action.
Wildlife Tour Guide Janine Duffy said that Australian animals are crepuscular – active at dusk and dawn – so to enjoy and photograph them travellers should be too.
"In summer kangaroos slack around in the heat of the day, lying around under bushes, too hot to move," said Ms Duffy.
"By sunset, kangaroos are hungry and horny, so they spread out all over the grasslands to feed and breed," she said
"On the Sunset Koalas & Kangaroos tour, it's not unusual to be walking amongst one hundred Eastern Grey Kangaroos at dusk, who are so focused on food and socialising that they barely notice you."
"Koalas also mate in summer, usually at night."
"Late afternoon is the time when koalas prepare for the evening – males sing and fight, females flirt with their favourite male."
"Travellers will also be helping koalas and kangaroos on this tour, by removing a weed that degrades their habitat and contributing to a wild koala research project."
Sunset Koalas & Kangaroos IN THE WILD operates 1 November to 28 February each year.
• Departs Melbourne city 2.15pm
• Operates every Monday, Thursday and Saturday
• Small groups: 2 to 10 people
The tour can be dove-tailed into a Hidden Secrets Lanes & Arcades morning walking tour for a complete experience of sustainable, authentic Melbourne.
Hidden Secrets Tours owner Fiona Sweetman agrees that the two tours share much in popularity, style, intimate group size and a commitment to sustainability.
"The two tours deliver an engaging small-group experience unique to Melbourne," said Ms Sweetman.
"The Sunset Koalas & Kangaroos in the wild helps animals and the Lanes & Arcades tour supports local small businesses and contributes to StreetSmart Australia which is working to prevent homelessness," she said.
Travellers and travel agents who want to learn about seeing wild animals at their most active can read and watch videos in these detailed reports: Koalas are always sleeping, right? WRONG. and How Kangaroos Fight at www.echidnawalkabout.com.au
About Janine Duffy
A Wildlife Guide for 25 years, Janine co-founded Echidna Walkabout Nature Tours in 1993 and the not for profit Koala Clancy Foundation in 2015. They won Gold for "Best for Wildlife Conservation" at the World Responsible Travel Awards in London in 2014. Janine also discovered a method of identifying koalas by the natural markings on their noses.
About the Sunset Koalas & Kangaroos IN THE WILD tour: http://www.echidnawalkabout.com.au/tours/sunset-koalas-kangaroos/
About Hidden Secrets Tours: https://hiddensecretstours.com/
Follow and Share with Jetsettersblog.