Australian Wellness Travel Trends 2018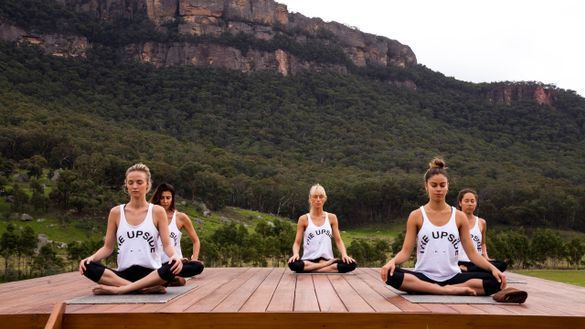 1. Instagrammable natural spas, waterholes and mineral pools: Australia's latest obsession
As Instagram can attest, Australians are in the grip of an obsession with the nation's secret waterholes: from hot springs to waterfall pools and rock pools that even provide their own bubbles.
The Champagne Pools on Queensland's Fraser Island are named for their natural fizz, created by waves crashing over the rocks. Similar quirks of geology have provided quite a few of these natural spas around the nation: try the Cardwell Spa Pools in Tropical North Queensland, Noosa's Fairy Pools, also in Queensland, or the Wyadup Spa in Margaret River, Western Australia. If you like your rock pools bubble-free, you are spoilt for choice, from unnamed pools at Whalers Way on South Australia's rugged Eyre Peninsula, to Elephant Rocks near Denmark, Western Australia and the pools at back beach at Blairgowrie on Victoria's Mornington Peninsula.
There are also several hot springs worth visiting. The warm, thermal-fed, clear waters of Bitter Springs, and Mataranka Springs near Katherine in the Northern Territory, are great for spotting freshwater turtles, and even have a gentle current, so you can float from one end to the other. Meanwhile in Victoria, Daylesford and Hepburn Springs are home to more than 140 mineral springs, with resorts that allow you to soak up their health-giving properties in luxury. Try the Lake House Daylesford or the Hepburn Springs Bathhouse to combine a soak with some more indulgent therapies. Or head down to the Mornington Peninsula to experience the day spa at Peninsula Hot Springs.
Finally, if freshwater swimming is more your thing, you'll find plenty of that in the bush and outback, where swimming holes are often fed by spectacular waterfalls. Gunlom Falls in the Northern Territory's Kakadu National Park is nature's ultimate infinity pool; in Western Australia's remote Kimberley region you'll find spots such as Emma Gorge and Zebedee Springs; further west still, exploring Karijini National Park, you can freshen up in amazing swimming holes such as Kermits Pool. Finally, there are also almost 100 ocean pools around Australia, mostly around Sydney – see nine of the most scenic here.
2. Byron Bay: what's new at Australia's wellness epicentre
The surf mecca of Byron Bay is also the wellness epicentre of Australia, attracting health-minded restaurants, wellness retreats, spiritually-minded attractions such the picturesque Crystal Castle, and plenty of activities in both the town itself and its surrounding hinterland.
Eateries worth noting for their emphasis on local, organic and good quality produce include the insta-worthy Folk and The Farm – a picturesque, multi-venue foodies' playground home to Three Blue Ducks in Byron and Bread Social. Founded and run by a protégé of Neil Perry, 100 Mile Table sources all its produce from within 100 miles. It's been so successful that the same team now also operates the 100 Mile Bistro at Byron Bay Golf Club and the recently opened Chinese eating house DUK. Nearby you'll also find newly-launched Stockpot Kitchen, which focuses on good, honest food at Bangalow's bowling club; and Shelter, opened by a relative of the Three Blue Ducks team.
Lennox Heads boasts coffee house Table View, sustainable wholefoods eatery The Roadhouse, artisan pizzeria Milk & Honey and micro-restaurant Fleet, which is earning rave reviews for its excellent food and wine. Then of course there's the ever-popular Harvest, a charming country retreat with a restaurant, deli, café and on-site kitchen gardens and acclaimed Paper Daisy, the on-site restaurant at designer retreat, Halcyon House. Additionally, salad bar Barrio Eatery and Bar has opened as part of Habitat, a new work-live space with offices co-working, yoga studio and F45 gym; while newly launched Byron Bay Food Tours is now offering local insight into the area's dedicated food scene.
In the accommodation space, the offerings at Byron are continually being upgraded. The newly relaunched Elements of Byron, a $100 million luxury escape at the town's northern end, is now accessible from Byron Bay's town centre via the world's first solar-powered train, developed by a not-for-profit business run by the same owners of Elements. Rae's at Wategoes has undergone a total property refurb; as has The Byron at Byron, receiving upgrades by leading interior designer Rachel Luchetti from Luchetti Krelle and a new executive chef Matthew Kemp. Then there's the newly opened The Bower, which has several accommodation options including a stunning barn; while wellness retreat Gaia (co-owned by  Olivia Newtown John) continues to enjoy its longstanding popularity.
4. New wellness retreats
Australia's spacious landscapes offer plenty of places to retreat and recharge.
Some venues, rather than offering health or spa programs, let nature do the work. In Tasmania, the spectacular Pumphouse Point is a 1940s hydroelectric pump house that has been converted into an astonishing retreat, at the end of a jetty, suspended over Lake St Clair, in World Heritage Tasmanian wilderness. The Pumphouse has also unveiled a new development, The Retreat: a hidden refuge built for two, designed to show off the beauty of the lake. The property has also extended its Shorehouse with the addition of a dining wing, featuring a new menu offering the best of Tasmanian produce.
Also in Tasmania, Freycinet Lodge, overlooking Great Oyster Bay in spectacular Freycinet National Park, has nine new Coastal Pavilions due to open in March 2018. The suites will feature curved glass, private decks, fireplaces and outdoor bath tubs. Cruising, sea kayaking and walking on the sand provide some wonderful ways to unwind.
Near Sydney, both the eco-certified Spicers Sangoma Retreat and Pretty Beach House offer wellness and spa experiences in luxury accommodation as well as beautiful surroundings, while the newly opened, fully redeveloped five-star boutique Larmont Sydney by Lancemore, in the inner-city neighbourhood of Potts Point, offers guests free yoga lessons (and Pilates lessons for an additional cost) in a studio right next door. The hotel has wellness packages for anyone seeking an urban wellness escape, and is also pet friendly, so even furry friends can do the downward dog.
In the seaside town of Casuarina in northern New South Wales, just south of the Queensland border, Oceans Retreat has just opened for business, offering week-long retreats in a newly renovated property on two acres of beachfront. Programs include yoga, meditation, circuit training and beach walks among the activities, and there's also a day spa, gym and restaurant serving food free of dairy, gluten and refined sugar. "We're educating people about how to live healthier lives," says operations director Damien Rider. "It's simple. It doesn't have to be a chore."
5. The designer downward dog: Australia's love affair with upmarket yoga
Australians love their yoga, so much so that the practise has seen the development of several unique yoga experiences from Yoga By The Sea, held in the open air at Bondi Beach whereby the first class goer to spot a passing whale receives their next class free; Yoga From The Sky, held on the observation deck atop one of Sydney's tallest buildings, and Lake Yoga conducted on stand up paddle board on Lake Burley Griffin; to Goat Yoga, which has taken hold of the Australian imagination as far inland as Mayfield Garden, one of the world's largest privately owned cool-climate gardens, located near the small rural town of Oberon.
Other yoga trends including the many 'Nama-stays' now on offer. These retreats combine the practise with complementary activities, such as Yoga and Glamping, Yoga and Wine, Yoga and Raw Food or Yoga and Surfing. Several luxurious properties now offer yoga classes as part of their offering, including Injidup Spa Retreat and One & Only Emirates Wolgan Valley Resort & Spa.
Studios themselves are also receiving upgrades thanks to the rise of the insta-studio. Part sophisticated day spa, part results-driven athletes' centre, this is the next generation of Australian yoga studios, and it's architecturally sleek, chic and innovative. One Hot Yoga offers both pilates and yoga in design-centric surrounds, while Flow Athletic comprises a yoga, spin and weights studio led by a rugby player and a yoga teacher who are both well-known athletes.
Studios paying particular attention to the sense of sound include Humming Puppy whereby dominating sound frequencies are designed to align all the individual frequencies in the room; w1LL which runs routines set to soundtracks curated by L.A. based artist DJ Jackmore and accompanied by awe-inspiring visuals on a super sized screen; and Yoga 213, a hip-hop yoga studio with its own range of activewear.
There are also several wildly successful Australian activewear brands now on the market, including Lorna Jane, We Are Handsome, Nimble, PE Nation and The UPSIDE.
6. The rise of Aboriginal wellness treatments
Australia's most luxurious desert resort, Longitude 131, reopened on 1 August, 2017 following a $6 million transformation that added a two-room spa to the remote lodge where Oprah Winfrey stayed on her 2010 Australian tour. Spa Kinara, with a design inspired by a traditional shelter known as a wiltja, offers treatments inspired by local Aboriginal Anangu culture. Native ingredients such as scented emu bush, Kakadu plum, quandong, desert lime, yellow clay and nutrient-rich desert salts are incorporated into the range of facial and body treatments.
Aboriginal wellness concepts and native ingredients are increasingly being integrated into Australian day spas: Southern Ocean Lodge on South Australia's Kangaroo Island, uses bush ingredients such as eucalyptus, pepperberry and banksia flowers.  In Tropical North Queensland, Daintree Eco Lodge's spa incorporates indigenous traditions. Wawu Jirakul (which means 'your spirit cleansed') is a massage performed by a waterfall within the World Heritage-listed Daintree rainforest. At Sydney's Shangri-la hotel, CHI, The Spa's Australian Botanical Retreat treatment includes wattleseed and sandalwood exfoliation, a green clay body wrap and a massage with eucalyptus and honey myrtle-infused oil.
7. Australia's natural wine movement
The exciting new world wines of Australia are heading down a brave, enthralling new path, looking to the past to bring natural, small-batch, organically and biodynamically farmed grapes to the future. Processed in the winery with minimal intervention (no additives) they've fast become some of the most joyous young wines on the planet. Wine guru and producer of Brian Wines Mike Bennie expands on the revolution here: essentially however, the formation of The Natural Selection Theory, a group formed by Shobbrook, Lucy Margaux and Jauma Wine, is credited with kick-starting the movement. The trio started producing natural wine in a warehouse in Sydney before relocating to South Australia, which is now the epicentre of Australia's natural wine revolution.
Indeed South Australia – and more specifically, its Adelaide Hills region – is perhaps now the largest natural wine producer en masse on the planet. Local producers include Ochota Barrels ( named in the top 100 wineries on the planet by Wine & Spirits Magazine, Commune of Buttons (whose wine maker Jasper Buttons was named 2016 Best New Act at the Young Gun Wine Awards) Ngeringa (a biodynamic wine producer making a name for its unusual varietals, as well as its maverick approach to production) and Gentle Folk (whose small scale batches generally sell out as soon as they're available – an unlikely feat in a state with several internationally acclaimed wine regions – the Barossa, Limestone Coast, McLaren Vale, Fleurieu Peninsula and Clare Valley – nearby).
However the revolution is sweeping across the nation. In Victoria, Latta Wines, Cobaw Ridge, Chevre Wines and Unkel are flying the natural wine flag. Meanwhile legendary WA wine producer Vanya Cullen of Cullen Wines was the first Australian winery to be certified carbon neutral, which lead to being named 2008 Woman of the Year in UK magazine The Drinks Business.
But you don't need to go to the source to sample fruits of their labour because Australia is getting swept up in a natural wine bar revolution – perhaps the perfect wine to share with food and friends. In Sydney, a swag of venues such as Where's Nick, The Dolphin, Love Tilly Devine, Dear Saint Eloise, Monopole and 10 William Street are serving natural and experimental wines to hoards of savvy locals.
Further south in Melbourne, the smart, sophisticated spaces of Smalls, Embla, Bar Liberty, Neighbourhood Wine are singing the same tune, while in South Australia's City of Churches (Adelaide) La Buvette, Lost In A Forest, Africola and Summertown Aristologist are proudly championing the hero natural wines of their state. Brisbane (Gauge and Gerard's Bar), Perth (Lalla Rookh and Budburst) and Hobart (Franklin and Ettie's) are in on the act too.
Follow and Share with Jetsettersblog.