Balloons Fill Skies Over Plano in September

PLANO BALLOON FESTIVAL FLIES AGAIN THIS FALL
Rainbow-hued orbs fill the skies of the "Hot Air Balloon Capital of Texas"
  Sept. 21- 23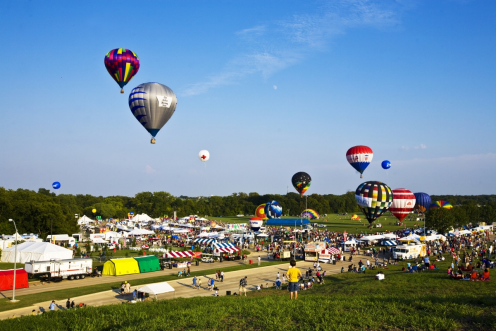 PLANO, Texas (August 28, 2018) – The InTouch Credit Union Plano Balloon Festival lifts off at Oak Point Park and Nature Preserve Sept. 21-23. Now in its 39th year, the largest Texas festival of its kind will welcome 45 – 50 brilliantly colored and whimsically shaped balloons from around the country.
Visitors can watch morning and evening balloon launches and take tethered balloon rides (balloon remains anchored and hovers above the ground 20 – 30 feet – $25 adults and $15 children 6 – 12) weather permitting and at the pilots' discretion.  The Friday and Saturday night "Balloon Glows" feature balloons inflated and illuminated after dark. The three-day weekend event begins at 4 p.m. Friday and includes entertainment on the KLUV main stage and FOX 4 community stage, a grand fireworks show, kids' activities, a parachute team exhibition, more than forty food vendors, merchandise, marathons and relay races and more.
Visit Plano's striking red, white, blue and black "Excellence" balloon returns to the festival for its third year. The 600-pound, 6.5 stories tall 2016 Cameron XL-70 racer spends the remainder of each year representing Plano at other prestigious competitions across the U.S., including the Albuquerque International Balloon Fiesta.
Daily admission to the festival is $10, and weekend passes are $20. Children 3 – 12 and seniors 65 and up are $5. Admission is free for kids under 36 inches. For additional information on the festival or ticket purchases, please visit www.planoballoonfest.org.
Follow and Share with Jetsettersblog.