Best 3 Destinations in and Around Tokyo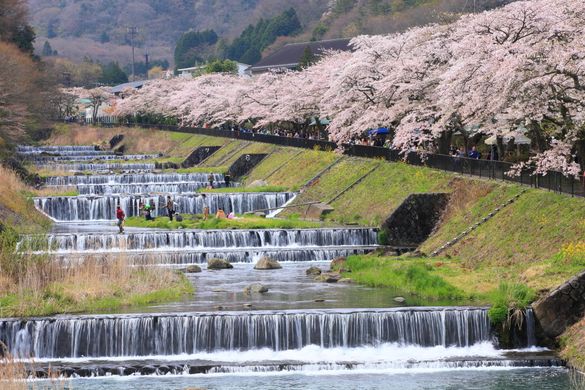 ---
The word 'Japan' brings a few things to mind, sushi, Samurai, Geisha and … cherry blossoms!
Japanese people LOVE spring, and they show it in the way they celebrate the season. From Hanami (picnics and drinks under the cherry trees), to day trips in search of the perfect blossoms, spring is serious business in Japan.
For travellers planning to visit Japan between late March and early April, here are three destinations to make the most of the season!
Miyagino Sakura (Hakone)
Hakone is a well-known destination to see Mount Fuji, yet the mountainous town also offers some of the most picturesque locations to view the famous spring cherry blossoms. In the small town of Miyagino, a short walk through the Weeping Cherry trees will take you to the Hayakawa River which is lined with 600 metre stretch of large Yoshino Cherry trees.
Pack a picnic blanket and some lunch to enjoy your very own Hanami under the white and pastel pink blossoms! If you don't make it in time for lunch – don't sweat, it! At the beginning of April, the trees are lit up after dark to allow visitors to enjoy the blossoms at night.
How to get there: Make your way to Miyagino with the Hakone Tozan Bus in front of Hakone-Yumoto Station.
Hakone Kowakien YUNESSUN (Hakone)
If you're an Anime lover looking for a little rest and rejuvenation, Hakone Kowakien YUNESSUN – a popular hot springs amusement park in Hakone – is co-hosting a collaboration with Odakyu Electric Railway and the 90's hit Anime, the world-famous animated series, 'Evangelion'.
The water slide 'Rodeo Mountain' has been transformed into the 'Second Impact bath' with red waters until late March. There will also be many other collaboration spots throughout the park allowing you can enjoy EVA world.
How to get there: Take the Odakyu LineRailway from Shinjujiku Station in Tokyo to get to the Hakone- Yumoto Station, and transfer to the Hakone Tozan  Bus and ride until Kowakien bus stop to get to Hakone Kowakien YUNESSUN.
The 'EVANGELION x HAKONE – 2020 MEET EVANGELION IN HAKONE' collaboration is being will be held from January 10th to June 30th, with Odakyu affiliated stations, busses and more elaborately decorated with imagery and the characters of the show. The Hakone Ropeway's Togendai Station is hosting a host of a 2-metre tall sculpture of the Evangelion Unit-01 robot. The station was selected to host the event as it was depicted as one of the settings in the show.
For more information on the collaboration, see the official website here
Kamakura
Kamakura is a popular day trip destination from Tokyo and was one of Japan's first feudal capitals cities. To this day the area offers a wonderful atmosphere revealing the traditional architecture of the area's many historic buildings.
There are many wonderful cherry blossom-hotspots throughout Kamakura, however springtime allows visitors to see symbol of Kamakura – an 11-metre tall Bronze Great Buddha of Kotoku-In Temple with cherry blossoms seemingly floating on his shoulders.
How to get there: From Shinjuku you can take the Odakyu Line and change in Fujisawa to the Enoden Line to get to Kamakura in around 1.5 hours.
Gotokuji Temple
If you need some quiet time after all your Sakura-sessions and are looking to enjoy the spring weather, make your way to Gotokuji Temple and get a taste of Japanese Kawaii cuteness.
This temple is said to be the birthplace of the 'beckoning cat', with a legend of a feline saving a lord from death from lightning by beckoning him into the shelter of the temple. Maneki Neko (beckoning cats) are now are symbols of good luck and this small but iconic temple is overflowing with them in all shapes, large and small.
How to get there: About a 30-minute train ride from Shinjuku on the Odakyu Line.
—
Important information for those visiting Japan after October 2019
1 – Trains suspended (between Hakone-Yumoto Station and Gora Station)
Due to the damage from Typhoon Hagibis which hit the Kanto Region of Japan on 12th
October, the operation of trains running between Hakone-Yumoto Station and Gora Station have been suspended until further notice. While train operations are suspended, substitute bus services will be available for passengers to use.
2 – Suspension of Hakone Tozan Cable Car operations due to renewal work
Due to the renewal work of the facility and trains, the Hakone Tozan Cable Car will be suspending operation of all routes between Gora Station and Sounzan Station from Tuesday, December 3rd, 2019 to late March 2020 (tentative). During the suspension of the Hakone Tozan Cable Car, substitute bus services will be provided. For more information, please visit:
https://www.hakonenavi.jp/international/en/status_information
About Odakyu Electric Railway
Odakyu Electric Railway Co., Ltd. is a major railway company based in Tokyo, Japan. It is known for its Romancecar series of limited express trains from Tokyo to Odawara, Enoshima, Tama New Town, and Hakone.
For more information visit: 
https://www.odakyu.jp/english/
For Australia and New Zealand media enquiries, please contact Noriyuki Furuyama at 
n.furuyama@thedoq.com
 or call 0402 297 648.
Follow and Share with Jetsettersblog.