Bhutan Highlighted in Final Episode of 'Anthony Bourdain's Parts Unknown'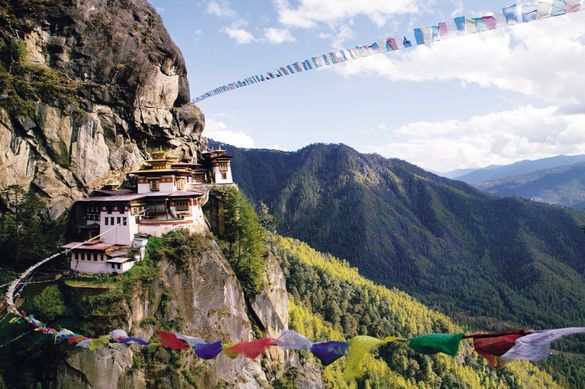 ---
The late, great Anthony Bourdain's zest for food, adventure and travel took him to the most far-flung corners of the earth, and inspired the millions who watched his television shows to plan their own journeys.
The final episode of Bourdain's award-winning program 'Anthony Bourdain's Parts Unknown,' which airs June 24th, takes him and renowned film director Darren Aronofsky to the remote South Asian Kingdom of Bhutan. In the episode, the two share a meal with yak herders, eat traditional Bhutanese cuisine in the capital city of Thimphu, explore the village of Punakha – home to legendary divine monk Drupka Kinley – and attend a bamboo archery competition in Bumthang.
Luxury Gold can show you the mysterious kingdom of Bhutan, one of the least-known places in the world, on the incomparable new 12-day 'Magnificent Nepal and Bhutan' itinerary. This trip introduces guests to the ancient fortresses, dramatic landscapes, unique cultural traditions and remarkable people of both Bhutan and neighboring Nepal. And as with all Luxury Gold itineraries, guests stay at elegant five-star hotels, dine at fantastic local restaurants, and enjoy immersive VIP Experiences that are not readily available to the average traveler.
Highlights of 'Magnificent Nepal and Bhutan' include:
In Thimphu, Bhutan's capital city, guests see the city's sights and monuments with a Local Expert, visit the bustling weekend market, and join a local family for a home-cooked meal
Guests visit Punakha, the capital of Bhutan until 1955, and visit the spectacular Punakha Dzong, which still functions as a winter residence for monks
Guests take a thrilling flight over the Himalayas to Paro, where they visit Kyichu Lakhang, one of the oldest and most sacred shrines in the Kingdom. They also take a leisurely hike to the legendary cliffside Takstang Monastery, known as the "Tiger's Nest"
In Paro, guests are treated to a VIP performance of a traditional mask dance and cultural show which incorporates ancient folk tales, songs and Bhutanese music, and also try their hand at making Bhutanese delicacies during a cooking demonstrationwith a local chef
Guests ride a rickshaw through the streets of Kathmandu and visit the ancient Royal Palace complex, the holy shrine of Swayambhunath, and the Tibetan Handicraft Center
Also in Kathmandu, guests meet a man who has summited Everest, who explains the role played by the Sherpa people in Everest expeditions
In the ancient capital of Bhadgaon, guests meet a craftsman who explains the traditions and processes for making pottery, then helps guests make their own piece
For reservations, contact your favorite travel agent, call 1-888-862-5952, or visit www.luxurygoldvacations.com