Botswana: Voted Africa's Best Safari Country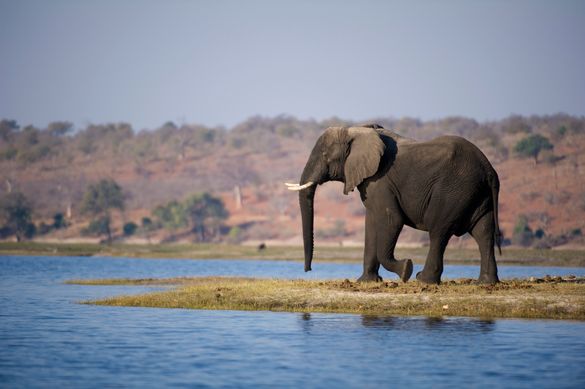 ---
SafariBookings.com, the largest online marketplace for specialised safari tours, has analysed over 3,000 safari tour reviews from 2018, revealing Botswana to be the best safari country on the African continent.
Reviews from safari-goers around the globe were scrutinised in this wide-ranging analysis, which also included contributions from 22 guidebook authors – working for Lonely Planet, Rough Guides, Frommer's, Bradt and Footprint – who make-up the SafariBookings expert panel.
The panel of experts, agreed that Botswana's rich wildlife and the contrasting landscapes, from the dry Kalahari Desert to green Okavango Delta, makes it the best African country for the ulimate safari experience.
Ratings for the top 8 safari countries:
| | |
| --- | --- |
| Country | Score |
| 1. Botswana | 4.64/5  (Experts: 4.44/5 – Users: 4.83/5) |
| 2. Tanzania | 4.55/5  (Experts: 4.39/5 – Users: 4.71/5) |
| 3. Zimbabwe | 4.39/5  (Experts: 4.22/5 – Users: 4.56/5) |
| 4. Zambia | 4.39/5  (Experts: 4.22/5 – Users: 4.56/5) |
| 5. Kenya | 4.36/5  (Experts: 4.06/5 – Users: 4.65/5) |
| 6. South Africa | 4.34/5  (Experts: 3.97/5 – Users: 4.71/5) |
| 7. Namibia | 4.27/5  (Experts: 3.95/5 – Users: 4.60/5) |
| 8. Uganda | 4.21/5  (Experts: 3.81/5 – Users: 4.61/5) |
For more information on the analysis and quotes from the experts, click here – https://www.safaribookings.com/blog/best-african-safari-countr
With so much to offer, from vast areas of protected wilderness, wildlife, and an ancient history and culture, SafariBookings.com lists five must-do experiences and sites to see in Botswana in 2019.
1.    Experience the 'sound' of silence at Makgadikgadi
The vast Makgadikgadi Pans, Botswana's huge salt pans, which were once submerged by a lake the size of Switzerland, is one of the few places where you can truly feel cut off from the world. Today, the Makgadikgadi is home to a few remote camps, providing an often much-needed escape from modern life, a sense of solitude and the chance to discover a real wilderness.  Take a quad bike out across the pans, or discover the landscape by foot.
2.    Meet the elephants of Chobe
Chobe National Park is home to over 120,000 elephants, making it one of the top places on the planet to see these mammals in their natural environment. They are best viewed in the cooler, winter months between May and September. As a national park that allows self-drive road trips, Chobe is a great park to visit for those on a budget. Go on a sundown river cruise for the best photo opportunities of elephants against the dramatic sunset.
3.    Walk with the Bushmen
The San Bushmen are the oldest people of Southern Africa, having lived there for at least 20,000 years. As such, they've accumulated an enormous amount of knowledge and ancestral customs, which has been passed down by generations. In various places throughout the Kalahari, visitors can join the Bushmen for an early morning walk, during which they'll share secrets of the land, such as which plant's roots can provide water and how to track animals.
4.    Discover ancient rock art
Evidence of cultures and tribes from thousands of years ago, rock art can be found all over the African continent, however, Botswana has one of the highest concentrations of rock art in the world. The Tsodilo Hills, located in the far north-west of the country, are estimated by UNESCO to have over 4,500 pieces of art in just a 10mk² area. The rock art is thought to date from the Stone Age, depicting ritual dances, hunting and wildlife.
5.    Sleep under the stars
As a country the size of France, but with only two million inhabitants, one of the best things to see in Botswana is the night sky, which is unaffected by light pollution. Many camps offer sleepouts on a platform with a guide nearby for safety. For those who don't fancy a night out in the open, guides can drive visitors away from the lights of the lodge to spend some time admiring the stars in their full glory.
With 4520 Botswana safari tours to choose from currently listed on SafariBookings.com, there will be the perfect tour for anyone inspired to visit in 2019.
ENDS –
For further press information, please contact:
Arabella Halfhide / Nicole Lovett/Emma Arthurs/James Brooke
Rooster PR
T: +44 (0)20 440 8930
E: SafariBookings@rooster.co.uk
About SafariBookings.com
SafariBookings.com is the largest online marketplace for specialised safari tours. Over 2,200 specialist safari operators from Africa and western countries offer their safari tours on the SafariBookings.com platform. Every year more than three million people visit SafariBookings.com to find the perfect safari.