Brightline – Cuban Culture With The Havana Rum Train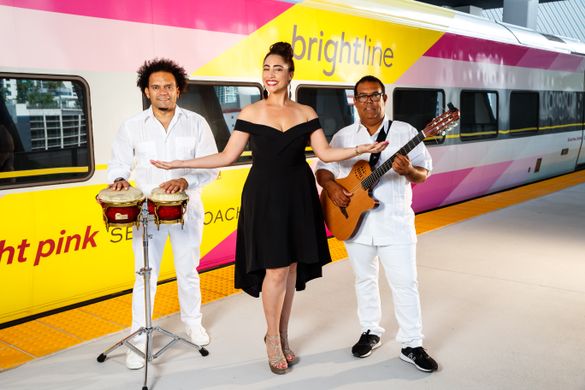 ---
Returning this spring, Brightline has partnered with Rail Events Productions to transport riders to Havana's golden era with the Havana Rum Train. Departing Virgin MiamiCentral on each Saturday from April 4 through May 2, the two-hour journey includes an electric night of live Cuban Jazz performances dancing and Cuban food and drink offerings, all told alongside tales of Cuba and Miami's intertwined history.
Guests begin the evening with a welcome mojito as they board the train listening to live Cuban jazz along the downtown Miami backdrop. As the train departs, more music awaits onboard when guests are taken through guided rum tastings paired with a curated menu of Cuban fare for a one-hour train ride. When guests arrive back at Virgin MiamiCentral, the post party continues inside Central Fare with a live musical ensemble, costume dancers, cigar rolling, desserts and curated rum cocktails.
"As a Miami-based company, we enjoy incorporating Cuban-American culture into our train experience and delighted to have the Havana Rum Train return once again," says Michael Hicks, spokesperson for Brightline. "This experience provides guests with an interactive way to gather with friends, go back in time and take in the history, sounds and cuisine of old Havana."
Each ticket includes a welcome drink, rum tasting, food tasting menu, on-train experience, and a post party of live jazz entertainment, feather dancers and cigar rolling in Central Fare. Along with the ticket, guests will also receive two (2) drink tickets valid to use at the pre or post festivities. Cash bars will also be available throughout the event. The experience starts at 6:45 p.m. with check-in and welcome drink. The train departs at 7:30 p.m. and returns at 8:30 p.m, when the evening's events continue at Central Fare at Virgin MiamiCentral.
The Havana Rum Train adds to Brightline's roster of seasonal, themed trains offering special onboard and in-station experiences including The Polar Express Train Ride, Halloween's Trick-or-Train and The Dino Train.
Tickets for the Havana Rum Train are on sale now and can be purchased at www.gobrightline.com/offer. Early bird tickets can be purchased before March 14 for $99 and after March 14 for $125.
About Brightline
Brightline is the first privately funded passenger rail system in America in over a century. Brightline is designed to reinvent travel and take cars off the road by connecting city pairs and congested corridors that are too close to fly and too long to drive. Providing fast, efficient, hospitality-driven transportation featuring the latest in customer-friendly amenities, Brightline currently operates in Florida between Miami, Fort Lauderdale and West Palm Beach, with plans to expand to Orlando, Boca Raton, Aventura and PortMiami. The company is also on track to break ground between Las Vegas and Southern California in 2020.