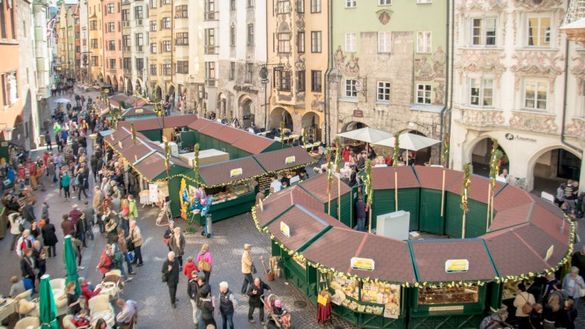 ---
The exact origins of Easter are unknown, but some sources believe that the word 'Easter' is taken from the Teutonic goddess of fertility and spring, 'Eostre'. It's a time to celebrate renewed life, welcome the season of spring and last but not least, a chance to indulge.
Each country has its own traditions: from painting eggs and playing games to baking cakes and dining on delicious cuisine. Usually, Easter provides the perfect setting for families and friends to get together and join in with these convivial customs, but, sadly not this year.
Decorate eggs, like in the Austrian Tirol
Easter is eagerly anticipated in the Austrian Tirol, with plenty of cultural highlights taking place such as plays, processions and markets. Palmbuschen (large bouquets made from willow twigs and foliage) are taken to church, in some areas Easter fires are lit the night before Easter Sunday and eggs are also a big deal. In terms of eggs, there are two kinds – the decorative ones and the chocolate ones for eating. The decorative ones are real eggs that have been carefully blown beforehand so they are a hollow shell. The locals then use ferns and small flowers, which are attached to the egg, before it is coloured or stained and then removed to leave a pattern. But at the end of the day, the painting is completely up to the individual. After admiring the artwork for a number of days, why not play Eierpecken, an Austrian game where the eggs are knocked together, just like conkers?
Please find some more information / images about decorating eggs here: www.blog.tirol/en/2018/03/diy-naturally-dyed-easter-eggs/ and here: www.pinterest.ch/pin/554998354055595995/
Austrian Tirol: www.visittirol.co.uk

Enjoy a traditional game of Coinchon in the garden, from Morzine, France
One for the garden, or a spacious living room, challenge your family to a traditional game of Coinchon, which in Savoyard, is played on Easter Sunday and/or Easter Monday. Variants of this game have been around for many years, but Morzine is recognised for having brought it up to date. All you need is a number of stout sticks (preferably around 50 cm long and about as wide as a broom) and some targets (a sock will do). For each round, throw your chosen stick as close as possible to the target. The sticks that are furthest away from the target are marked – carve out a notch, grab a glitter pen or dig out those rubber bands – and the aim of the game is for your stick to be as pristine as possible (and not too sparkly) by the end.
Please find a brief video of Coinchon in action, in France, here: www.youtube.com/watch?v=Cf52IkRTxPk
Morzine: https://en.morzine-avoriaz.com/summer

Take a leaf (or glass) from Verbier, Switzerland, and tuck in
Delivery of Easter Wine started as a religious, social and calming offering back in 1575 in Verbier and has continued since. In the past, the parishes or the bourgeoisies bequest in kind and in money, in return for being the ones to offer the distribution of wine, cheese or even bread during Easter. Nowadays, it encourages families and friends to get together for a delicious feast. Although a get together isn't possible this Easter, it is still an ideal time to feast on wine, cheese and bread. And seeing the government has included shops selling wine as essential during this time, why not buy a bottle from the valley of Verbier to sweeten the deal?
Please find some more information about Swiss wines to look out for here: https://swisswine.ch/en/news/amazing-swiss-wine-regions-discover
Verbier: www.verbier.ch/en/index.htm

Ready. Steady. Bake a brood as seen in Isère, France
Roll up those sleeves, put on an apron and grab the flour. The locals in the Department of Isère celebrate Easter by making a brood. Dating back to the beginning of the 18th century, a brood is a shortbread cake, from Provence, that looks like a hen's nest – complete with eggs – when finished. Flavour the cake with orange or lemon zest, or a mixture of both. Before eating the final product, make a cuppa or pour a glass of sparkling wine (both compliment the taste). And depending on preference – or what you can find in the supermarket – the brood can be accompanied with custard, whipped cream, fruit salad, apple sauce or rhubarb.
Please find some more information about brood cakes and a recipe here (readers can practise their French at the same time): https://francevegetalienne.fr/blog/2017/4/7/couve-de-crest-vgtalien-vegan
Isère: www.isere-tourism.com


We're going on an egg hunt in the house, with Les Villages Nature® Paris
Since Les Villages Nature® Paris opened, in September 2017, it has been running a very successful egg hunt for its guests every Easter. Situated 32 km from Paris and 6 km from Disneyland® Paris, the resort combines nature, architecture, sustainability and learning and is perfect for families. Although the roots of the egg hunt are not very clear, it is widely thought to date back to the 1700s, when the Pennsylvania Dutch believed in an egg-laying hare called Oschter Haws. Although Les Villages Nature® Paris is off the cards on Sunday 12 April, why not hide some chocolatey treats around the house (and in the garden or on the balcony) for others to find? Flowerpots, bookshelves and carefully positioned picture frames are key…
Please find some tips here: www.wikihow.com/Do-an-Easter-Egg-Hunt-Indoors
Les Villages Nature Paris: www.lesvillagesnature.com/gb-en/ 
Follow and Share with Jetsettersblog.