Calling All Adventurers: Florida Offers Thrilling Travel Experiences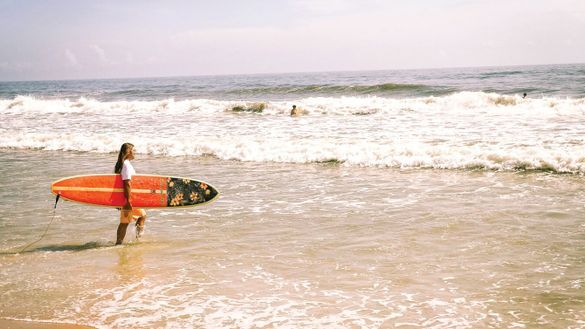 ---
From Surfing the Perfect Wave to Real-Life Treasure Hunting, Florida's Bucket List Experiences will Restore a Lust for Life
TALLAHASSEE, Fla (September 2018) – Whether it's diving out of an airplane for a once-in-a-lifetime inflight 'coast to country' aerial experience or an eco-adventure to interact with Florida's abundant ocean wildlife, real adventure takes a unique form for every person. Stepping outside of comfort zones is easier in some places than others, and Florida's wide array of accessible offerings makes it a simple leap. For those seeking thrilling excursions and undiscovered gems, Florida's Northeast and Central regions offer bucket list travel experiences this autumn. Here's where to go and what do:
Hunt for Valuable Hidden Treasure in North Orlando
Indian River County is a sparkling jewel situated along Florida's scenic Treasure Coast — and that's more than just a catchy name. For centuries, countless ships transporting valuable treasures wrecked off the coast of Vero Beach, and their submerged riches remain to this day. From Sea Grape Beach to Turtle Trail Beach, visitors and locals alike have reported finding shards of preserved pottery and Spanish silver coins from the historic wrecks that washed up on the sand.
Discover Unique Eco-Adventures in Pasco County
Florida Hospital Center Ice: Home to four full-sized rinks and one kid-sized rink, Florida Hospital Center Ice is the largest ice facility in the southeast. At 150,000 square feet, this two-story ice rink and sports factory offers a subtropical climate and gives visitors the chance to feel like a real NHL-pro!
Giraffe Ranch: An eco-adventure that will create memories that last a lifetime, The Giraffe Ranch is a working ranch that specializes in exotic species. Presenting the opportunity to view these beloved animals face-to-face, from the comfort of a specially designed 4-wheel drive truck, by camel, or even by Segway, no passports are needed to feel like a real African Safari experience.
Werner-Boyce Salt Springs State Park: Visitors can enjoy fishing and paddling the inlets and bayous that wander through the salt marsh at Werner-Boyce. The Salt Spring is an amazing 351 feet deep, and the park is home to gray fox, gopher tortoises and dolphins. Paddle enthusiasts can bring their own kayak or canoe to explore the park amongst the mangrove-lined shores, or rent a water vessel on-site.
Surf's Up in New Smyrna Beach
New Smyrna Beach, consistently named one of the top surf towns in America, is the perfect place to catch the waves. With rock ledges four to five miles offshore, the breaks are plentiful and ideal for those craving an adrenaline rush. Here, adventure seekers will find some of the finest wave action on the Eastern Seaboard.
For more information about Florida's thrilling travel experiences, as well as to plan your trip, visit www.VISITFLORIDA.com. To access/download images, please click here.
About VISIT FLORIDA
As the Sunshine State's No. 1 industry, tourism was responsible for welcoming 112.4 million visitors in 2016. Based on the latest economic impact study, Florida visitors spent $108.8 billion and supported 1.4 million Florida jobs. According to the Office of Economic and Demographic Research, for every $1 the state invests in VISIT FLORIDA – the official tourism marketing corporation for the State of Florida – $3.20 in tax revenue is generated. VISIT FLORIDA promotes tourism to Florida through sales, advertising, promotions, public relations and visitor services programs. As a public/private partnership, VISIT FLORIDA serves more than 12,000 tourism industry businesses, including major strategic alliance partnerships with Busch Gardens Tampa, Disney Destinations, The Hertz Corporation, LEGOLAND Florida Resort, SeaWorld Parks & Resorts Orlando, Simon Shopping Destinations and Universal Orlando Resort. To learn more about VISIT FLORIDA, please go to VISITFLORIDA.org or follow us on our industry social media channels: SunshineMatters.org, Facebook and Twitter @FloridaTourism.