Cambodian Jungle With New Bensley Collection Experiences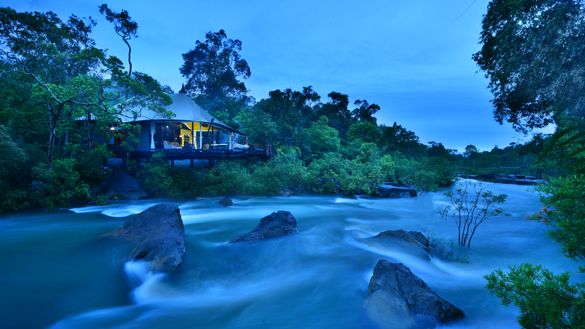 ---
GO SHINTA MANI WILD IN THE CAMBODIAN JUNGLE WITH NEW BENSLEY COLLECTION EXPERIENCES
Anti-poaching patrols, boat expeditions and wild swimming await at extraordinary new luxury tented camp
12 November 2018 – As anticipation builds towards its opening on 21 December, the Shinta Mani Wild- Bensley Collection team is set to unleash a host of wild bespoke Bensley experiences that exemplify the camp's spirit of fun and adventure, promising authentic interactions with the incredible national parkland setting – all with a twist of Shinta Mani style. From the exhilarating moment of arrival – criss-crossing the rapids via a 380m zipline – there will be no such thing as a typical day at Shinta Mani Wild, a radical new concept for a luxury tented camp nestled deep in Cambodia's South Cardamom National Park.
Guests that share Shinta Mani Wild's passion for protecting its precious natural environment might find themselves joining Wildlife Alliance rangers motorcycling through the forest on anti-poaching patrols and tracking previously unrecorded wildlife activity. Funded by Shinta Mani, the camp's ranger station enables the non-profit Wildlife Alliance to carry out vital conservation work in the area, including protecting animals from poaching, removing snares and preventing illegal logging.
Guests can traverse the secret estuary backwaters on luxurious six-metre pontoon-style boats designed by Bill Bensley – so naturally they each have a fully-equipped bar and a top deck with daybed and sun loungers. Guests can drop anchor wherever they please, whether to explore the mangroves by kayak or enjoy a truly wild BBQ of freshly caught crab prepared by their on-board Bensley Butler.
Discovering – and tasting – Cambodia's natural larder in the company of expert naturalists is next on the agenda. One of the camp's resident botanists, an orchid-aficionado, recently discovered an entirely new species of the exotic flower growing at the camp, alongside fragrant wild vanilla. The naturalists will guide guests through the forest on their daily forage so they can walk away knowing their krasangfrom their mangoseen and their angkeadei from their Moringa. Post-forest immersion, the head Chef will teach guests how to transform the indigenous Cambodian herbs and plants into flavour-packed dishes around the campfire. Current foraged favourite of the Shinta Mani Wild team is a jungle fruit named kuy, which tastes like the lovechild of an orange, mango and passion fruit.
All of this adventuring calls for some well-deserved rest and relaxation. Step forward the Boulder Spa, whose chemical-free treatments feature reviving Khmer tonics made from medicinal plants foraged from the rainforest and bottled onsite. Living up to its name, the spa's two treatment rooms are set amid dramatic natural boulders, but the river takes centre stage, too: guests can enjoy a river-stone foot massage while soaking in a waterfall pool. Alternatively, guests may choose to unwind amongst nature by trying a Cambodian take on tenkara: a meditative form of Japanese catch and release fly fishing.
'On the rocks' takes on a whole new meaning via the camp's picnics, all thoughtfully prepared by highly skilled Bensley Butlers, which can be enjoyed beside the camp's cascading waterfall, atop a mountain, or wherever guests please. The pièce de résistance is the camp's WW2 Land Rover which has been given the Bensley treatment to transform it into a mobile cocktail bar. Naturally, Shinta Mani Wild's charismatic General Manager, Sangjay, will play host for sundowners…
Shinta Mani Foundation will be spearheading the camp's conservation and community outreach programmes, including providing long-term employment opportunities to the local inhabitants where there is minimal infrastructure and fewer work prospects. Shinta Mani Wild – Bensley Collection, in conjunction with the Foundation, will nurture its natural environment through partnerships with respected conservation organisations including Wildlife Alliance, The Royal University of Phnom Penh and The Cambodian Government.  This extreme exercise in ingenuity will enable guests to explore this pristine wilderness, while making the lowest possible impact on the land, offering a luxury adventure with intimate access to one of Asia's most stunning forest ecosystems.
Rates at Shinta Mani Wild – Bensley Collection will start from USD1,900++ per night, inclusive of all food and beverages; all private guided activities and excursions; unlimited spa treatments; personal Bensley Butler and land transfers from Phnom Penh or Sihanoukville airports.  Helicopter transfers are additional.  A minimum three night stay is required and a minimum age of 13 years.
For more information and reservations, please contact Shinta Mani Wild – Bensley Collection on:
Tel:             +855 63 969 123
Fax:            +855 63 761 999
Email:        wild@shintamani.com
Website:  www.shintamani.com/wild.php
Open Doors, Open Hearts
Shinta Mani Wild – Bensley Collection, Cambodia
Set to open on 21 December 2018 Shinta Mani Wild will be the second member of The Bensley Collection.  An exclusive private nature sanctuary like no other previously seen in Asia, located in the remote wilderness of the Kirirom and the Southern Cardamom Mountains, on an important elephant migration trail three hours south of Phnom Penh, Shinta Mani Wild – Bensley Collection is described by Bensley as a "utopia of sustainability". Offering the most extravagant tented camps imaginable, set along a private 4km stretch of wild river punctuated with mesmerising waterfalls, Shinta Mani Wild will nurture its natural environment through partnerships with respected conservation organisations – an extreme exercise in ingenuity where guests can feast on delicacies grown and foraged from the surrounding land, and encounter extraordinary wildlife, while making the lowest possible impact on the land. This is an experiential luxury adventure giving intimate access to one of Asia's most stunning forest ecosystems.www./shintamani.com/wild
The Shinta Mani Hotels & Resorts portfolio also includes:
Shinta Mani Angkor, Siem Reap, Cambodia
Shinta Mani Angkor is an upscale boutique hotel created by acclaimed architect Bill Bensley, showcasing just 39 contemporary designed rooms and public spaces in an Angkorian-inspired design. Previously known as Shinta Mani Club, it enjoys a tranquil and leafy setting within the French Quarter of Siem Reap – just a 15 minute Remork ride from the magnificent temples of Angkor Wat. www.shintamani.com/angkor
Shinta Mani Angkor – Bensley Collection, Siem Reap, Cambodia
Marking the debut of new super luxe resort brand The Bensley Collection, Bensley Collection – Shinta Mani Angkor opened in January 2018. An exclusive 'resort within a resort', Bensley Collection – Shinta Mani Angkor comprises an enclave of spectacular luxury pool villas with Khmer-inspired design benefiting from elevated Bensley Collection services such as personal Bensley Butlers, while guests can also enjoy comprehensive access to facilities at the adjacent Shinta Mani properties. www.shintamani.com/angkor-bensley-collection
Shinta Mani Shack Angkor, Siem Reap, Cambodia
The Shinta Mani Shack Angkor is a boutique resort centrally located in the leafy French Quarter between The Royal Gardens and the Old Market Area just 15 minutes from Angkor Wat. The courtyard-style resort's 62 rooms enjoy a surprisingly different "Bensley twist" with direct access or first floor balcony views over the stunning swimming pool and flourishing tropical gardens. Four additional suites offer expansive rooms and balconies; two suites overlook the pool while the other two have views over the leafy streetscape.. www.shintamani.com/shack
Shinta Mani Foundation, Cambodia
An integral part of the Shinta Mani collation is the Shinta Mani Foundation, which seeks to be a leader in responsible tourism. The goal of the Shinta Mani Foundation is to enhance the lives of the individuals in the local communities where the resorts operate – by increasing their human capital and providing them the tools to overcome the constraints of poverty.. http://shintamanifoundation.org
Bensley Collection
An exclusive collection of super luxe hotels and resorts resulting from acclaimed American designer and architect Bill Bensley.  Recognised for his distinctive, elegant deco inspired design, Bensley is the creative force behind many of Asia's most celebrated and beautiful hotels, resorts and residences.  The first Resort under the Bensley Collection brand, Shinta Mani Angkor –Bensley Collection, will be joined in December 2018 by Shinta Mani Wild – Bensley Collection, a private sanctuary like no other, located in the remote jungle terrain of Kirirom.
For press information or to discuss feature ideas, interview opportunities and press trips contact:
Kerry Skinner (kerry@bacall.net), Nat Frogley (nat@bacall.net) or Flora Gandolfo (flora@bacall.net), Bacall PR Ltd, Tel: +44 (0) 8704 288 401; Web: www.bacallassociates.co.uk
Follow and Share with Jetsettersblog.