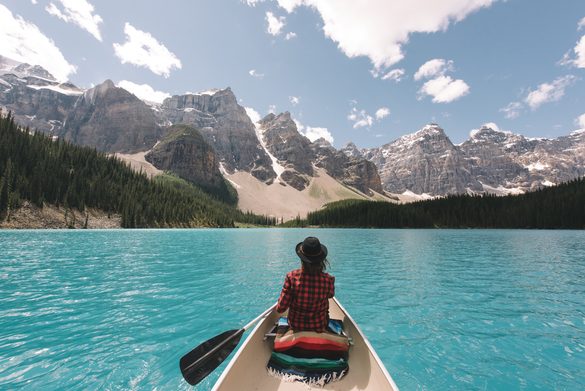 ---
Canada for Wellness
The global wellness economy is valued at $4.5 trillion, according to the latest figures from 2018. However, with mental and emotional health taking a toll (thanks, pandemic), all signs point to wellness taking centre stage in 2021 and beyond.
What's new: These days, wellness doesn't merely refer to physical health. The traditional concept has expanded beyond fitness and spa offerings as the industry increasingly overlaps with travel, nature, art and alternative medicines. For example, science has demonstrated that time in nature can boost happiness and creativity, and reduce stress – findings on which Destination British Columbia built the holistic British Columbia Effect, and which motivated B.C. Park Foundation to introduce free forest bathing sessions for healthcare workers. In Montreal, Quebec, doctors can now prescribe visits to museums such as the Montreal Museum of Fine Arts to relieve stressed patients. Then there's the Bateman's Sketch Across Canada project—inspired by Robert Bateman, famed Canadian wilderness and nature artist —which raises funds to help Canadians alleviate anxiety through sketching outdoors. And in destinations across Canada, tourism bureaus, tour operators and accommodation providers are urging visitors to indulge in slow travel, extending time in any given region to properly connect with its people, culture, activities and educational moments.
By this new definition, Canada may well be the world's best wellness destination, with its embrace of natural spaces and commitment to protecting the environment.
Travellers seeking a healing getaway in the future will easily find an experience that suits. Whether buying from a health-conscious Canadian brand, browsing holistic retreats or exploring immersive experiences in nature, Canada's wellness opportunities elevate health and well-being for all.
Wholesome brands: Canadian brands have emerged as pioneers thanks to an abundance of pristine ingredients sourced from freshwater lakes, ancient glaciers, boreal forests and arctic tundra.
It's all about natural skincare; treat your skin to Boreal Folk's Balsam Fir Face Oil, Bl'eau's Glacial Oceanic Clay Mask, Wildcraft's winter-friendly Dry Skincare Set and Uasau Soap's Seaweed Facial Bar.
Warm up for the winter with top-quality threads produced by globally coveted Canadian brands like Arc'teryx (insulated jackets and fleece), lululemon (stylish yogawear and bags) and Herschel (backpacks, totes and toques).
Treat yourself to a night of relaxation with Homecoming's Vetiver + Geranium candle, The Sweet Soapery's Milk and Cookies bath bomb, and The Collective Good's Yukon snowmobile socks.
Soulful retreats: These holistic getaways allow guests to break the routine and reconnect with themselves.
An enclave of wellness and culture, Le Monastère des Augustines in Quebec City, Quebec specializes in holistic health, with a history of mind-and-body healing stretching back nearly four centuries. Part of the Hotel-Dieu de Quebec monastery, a National Historic Site of Canada, the monastery is spiritual rather than religious, with multi-day retreats centred on rest, renewal and self-discovery. In addition to accommodation in restored cloisters, the facility's packages include silent vitality breakfasts, access to the onsite museum, massages, health consultation, meditation and more.
Based in the Canadian Rockies of Alberta, Evolve Retreat Co. offers all-inclusive luxury retreats with a focus on personalized fitness, yoga, nutrition and outdoor adventure. Whether seeking a new health regime, boosting overall wellness or reaching ambitious fitness goals, guests benefit from personalized menus, fitness challenges and outdoor rejuvenation, including climbing the summit of Rae Glacier, paddling the turquoise waters of Moraine Lake, and horseback riding at a local ranch. Winter wellness activities include moonlight snowshoeing, fat biking and cross-country skiing.
With new year-round yurt accommodations opening in February 2021, Nature Space Eco Resort in Morell, Prince Edward Island is a wellness haven beckoning guests to escape from the everyday. The resort specializes in eco-yoga, which centres on yoga practices that take place in nature, with the goal of restoring connection to the outdoors and bringing bodies and minds back into balance. Also available are kayoga (kayaking and yoga) and kayak-culinary excursions, such as Kayaks and Pints, which combines an invigorating paddle along the river with samples of Prince Edward Island's award-winning craft beer.
Forest Fix invites visitors to immerse themselves in a sensorial experience in the heart of Banff National Park, Alberta while embracing mindfulness practices inherent in the Japanese art of forest bathing. The family-owned business offers EcoYoga, where participants hike and practice yoga amid spectacular mountain landscapes; forest bathing (or Shinrin Yoku), a Japanese concept that urges mindful immersion in the healing atmosphere of the forest; and, for those who can't readily access the forest, virtual forest therapy that quickly and effectively soothes body, mind and soul.
Outdoor therapy: It's no secret that playing in the outdoors is one of the most effective ways to reduce stress. Luckily, Canada is rife with nature and wilderness. (It's kinda our thing.)
A national survey by Léger found that Canadians are hitting local trails in greater numbers since the onset of COVID-19. Commissioned by The Great Trail of Canada (formerly the Trans Canada Trail), the survey showed 76 per cent of Canadians are using trails as much, or more than, before, and 44 per cent have increased their usage. The findings support prevailing data that Canadians are seeking refuge from social isolation in nature, and using walking, hiking and other outdoor activities to enhance their physical and mental health. Results also confirmed that trail use is poised to continue, despite colder weather, with 69 per cent of respondents intending to use the trails in winter.
Prince Edward Island's picturesque Island Walk is the perfect outdoor foray, with the added bonus of bragging rights that you've circled an entire province on foot. The route winds along the ocean and historic Confederation Trail, traversing red dirt roads and beaches, with an ever-changing landscape that will keep trekkers enthralled. The walk isn't technically difficult, which means almost anyone can attempt the 700-kilometre path.
In the East Kootenays, BC, certified Forest Therapy Guide Pat Bavin leads clients on two- and three-hour walks along specially designed trails at scenic Panorama Resort and the Radius Retreat Centre in the Columbia Valley. With each walk stretching less than a kilometre in length, each moment is dedicated to indulging the senses and restoring connecting with nature. (Interested in becoming a Forest Therapy Guide? Training, provided by the Global Institute of Forest Therapy, takes place across Canada in 2021.)
At Avacena in Qualicum Beach, BC, guests can enjoy the detoxifying effects of seaweed while soaking in an outdoor bath. The therapeutic ritual involves botanical oils to relax the mind and balance emotional energy, sustainably harvested seaweed to soothe and nourish skin, and mineral salts that purify and release tension. Bookings are available between April and October. (For more seaweed treatments, visit Healthwinds Spa in Toronto, Ontario or Monastery Spa in St. John's, Newfoundland.)
For more information on Canada go to www.explore-canada.co.uk
Photo Credit: Destination Canada  / Location Moraine Lake, Jasper, Alberta
For more media information please contact Ms. Nim Singh, Media and PR Manager, singh.nim@destinationcanada.com (not for publication) 

Follow and Share with Jetsettersblog.