Canada – Maple Leaf Adventures Luxury That's Truly Wild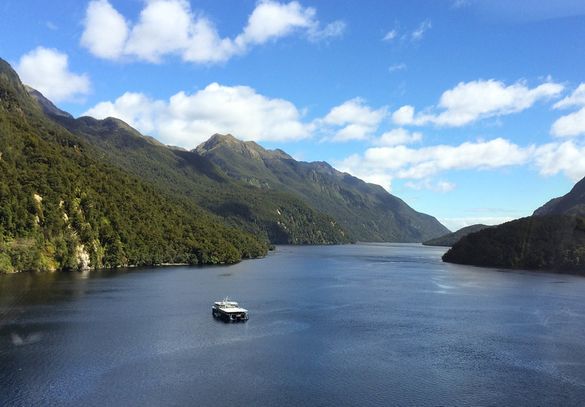 ---
Canadian ecotourism company Maple Leaf Adventures is adding a third ship to its fleet for 2018: Cascadia is a luxury expedition ship that opens the experience of Canada's majestic west coast to a new, upscale adventure traveller.
Designed specifically for expedition cruises, this 138-foot catamaran provides luxurious accommodations for up to 24 guests, while being able to travel to the wildest, most naturally rich places on the coast. Its spacious cabins and salon, and its beautiful, open-air aft deck lounge are unlike any other option on the west coast of Canada. The vessel's small size and small guest numbers provide an authentic, human scale experience that respects the carrying capacity of coastal inlets and communities.
Cascadia will operate her first trips in British Columbia in the second half of 2018, and her regular itineraries will include:
Haida Gwaii
Great Bear Rainforest
Vancouver Island
Fjords of Southern BC
A Wine Cruise in the Gulf Islands
All-inclusive prices for these luxury, multi-day adventures range from $3,900 to $11,450 Cdn per person in 2018. Fall Great Bear Rainforest trips booked before May 31 include free flights between Vancouver and the trip's start and end ports.
Like Maple Leaf Adventures' trips on its other ships, Maple Leaf and Swell, hallmarks of the experience will be special access to wildlife including bears and whales, and coastal characters, from researchers in the field to First Nations leaders.
"This is the perfect ship for very high-quality trips, as it was custom-made for this purpose," says Kevin Smith, president and CEO of Maple Leaf Adventures. "People around the world are starting to realize BC is an amazing destination for safari-like holidays, but no luxury expedition cruise exists here. This will be the first ship on the coast to combine eco-expeditions and luxury."
Maple Leaf Adventures will spend up to $1 million in Canada on a vessel refit to update systems and décor and outfit the vessel for British Columbia prior to the 2018 season. Local art will give the vessel the feeling of a West Coast lodge. Previously, it operated boutique cruises in New Zealand and French Polynesia.
Cascadia's trips will be operated with the same ecotourism principles as the company's award-wining journeys on its popular classic vessels Maple Leaf and Swell. The company's leaders, who are all from the BC coast, acquired the third vessel due to long waiting lists for the existing ships, and to the future demand they forecast from more travelers choosing meaningful adventure travel over other options.
For information about the ship and its trips, please visit www.MapleLeafAdventures.com or telephone 250-386-7245.
About Maple Leaf Adventures
Selected for Canada's "Signature Experiences Collection" by the Canadian Tourism Commission, Maple Leaf Adventures has provided conservation-focused, big adventures aboard small ships since 1986. With a reputation as one of Canada's top sustainable tour operators, its multi-day excursions give guests one-of-a-kind experiences in some of the most beautiful and rare places in the world, often in areas that were once under threat of destruction or in dire need of protection. Maple Leaf received the Parks Canada Sustainable Tourism Award for promoting the appreciation of Canada's natural, cultural and aesthetic heritage, while also protecting them. As a long-time practitioner of ecotourism, Maple Leaf Adventures pioneered travel in BC's Great Bear Rainforest and northwestern Vancouver Island and has made significant contributions to conservation. National Geographic Traveler has rated Maple Leaf Adventures trips some of the "Best of the World". For more information, visit www.MapleLeafAdventures.com.
Photography, Layouts, Video
Photos and video are available from us, or at our online press kit:
http://mapleleafadventures.com/presskit/
Follow and Share with Jetsettersblog.