Canada – New Hotel Openings, Flight and Attractions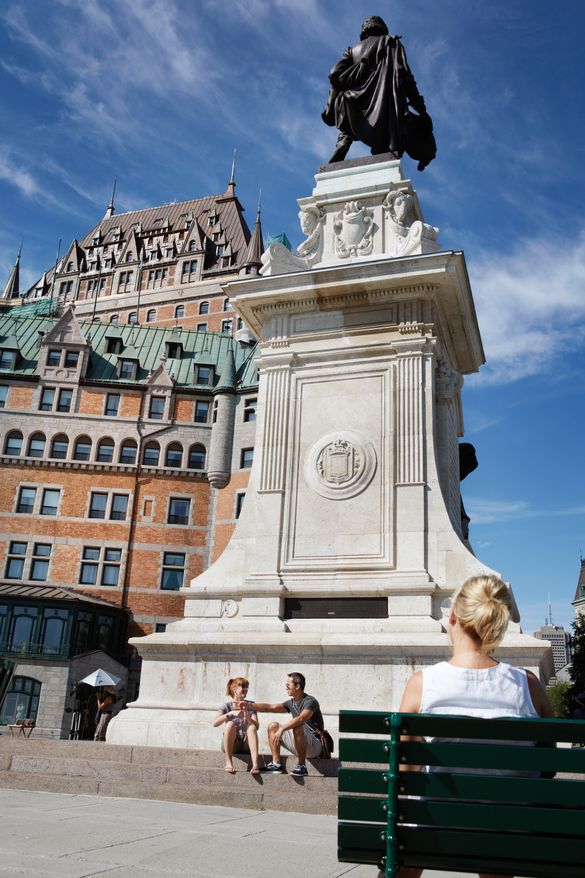 New Gatwick to Quebec City  Flights starting May 2022
Air Transat has announced a new route between Gatwick and Quebec City's Jean-Lesage airport.
The weekly connection will start next May and is one of four 2022 routes added by the Canadian carrier.
It will depart Quebec City on Wednesdays and return from Gatwick on Thursdays, running until the end of September.
Apart from the historic city of Quebec, the flight brings touring the Charlevoix, Gaspesie , kayaking on the  Saguenay Fiord, experiencing indigenous culture by checking into the Hotel-Musee Premieres Nations Wendake,   and  visiting Taddoussac for whale watching closer.  It will also be a more direct link for those wanting to experience the new Club Med resort at Charlevoix.
New Winter Attraction
Opening, December  2nd , 2021 Pursuit unveils Nightrise, an immersive experience at the Banff Gondola
-Created by Moment Factory with the participation of the Stoney Nakoda Nation, the new experience will provide a stunning multi-sensory winter journey under the dark night sky-
Pursuit announces  an immersive experience of light, sound and wonder with the launch of Nightrise, a multi-sensory winter experience at the Banff Gondola. Opening December 2 and running until March 12, this unique winter activity merges multimedia, storytelling and nature for a new and inspiring perspective at such an iconic Banff location.
Created by Montreal's Moment Factory with the participation of the Stoney Nakoda Nation, Nightrise brings the nighttime silence and wonder of the Canadian Rockies to life in unforgettable ways.
"Set amongst one of the most dramatic and visually stunning mountain landscapes in the Canadian Rockies, Nightrise will invite visitors to experience an incredible multi-media experience at such a unique and unexpected location," said Dave McKenna, President, Banff Jasper Collection by Pursuit. "This new nighttime experience on top of the Banff Gondola will enable guests to explore the surrounding natural environment in an enriching and exclusive way."
Vibrant lighting, multimedia effects, video projections and original soundscapes transform the entire site into a magical world, offering an evening of immersive, interactive, contemplative and educational experiences that will amaze and inspire visitors.
"This experience provides an opportunity for guests to deepen their knowledge of the historical impact and cultural significance the Stoney Nakoda Nation has held in the town of Banff and beyond. By telling a story in such a visual and sensory way, this project gives the Stoney Nation the opportunity to tell our story through the footprints of our ancestors and the traditional ties we hold to these lands," said Kirsten Ryder, Training & Development Director, Stoney Nakoda Nation.
At the peak, guests can freely explore the many levels of the summit building and enjoy Rockies-inspired cuisine and drinks. Wandering outside to the viewing decks, guests will discover wonders that only emerge when the night begins to rise – the wonders of Cosmic Rays, Diamond Dust, Alpenglow and Frosted Waves.
"We hope Nightrise will encourage moments of gathering, of wonder and become an unmissable evening attraction for locals and visitors alike," said Jonathan St-Onge, General Manager, Moment Factory. "Through our collaboration with Pursuit and the participation of the Stoney Nakoda Nation, we are excited and honoured to launch a unique multimedia journey this winter in one of the most recognized mountain locations in Banff National Park."
Online ticket sales open Oct.19, and Nightrise opens to the public Dec. 2, 2021 until March 12, 2022.  For more information on Nightrise or to book tickets visit www.banffgondola.com.
Banff & Lake Louise Tourism  launch brand new Trip Planner Tool to explore the Canadian Rockies
New November 2021 : Banff & Lake Louise Tourism (BLLT) has launched a comprehensive Trip Planner tool which allows travellers to plan their dream trip to Banff National Park seamlessly. A product born out of the pandemic, it is the only trip planner tool of its kind in Canada. Integrated into the BLLT website, the robust tool delivers an easy-to-use online trip planning experience for visitors from the dreaming phase to the trip phase. From day trippers to repeat visitors and first timers, the tool can assist travellers planning any length of trip for any purpose.
Rolled out at the end of August with summer experiences, the planner tool saw 400 signups from around the world within its first week. "We've created the ultimate tool for personalized trip planning," said Courtney Babott, Director, Marketing, Banff & Lake Louise Tourism. "Every other trip planner we've seen dumps the user into a map view to start,that is more useful when the travellers are further into their planning or in destination.
This tool is unique because it encompasses different user journeys, based on your stage of planning. It is the only planner tool of its kind in the travel sphere in Canada that we're aware of. I think of it as Pinterest meets planner meets beautiful day-by-day calendar of your trip." Users have the option to build out a personalized itinerary or utilize a number of pre-built itineraries for inspiration, such as "Nurture Yourself in Nature," "Walk on the Wide Side" and "Christmas in the Mountains."
Personalised itineraries are categorized into three themes – experiences, accommodation, and food & drink – so travellers can find what most appeals to them. Visitors can select future dates of travel, name their trip, and then drop and drag a variety of experiences into each day in Banff National Park. Once saved, the itinerary planner itemises a day-by-day outline of the experiences with need-to-know information, distances, time required, and a mapping reference.
Winter activities are now available. Key experiences include skiing at one of three mountain resorts, dog sledding, ice skating, sampling regional cuisine on the Eat the Castle tour, and soaking in the vistas from the Banff Gondola.
To enhance the visitor experience, the trip planner helps reduce congestion in key locations in Banff National Park by encouraging sustainable transit options.
All itineraries and route plans include transit schedules, maps, and reservation details. Despite having to overcome some complex user experience challenges, BLLT, in collaboration with digital agency, VentureWeb Design, and Travel Alberta, were able to build and launch the tool in just three months. Thoughtfully and strategically designed, the tool was tested by a global audience through every step of the design phase, resulting in a consumer-centric product. Plans for the next phase of design are underway. Feature and functionality roll outs will be ongoing.
Find the link to the Tool here : https://www.banfflakelouise.com/trip-planning
New Hotel Openings
Muir Hotel, Halifax, Nova Scotia opening December 10th , 2021
Opening December 10, Muir, an Autograph Collection hotel, will welcome guests to a refined, distinctly Nova Scotian hospitality experience. Muir is the cornerstone of Queen's Marque, a new urban waterfront district in the absolute centre of downtown Halifax; inspired by the enduring spirit, culture and character of Nova Scotia.
"Striking a rare balance between tradition and modernity, Muir is the physical and spiritual manifestation of a modern Nova Scotia, connecting guests to this place and its people through the art of architecture and design," said Scott Armour McCrea, president and CEO, The Armour Group.
Throughout the property, forms portray a contemporary marine, wharf-like design. At Muir's entrance, guests are welcomed by the "Light Chocks," an architectural art installation featuring a pair of glowing columns incorporating abstract Fresnel lenses, similar to those used at the iconic Sambro lighthouse.
At Muir, materiality also makes a meaningful connection to place – from local materials including salt and pepper granite and sandstone to Muntz metal, a copper alloy prominently used in shipbuilding. Together, these elements provide an indelible sense of place and meaningful connection, resulting in a design that simply could not exist anywhere else.
"Muir simultaneously embodies a contemporary and historic spirit," said Brian MacKay-Lyons, founding partner at MacKay-Lyons Sweetapple Architects. "In form, it is one of three abstracted ships that comprise the Queen's Marque development and is set perpendicular to a 330 ft. Wallace Sandstone building along Lower Water Street. In practice, the hotel has been designed with traditional elements such as a generous porte-cochère and hotel rooms reminiscent of the wood-lined 'staterooms' of an old luxury ocean liner."
Inspired by the enduring spirit, culture and character of Nova Scotia, Muir will welcome guests to a refined, distinctly Nova Scotian hospitality experience. Located in the absolute centre of downtown Halifax in the new Queen's Marque district, Muir offers unprecedented waterfront views and ocean access. Each of Muir's 109 rooms promise comfort, serenity and feature bespoke, made-in-Canada furniture and original Nova Scotia art. Muir's amenities include elevated, regional dining; ultra-premium wellness centre with high-performance fitness equipment, vitality spa pool and halotherapy salt room; Muir yacht and motorboat; and a significant regionally-curated art collection, including a private art gallery. Muir is a gracious host, a one-of-a-kind destination and a true cultural beacon for Halifax and beyond.
Métis Crossing Opening New Wildlife Park and Boutique Lodge , Alberta
The new 40-room boutique lodge designed by Métis architect Tiffany Shaw-Collinge will open at the end of November (pending Alberta COVID-19 restrictions) at Métis Crossing. Each room is curated by a Métis artist and features traditional art and storytelling. The beds each have a hand sewn quilt made by women from the New Dawn Métis Women's Society, which guests have the option to purchase at the end of their stay.
The Visions, Hopes and Dreams at Métis Crossing Wildlife Park is also new, and is a partnership between Lonesome Pine Cattle Co. and Métis Crossing. On September 25, The Visions, Hopes and Dreams at Métis Crossing Wildlife Park welcomed the return of Woods Bison, Plains Bison, White Bison, Elk, White Elk, and Percheron horses to the traditional Métis Lands at Métis Crossing. This represents an important step towards reconciliation as these Indigenous and non-Indigenous equal partners collaborate to welcome the return of traditional heritage species to traditional Métis lands.
This winter visitors can expect a variety of tours through the wildlife park that explain the historical significance of the animals in Métis culture. Olympic skier Beckie Scott, Olympic gold and silver medalist in cross-country skiing, has developed three cross country ski trails at Métis Crossing. Her charitable organization Spirit North, uses land-based activities to improve the health and wellbeing of Indigenous youth, empowering them to become unstoppable in sport, school and life. This winter, Métis Crossing will launch Whispers from the Stars – evening programming for guests to discover the Indigenous storytelling through the stars. While staying at The Lodge at Metis Crossing, guests can enjoy food from the café which features traditional Métis food like Bannock and buffalo stew, and other delicious dishes inspired by seasonal ingredients foraged from the land. The café menu was developed by Brad Lazarenko, a Métis chef from Edmonton.
Métis Crossing is located in Smoky Lake, Alberta approximately 1.5 hours from Edmonton, and offers immersive hands-on cultural experiences to visitors year-round to learn about Métis culture and history. Built on the original river lots of Métis settlers to this region in the late 1800s, Métis Crossing is home to Alberta's first Métis cultural interpretive centre. The Crossing is more than 675 acres and overlooks the North Saskatchewan River Valley.
W Toronto , Ontario
Opened  Feb 2022: Toronto's newest and most sought-after hotel destination this brand-new luxury hotel is an urban oasis of culture and style. Neatly tucked within Yorkville, a quaint village turned posh shopping destination, the 254-room W Toronto includes nearly every luxurious amenity a guest could want, including W Sound Suite, a private recording studio and creative space for artists. Plus two suites, accurately named Extreme WOW suites, are more than 1,000 square feet of next-level extravagance. The centerpiece is easily the Living Room, a sprawling open-concept space with soaring ceilings and an inspired menu that ranges from tapas to house-infused spirits.
Whispering Springs Wilderness Retreat , Ontario
New in  2021: Glamping has arrived in Ontario with an entirely new way to experience the great outdoors. Guests can swap sleeping bags, flashlights and canteens for king-sized beds and wine glasses – all while immersing themselves in the pristine wilderness of Northumberland County. Recognizing the traditional camping experience isn't for everyone, owners John and Nancy Corcoran have created a safe space for visitors to experience the great outdoors in style and sophistication. Guests can stay in airy tents or cabins, take a dip in the saltwater pool or soak in the hot tub overlooking sparkling spring-fed ponds, work out in the outdoor gym, play lawn games with a beer from the onsite Watering Hole, join a yoga class and much more.
For more media information on Canada please contact Nim Singh, Destination Canada, Media and PR Manager,  care of singh.nim@destinationcanada.com (Not for publication)
Image :  Cheateau Frontenac, Quebec City  , Credit : Destination Canada 
Readers wanting more information can go to www.explore-canada.co.uk or connect via Facebook ExploreCanadaUK

Follow and Share with Jetsettersblog.