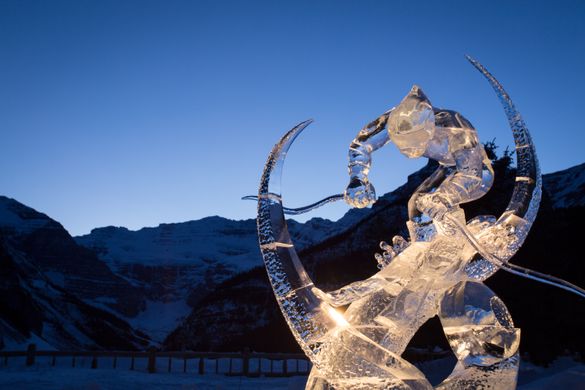 ---
Canada Rocks Winter
If you thought festivals and fairs were just for summer time, think again. Canada rocks the winter months – arguably the rowdiest time to celebrate outdoors. Travellers can view ice sculptures, enjoy a bobsleigh ride, dance and dine on frozen rivers, toss an axe or saddle up a dogsled – all while sporting a weather appropriate parka and tuques of course.
Catch fiddling and dog howling in the Yukon
Its just as busy in the Yukon thanks to the NOrth's largest film festival, the 1,600 km Yukon Quest international dog sled, an Ultra endurance competition and Dawson City's Thaw di Gras Spring Carnival. The favourite though is the Sourdough Rendezvous, an extravaganza of fiddling, Can-Can, dog howling, and wife carrying face-offs, plus axe throwing and Chainsaw chucking.
Skate  'n slide Canadian Style in Ontario
Canada's capital city of Ottawa lights up for Winterlude, three weeks of twinkle-lit evening concerts in the park, hockey, curling, bobsleigh, dragon boat ice racing, ice sculpture carving competitions and gliding along the worlds's largest natural outdoor skateway, the historic Rideau Canal. THe other wintertime must do is the TD Ottawa Winter Jazz Festival
https://www.ottawatourism.ca/ottawa-insider/winterlude/
Dive into revelry in French Canadian Quebec
Quebec may be Canada's hottest winter jubliation spot. In over 400 years old Quebec City, playful Carnaval de Quebec, sees locals and visitors sled, slide and feast in an Ice Palace, parade through cobblestone streets, race canoes on the  frozen river, don bikinis for the polar bear swims and dress up for an extravagent masquerade ball.
https://www.quebec-cite.com/en/what-to-do/activities-attractions/ideas/quebec-winter-carnival/
Dive into art, Indigenous Culture and history in Manitoba
Based in Winnipegs beautiful French Quarter, the Festival du Voyageur is Western Canada's largest Winter Fest and a go to since 1969. Expect a huge international arts expo, traditional food and music, foot stomping fiddling, historical reenactments and vibrant indigenous and 'voyageur' (fur trade explorers) culture. There you can enjoy carvings in ice, snow, wood, and….. cheese.
A little magic on ice in the the Canadian Rockies
It'd be hard to conjure up a more enchanting setting than iconic Lake Louise, Alberta, frozen to a silvery sheen and set with a giant brick ice castle. Join  the Ice Magic Festival to enjoy skating past glistening ice sculptures, a drink at the frozen bar, and watching master ice carvers at work. Add an Ice Bubbles Winter Photography TOur to capture stunning frozen methane gas bubbles under Abraham Lake.
www.banfflakelouise.com/ice-magic
For more information please contact: Nim Singh, Destination Canada, 0207 389 9983  singh.nim@destionationcanada.com (not for publication) or go to www.destinationcanada.com/media. You can also download images via this site.
Follow and Share with Jetsettersblog.