Canada's Fantastic Beasts and Where to See Them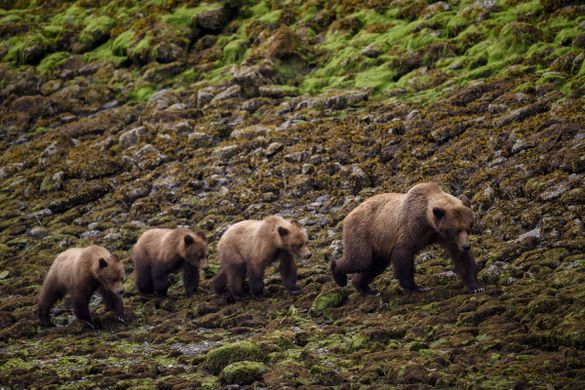 1
---
Majestic, playful, cuddly, powerful… wild animals are endlessly fascinating, and numerous days dedicated to them – International Polar Bear Day (February 27), World Wildlife Day (March 3), National Wildlife Week (April 10-17) and World Bee Day (May 20), for starters – point to the importance of the world's wildlife. In Canada, wild animals are a key element of the nation's identity, with a mosaic of ecosystems housing moose, beaver, bison, polar bears, killer whales and tens of thousands more. Did you know? There are 80,000 animal species living in Canada.
A report by the Nature Conservancy of Canada and NatureServe Canada catalogued 308 species, sub-species and varieties of plants and animals found in Canada — and nowhere else on the planet. Only here: They include everything from the Vancouver Island marmot, to the Pacific Steller's jay, to the Gulf of Lawrence aster, to the maritime ringlet butterfly. Many have small ranges and populations, making them vulnerable.
Canada's history is inextricably linked with its resident animals, especially the beaver. In the late 1600s and early 1700s, hats made of beaver pelts became the height of fashion in Europe. The fur trade flourished, proving so profitable that people and companies – including Sir William Alexander and the Hudson's Bay Company – paid homage to the buck-toothed mammals by including them on coats of arms, coins, postage stamps and newspaper mastheads. Making it all possible were alliances with indigenous peoples – expert trappers and traders who knew the land intimately. Emblem of a country: Today, the beaver is considered an official symbol of Canada – and, thanks to conservation efforts and a waning demand for beaver pelts, the adorable rodent (Canada's largest and second largest in the world) thrives across the country.
Caribou (also known as reindeer) are likewise among Canada's most recognizable species, inhabiting the Arctic, boreal and mountain regions. Woodland caribou – pictured on Canada's quarter coin – are perhaps the most popular, with their striking antlers. Barren-ground caribou, meanwhile, have provided food, clothing and cultural identity to Canada's Indigenous peoples for centuries. Unlike beavers, caribou are at risk of becoming endangered, inspiring conservation efforts across the country such as a conservation agreement between the governments of Canada and Alberta signed in October 2020; renewed protection of forests vital to caribou survival by organizations such as Wildlife Conservation Society of Canada; government mandated suspension of logging in a caribou habitat near Revelstoke, BC; and Rainforest Conservation Foundation's mission to buy exclusive commercial hunting rights – and end trophy killing – in the Great Bear Rainforest.
While there is always room for improvement, Canada is still a world leader in wildlife protection efforts. Parks Canada, for example, supports numerous initiatives to recover species at risk, including killer whales, bison and wolves. And, if there was a silver lining to 2020, it was that parks and conservation areas inspired a renewed surge of interest in nature, including demands for action to address climate change and expand the footprint of its protected areas.
Notably, though wildlife conservation is a global responsibility, the world's Indigenous peoples – comprising less than five percent of the planet's population – protect 80 percent of its biodiversity. Crucial leadership: According to Murray Sinclair, who served as chairman of the Truth and Reconciliation Commission, "Indigenous peoples have lived in balance with ecosystems since time immemorial, preserving natural bounties for future generations. Our wisdom does not privilege humans above all other beings—a spirituality of humility, not dominion."
Ever since the first people walked the Earth, humans and animals established a deep-rooted, mutually beneficial relationship (no surprise to pet owners). Whether joining animal conservation efforts, viewing wildlife virtually or planning a future trip to visit the world's wildlife for yourself, maintaining a connection to animals is essential to social, emotional, physical and psychological wellbeing. Here are ways travelers can experience Canada's wildlife now or later:
Sleeping with wolves: Aside from folkloric associations with the full moon, wolves play an important role in maintaining healthy ecosystems, from keeping deer and elk populations in check – which benefits other animal and plant species – to redistributing nutrients through the carcasses of their prey. Whatever your feelings about wolves, you're sure to learn something new – and perhaps change your perspective – at one of Canada's wolf sanctuaries. In Quebec, the sprawling 2,200-hectare Parc Omega invites guests to embark on a 12-kilometre self-guided safari to glimpse Canadian wildlife such as elk, bison, wolves, bears and foxes. The park has also opened a collection of luxurious accommodations where guests can sleep alongside grey and Arctic wolves, with the Wolf Lodge and Chalet boasting floor-to-ceiling windows looking out to the wolves' natural habitat. In Haliburton, Ontario, the Haliburton Forest and Wildlife Reserve educates the public about wolf ecology and behaviour; here, visitors can observe the wolves through one-way glass as they roam their six-hectare forest home. The facility is designed to mimic the wild as closely as possible, which means the wolves maintain much of the behaviour and social structures of wild packs. 3
And in Golden, BC, the Northern Lights Wolf Centre promotes wolf conservation by educating the public about the fascinating mammals and their role in a healthy environment. In addition to family-friendly interpretive tours that share fascinating facts about wolves, the centre offers photography walks where budding and expert photographers can take a leisurely hike with the wolf pack through picturesque valleys, peaks, glacial rivers and forest.
Big bear country: Canada is well known for its diverse bear population, though British Columbia is the best place to catch a (safely distanced) glimpse. Here, soul-stirring bear-watching experiences are plentiful, led by expert and enthusiast guides and enhanced by beautiful surroundings. Top places to watch bears include Khutzeymateen Grizzly Sanctuary, Canada's first designated grizzly sanctuary, which is home to between 50 and 60 grizzlies. The Great Bear Rainforest, stretching 400 kilometres along the central and northern coast of BC encompasses a quarter of the world's coastal temperate rainforest over a landmass the size of Ireland; a prime viewing area is Klemtu, where visitors can take a tour in search of the elusive Kermode (Spirit) bear, a black bear with a unique white coat. And in Knight Inlet, it's not unheard of for visitors to spot dozens of bears on a single trip; in the fall, viewing platforms overlook spawning channels where grizzlies feast on salmon before their winter hibernation.
Nanu of the north: A newly published book, Ice Walker (Simon & Schuster) by Canadian author and adventurer James Raffan paints a haunting picture of climate change in the Arctic, told from the perspective of a resident polar bear. "The tracks she is making," he writes, "… are on a trail that leads back 150,000 years… She is a bear of the sea, but is a direct descendant of land bears." Prepare for an eye-opening read that shows how disappearing bear species can eliminate human cultures, too.
Birds of a feather: Situated on the Pacific Flyway, British Columbia is home to some of North America's best birdwatching. Peruse the BC Bird Trail to follow in the tracks of the province's 500-plus bird species, which make their homes in scenic forest, alpine, ocean, estuary and marshland habitats. In Calgary, Alberta, don't miss Inglewood Bird Sanctuary and Nature Centre, which has offered shelter for migratory birds for more than 80 years; to date, 270 species of birds and 21 species of mammals have been recorded at the venue. In Newfoundland and Labrador, more than 350 species of birds – including seabirds, rare birds and birds of prey – gravitate to the province's 29,000 kilometres of coastline. Pop by the Witless Bay Ecological Reserve to see the heart-meltingly adorable Atlantic puffins, or visit the picturesque Cape Bonavista Lighthouse Provincial Historic Site to see puffins alongside whales and icebergs.
Marine guardians: In Quebec the Banc-des-Américains holds distinction as the first marine protected area in the Gulf of St. Lawrence. Situated off the coast of the Gaspé Peninsula, between Forillon National Park and Percé UNESCO Global Geopark, the area teems with fish and mammals, some of which – including whales, spotted wolffish and northern wolffish – are endangered. The designation prioritizes protection of the area's habitats and animals, and facilitates recovery of local at-risk species. The maritime regions of Quebec feature some of the best whale-watching sites in the world; in fact, the coastline has been designated "the Whale Route" with 13 species of whales calling the Gulf home. Visitors can view the majestic animals up close by joining a guided excursion by kayak or zodiac. The Marine Mammal Interpretation Centre in Tadoussac Bay is an ideal complement to a boat tour, offering a comprehensive introduction to the fascinating world of whales and local wildlife.
Look! Canada's wildest wildlife cams: While now may not be the time to visit Canada's critters in person, animal lovers everywhere can tune into lifestyles of the furry and famous with wildlife cams perfectly positioned across the country. In Vancouver, BC at Grouse Mountain, famed grizzlies Grinder and Coola snooze for months in their hibernation den, where an infrared camera enables staff (and audiences around the world) to monitor the bears without disturbing their slumber. Once the bears awake in spring, switch over to the swimming pond cam and watch the duo strut their stuff in their 5.5-acre habitat. The Vancouver Aquarium also features live cams of the cutest creatures imaginable: playful otters, captured floating along the water and diving beneath the surface; jellyfish illuminated in dazzling colours; and handsome penguins that tend to cluster in groups around the camera. On Hanson Island, BC, a strategically placed camera captures families of sea lions lazing on rocks and gossiping through barks, grunts and growls. In Hudson Bay near Churchill, Manitoba, cameras attached to boats observe beluga whales frolicking below and above the water. While the cameras only operate in summer, enthralling highlights stream year-round.
In Wapusk National Park, Manitoba, viewers can tune into one of the world's largest concentrations of polar bear maternity dens. In October and November, polar bears congregate here to wait for sea ice to form, offering the perfect platform to hung ringed seals. And in Val Marie, Saskatchewan, spy on bison lounging by their watering hole or strolling the plains of Grassland National park. For beautiful still images and recorded video of Canada's animals, visit Parks Canada's website.
Readers looking for more information should go to www.explore-canada.co.uk
PHOTO CREDIT : DestinationBritishColumbia/Andrew Strain
Location : Khutzeymateen Grizzly Bear Sanctuary, Northern British Columbia
For more media information please contact Ms. Nim Singh , Media and PR Manager, Destination Canada care of singh.nim@destinationcanada.com (not for publication) . Media can also access information, research and images via www.destinationcanada.com/media

Follow and Share with Jetsettersblog.