Canada's Outdoor Adventure on Cities Doorsteps ; October 31st UN World Cities Day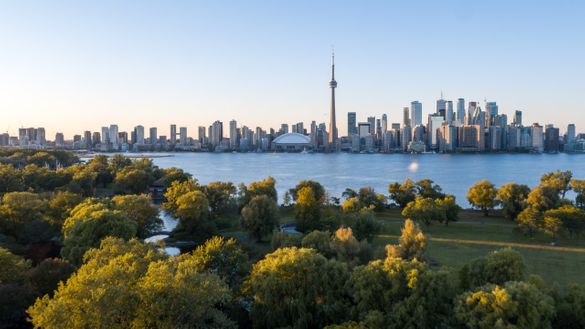 ---
Canada's Outdoor Adventure
Canada's natural assets – from towering cliffs and majestic mountains to glittering ocean and rushing waterfalls – will leave outdoor enthusiasts mesmerized. With natural wonders situated in and around Canada's biggest cities, there's no need to trek far to explore the wilderness.
October 31: World Cities Day
This UN-designated day promotes sustainable   urban development around the world. Despite   its wide-open, larger-than-life landscapes,
Canada is an urban country, with the vast   majority of its population concentrated in urban   areas. Hubs such as Vancouver, Toronto and
Montreal are pioneering industries that include   biotechnology, cleantech and film.
Vancouver, British Columbia
Boasting cedar-scented forest, ocean waves lapping at sandy beaches, and mountain adventure – all intertwined with the glittering skyscrapers of downtown – Vancouver offers an inspiring escape into nature:
2021 marks the 20th anniversary of Grinder and Coola's arrival to Grouse Mountain. The playful grizzly bears were rescued as orphan cubs, and today have free reign of the mountain's sprawling wilderness sanctuary. There's also a flurry of owls, which visitors can learn about during the Owl Talks held daily in summer. At the hiwus Feasthouse, an authentic Pacific Northwest longhouse, a First Nations Elder shares tales of the Squamish First Nation and their traditional way of life.
Jericho Beach Kayak offers a relaxing Sunset Tour that bobs along the shoreline, showcasing uninterrupted views of the city's beaches, wildlife and vibrant sunset. On summer nights, guests can glimpse the mystical bioluminescence caused by marine phytoplankton emitting a glowing light.
The North Shore is a Holy Land for mountain bikers – it's where freestyle (or "shore-style") biking was born, and home to intense terrain spanning fallen logs, boulders and huge ravines. Learn to ride under the guidance of seasoned pros with Endless Biking, which offers two-hour tutorials for first-time riders.
Toronto, Ontario
Gardens, bluffs and birds, oh my! There's plenty of wilderness to explore in Toronto:
Along the 15-kilometre Scarborough Bluffs are 11 parks, whose stunning views of Lake Ontario, paired with well-maintained trails, beaches and gardens, are a popular draw for visitors. The area's geology is a product of sedimentary deposits that accumulated over 12,000 years ago, which eventually settled westward, forming the Toronto Islands.
The City of Toronto was recently awarded a high-level certification as a bird-friendly city. In 2007, Toronto became the first city in North America to introduce "bird-friendly development guidelines" that make buildings less dangerous to local and migratory birds; many cities in Canada and the US have since followed suit. Visitors can birdwatch at annual events like the Toronto Bird Celebration and Spring Bird Festival.
Urban gardens abound in Toronto! Don't miss the Toronto Music Garden in the centre of downtown, which was inspired by Bach's First Suite for Unaccompanied Cello; here, you'll find greenery representing different dance movements, bright wildflowers and a grassy amphitheatre. Edward Gardens, meanwhile, is home to waterfalls, a quaint wooden bridge, and Toronto Botanical Garden.
Montréal, Quebec
A thriving metropolis with a heart of green, Montréal is marked by sprawling parkland that merges seamlessly into the downtown core:
Environmental sustainability meets arts and culture at Frédéric-Back Park, a 192-hectare green space with a 5.5-kilometre bike path, spectacular lookouts and sheltered picnic areas – not to mention a circus centre and skate park just steps away. Here, visitors can run, cycle and snowshoe, as well as birdwatch, catch a show at the outdoor cinema, and stargaze. There's also La TOHU pavilion, North America's first 360-degree circular performance space dedicated to the circus arts. The LEED Gold venue features passive geothermal power, an "ice bunker" alternative to air conditioning, green roofs, beehives and bizarre white spheres that are actually bio-gas wells.
Across the St. Lawrence River is Parc Jean-Drapeau, which was developed for Expo '67 and spans two islands, welcoming hikers, cyclists, swimmers, cross-country skiers and snowshoers. It also hosts some of Montréal's biggest festivals, as well as an amusement park and the iconic Biosphere.
The Old Port of Montréal can fill an entire holiday. Hop aboard a jet boat and cruise down the rapids of Lachine Canal, or lounge on the silky sand at Clock Tower Beach. Thrill-seekers can try the first urban zipline circuit in Canada, which stretches over the picturesque island of île Bonsecours.
Calgary, Alberta
With the Rockies to the west and the badlands to the East, Calgary is ideally situated for a holiday in Canada's most epic outdoor playgrounds:
You might not think of Canada as a hotspot for surfing, but there are plenty of places to catch a wave in Calgary. Case in point: the 10th Street Wave, situated under the Louise Bridge, offers a vibrant urban setting that's a great introduction to river surfing.
Climb to the top of the Calgary Tower to see dazzling views stretching from the prairies to the Canadian Rockies. One of the highest 360° observation decks in the world (191 metres) offers a bird's-eye perspective of Calgary's buzzy streets and avenues – bonus points for stepping onto the glass floor and looking straight down.
Mohkinstsis Tour by Many Chief Tours in St. Patrick's Island explores the history, culture and current experience of the Blackfoot First Nation. The two-hour tour takes place along the Bow River, which is a sacred site to local Indigenous. Through the experience, guests walk a scenic 2.2-kilometre trail along the river while learning about the Blackfoot people's resilience over the centuries.
Halifax, Nova Scotia
Venture onto the Atlantic Ocean, explore trailways, and downward dog in front of a picturesque lighthouse. In Halifax, nature is entwined with every experience:
Following an old railbed, the 14.5-kilometre Musquodoboit Trailway weaves between rushing river and towering cliffs. Hikers will find an ever-changing landscape sheltering colourful birds, snapping turtles and other wildlife, with five separate hiking trails and multiple lookout points to explore.
The Bay of Fundy – a half-hour drive from Halifax – is the ideal spot for an invigorating wellness and nature-inspired getaway, with kayaking and yoga excursions among the activities on offer. Start your day with a guided kayaking tour along tranquil Horseshoe Cove, where you'll glimpse secluded coves, rugged cliffs and ancient lava flows that tell the tale of the continents' separation. Then, you'll arrive at a quiet lighthouse for a gentle yoga session and relaxing neck massage featuring locally made balsam fir oil.
A collaboration between the Fundy Geological Museum and Spirit Reins Ranch, the Horseback Tidal Floor & Fossil Tour leads guests on a once-in-a-lifetime horseback ride across the ocean floor. Available year-round, the tour winds through the famed Bay of Fundy to an ancient fossil site, home to the highest tides in the world. The 2.5-hour tour is scheduled at low tide, so guests can ride their horses along the floor of the Minas Basin, observing tidal creatures like clams, crabs and shore birds, with only hoofprints left behind.
For more media information and images  go to www.destinationcanada.com/media
Readers wanting more information should go to www.explore-canada.co.uk
 islands
F

Follow and Share with Jetsettersblog.