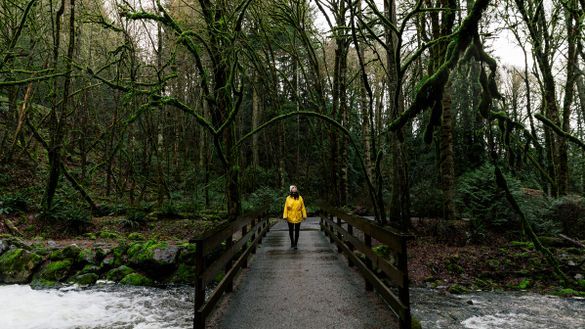 ---
7th December, 2020
Canada's Sizzling Cinema
Earlier this year, when physical film production ground to a halt to stop the spread of the pandemic, Vancouver-based animation studios such as Sony Imageworks and Atomic Cartoons were tapped to generate much-needed content for streaming services like Netflix, whose subscriptions were suddenly skyrocketing. With production resuming, US producers are casting their gaze again towards Canada, particularly the West Coast, where provincial health authorities have implemented strict safety protocols to protect cast and crew.
Scene stealer: It's no wonder Hollywood is increasingly turning towards Canada – after all, the country is home to diverse and dramatic backdrops, attractive tax credits, and a rich culture of homegrown productions. Look at Schitt's Creek, the popular sitcom filmed in Goodwood, Ontario that swept the Emmys this September, winning all seven comedy categories and making history as the most awarded comedy ever in a single year. One month later, BC-born author Eden Robinson, perhaps best known for her haunting coming-of-age tale Monkey Beach (made into a movie recently playing in Canadian cinemas) saw her Trickster Trilogy novels come to life in TV series Trickster. Also this year, Vancouver Island, Vancouver and the Nicola Valley welcomed film crews from one of the most anticipated blockbusters in history, Jurassic World: Dominion, set to be released in 2022.
Who tells your story: Saskatchewan-born Jacob Pratt, CEO of Skoden Entertainment, an Indigenous owned and operated production company based in Los Angeles, is shaking up Hollywood by redefining the role of Indigenous people in the entertainment industry. Currently collaborating with Walt Disney Studios, Skoden Entertainment – which launched in September 2020 – strives to help studios tell Indigenous stories that are authentic, engaging and relevant. Pioneering spirit: Canadians are no stranger to go-big-or-go-home productions: after all, IMAX – a system of high-resolution cameras and theatres whose giant screens were the first to immerse audiences in an intense and magical movie-going experience – was invented by three Canadian filmmakers. Yes, Canada has deep roots in cinema… and it's just getting started.
Spotlight: BC's Blockbuster Film Scene In BC, the film, TV, visual effects (VFX) and animation industry set new records in 2019, spending more than $4 billion. Despite the pandemic, production continues to skyrocket in 2020 – so much that it's already exceeded pre-pandemic levels. Film is a crucial pillar of BC's economy, generating jobs that transcend sectors spanning hospitality, tourism, transportation and construction. Film fans curious to learn what's currently filming in BC can visit Creative BC's website.
Van City hub: Vancouver is Canada's biggest film hub and the third largest in North America. Boasting a versatile backdrop, Vancouver's recognizable landscapes take centre stage in blockbuster productions like Deadpool, Sonic the Hedgehog, Star Trek, Godzilla and many others; cult favourite TV series, including Riverdale and Chilling Adventures of Sabrina; and indie runaways such as Facebook's Limetown and Sacred Lies. Vancouver visitors are spoilt for choice when it comes to stumbling across a famous film landmark or seeing a production-in-progress on the city streets; however, it's easiest to follow in the footsteps of popular productions on a self-guided walking tour. The city is also home to Vancouver International Film Festival (VIFF), one of North America's biggest film festivals, which treats audiences to a curated lineup of the world's best films, as well as a standalone virtual reality and mixed-reality event called VIFF Immersed.
Forest green screen: On Vancouver Island, lush old-growth forests, remote beaches and seaside character towns have contributed to an irresistible source of memorable film backdrops. From the mountain landscapes of Strathcona Provincial Park, Myra Falls and Buttle Lake captured in Apple's dystopian drama See, to the Southern Railway of Vancouver Island offering its No.128 locomotive for a thrilling chase scene among the trestles and canyons of Goldstream Provincial Park in Godzilla, Vancouver Island is rife with dramatic sights and attractions featured in some of North America's most-watched productions.
Growth spurt: Back on the mainland in Burnaby, Netflix is launching its latest production hub, taking over seven soundstages at the Canadian Motion Park studio complex. Already filming a sizable chunk of its bingeable shows in Vancouver, the streaming giant's expanded presence in the region follows rivals like Hulu and Amazon as they line up Canadian stages and crews to generate their own content for global distribution. Last year, Netflix opened a separate production hub in Toronto, taking long-term leases on eight soundstages at separate studios to help produce its growing film and TV lineup.
Ready, Set, Action in Ontario
Further film news from Toronto includes the downtown waterfront seeing stars with the promise of a new hub for movie studios and digital media. The 8.9-acre space, soon to be known as Basin Media Hub, will attract studio space and production offices to an already film-heavy area,whose existing studios and facilities include Pinewood, Cinespace and District 28.
Alberta's Awe-inspiring Backdrops
US and Canadian producers alike flock to Calgary, Alberta, whose coveted location at the heart of the Rocky Mountains offers an ideal wilderness set location. Here, deep in Kananaskis Country and the Canadian Badlands, Leonard DiCaprio gave a haunting performance for The Revenant that would earn him his first Oscar. Martin Freeman roamed the neighbourhood of Inglewood in the television adaptation of Fargo, while Jake Gyllenhaal visited a local dancehall in Brokeback Mountain. Christopher Reeve flew high above the city as the world's first Superman, and Brad Pitt took on the streets of Heritage Park as infamous outlaw Jesse James in The Assassination of Jesse James by the Coward Robert Ford. And, Paul Rudd, Dan Aykroyd and Bill Murray stormed the streets for the upcoming Ghostbusters: Afterlife, scheduled to hit theatres in 2021.
Saskatchewan's Fantastical Landscapes In Saskatchewan, the rich history and beautiful landscapes of the prairies have been profiled in productions ranging from Nordic Lodge, a reality TV series shot at Reindeer Lake, to Tideland, a neo-noir fantasy filmed in the Qu'Appelle Valley, Regina and Katepwa. Or, check out the Saskatoon Fantastic Film Festival, where global independent productions that push boundaries and defy convention are screened each November. A Different Lens Meanwhile, Tell Me A Story: A Multigenerational Film Program, part of the ImagineNative film and media arts festival, collected more than a dozen visual stories from Indigenous artists, with the vision of uniting families and kinship across generations. Featured productions included an animated piece called Mui'n aq na Mijuwa'ji'jg ("Bear and the Children"), based on a story that the artist's father told her for many years before it was recorded in the Mi'kmaw language; and a music video for the song "I was Lost (and You Were Dreaming)" by the band Ghostkeeper, which tells the story of two characters fighting the oil sands. ImagineNative is the world's largest Indigenous film and media arts festival, held each October in Toronto.
Follow and Share with Jetsettersblog.